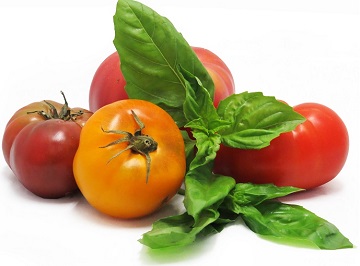 The Unmistakable Taste of Summer, at an Unmistakably Great Price
Diane Rezendes, food writer
When it comes to the foods that sing 'summer,' tomatoes are on just about everyone's short list.  Maybe it's a thick slice of Beefsteak tomato atop a hot-off-the-grill burger, or a Marvel Stripe on a Caprese skewer with fresh Buffalo mozzarella and basil leaves. Whatever your favorite preparation, it's time to relish those tomatoes. Honestly, tomatoes just don't get any better than this!
We're featuring certified organic heirloom tomatoes from JW Farms in Chowchilla, as we have for the past 15 seasons. Esteban Martinez and his family have been growing organic fruits and vegetables since they started the farm, and they are rightfully proud to offer the same organic produce to customers as they serve at home.
Heirloom Tomatoes, Part of Our Culinary Inheritance
To be an heirloom, the variety must be at least 50 years old, seeds handed down and planted generation after generation. Unlike typical hybrid varieties, heirlooms stand the test of time – and of the discriminating palates of farmers, chefs, and home cooks.
Here's some information about four of the heirlooms (there are others) we have in store right now: the Marvel Stripe, the Cherokee Purple, Black Crimson, and Brandywine.
The Purple Cherokee goes back at least 100 years to Cherokee, Tenn. It's a dark red tomato with some spots so dark, they look black. Its intense tomato flavor is balanced with a sweet-acidic punch.
The Marvel Stripe, an all-purpose eating tomato, is golden-yellow with lovely red stripes running across its surface. It adds great color to Caprese salads; its mild, low acidic flavor is ideal for sauces and soups.
The Black Crimson runs medium to large with very dark pigment ranging from deep red to greenish-purple. They're great for slicing or cooking; some people notice a hint of smoky flavor.
The Brandywine exhibits an ideal balance of sugar and acid, coupled with a pleasing tomato flavor. Cultivated by the Amish for at least 200 years, it was offered in the Burpee seed catalogue as early as 1886.
Choosing and Using
Choosing an heirloom tomato is a bit different from other tomatoes.  Expect a slight 'give.'  Even when they are super-ripe and softer, they should have a good texture and intense tomato flavor. Remember: they are all about flavor, so they won't look like those all-identical, cello-wrapped packages where each tomato looks exactly like the next.  With heirlooms, you'll see some cracks and color variations, along with some minor scrapes – inotherwords, a gorgeous August tomato, straight from the garden.
If you want to ripen them further, just place them on a sunny windowsill and use them when they've reached your preferred ripeness.
Don't store your fresh, uncut tomatoes in the refrigerator. That's how you steal the flavor and render the texture into mush.
As for color, it comes down to personal preference more than anything else. That said, here are some general guidelines.
For a traditional tomato flavor – that wonderful just-right balance between sweet and acidic, look for red tomatoes.
If you want something a bit more mellow, go yellow: they tend to be less acidic (but they also tend to be a bit less sweet as well).
Of course, it depends on what how you're planning to use them. Green tomatoes are perfect for piccalilli relish; for pasta sauce, the Sigona family likes a blend of Purple Cherokee and Marvel Stripes.
Try a number of varieties and see what suits your family's palate.