Raw, Sugar-Free Applesauce — Perfect for Baby!
This applesauce comes together in minutes! It's not cooked, so the apples retain all their natural nutrients and benefits. Gravensteins have a sweet-tart flavor that is excellent for applesauce — no sugar needed! This is perfect for baby, or as a quick accompaniment to your dinner pork chops. Cover and store in the fridge for up to a week. Makes about 2 cups, depending on the size of the apples used.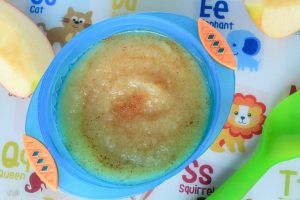 What you need:
3 Gravenstein apples, peeled, cored and chopped
1 Tbsp fresh lemon juice
At least 1/4, but no more than 1 tsp. ground cinnamon, to taste
Directions: Add the chopped apples, lemon juice and 1/4 teaspoon cinnamon to a food processor. Process for about 2 minutes, scrape down the sides and then puree the mixture again until smooth. Taste and add more cinnamon, a pinch or two at a time, if desired. If the sauce is on the watery side, consider straining it through a fine sieve or cheesecloth, if desired.
Note: Colors of fresh applesauce may vary depending on the apple variety used. Some brown more quickly than others, some not at all. They all taste great!