Robbie Sigona's Produce Tips: Eggplant
Robbie Sigona's Produce Tips: Eggplant
Buy eggplant that have a nice sheen.
Eggplant should be firm with a slight give and have a healthy, fresh looking stem (For example, the stem of an American eggplant should be a healthy green).
Wrap in a paper towel and store in the refrigerator after purchase. No plastic bag necessary.
Always cook eggplant before eating. Grilling, roasting or broiling with minimal oils or fats are best methods.
The skin is edible, but some may prefer to peel it before cooking, especially from the larger eggplants.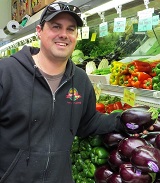 –Robbie Sigona is our produce buyer. He works with local farmers and scours the market for the very best in fresh fruits and vegetables — some you won't find anywhere else.