In the Kitchen with Sigona's Featuring: California Clean Nectarines
Nectarine & Prosciutto Pizza with Pesto and Fresh Mozzarella
Baking this pizza on locally made Viccolo corn meal crust makes all the difference; it's absolutely delicious and the flavors pair well with the basil pesto and nectarines. You can use peaches in place of the nectarines if you wish. Inspired by Eating Well. Serves 2 to 4.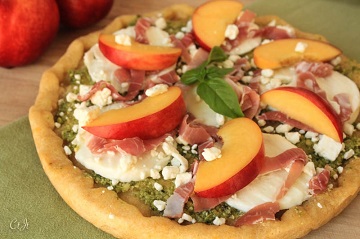 Ingredients:
2 to 3 Tbsp. prepared basil pesto (see a recipe for Sigona's pesto below), more or less to taste
3 to 4 oz. fresh mozzarella, sliced
2 to 3 Tbsp crumbled feta
1 Viccolo organic corn meal pizza crust, regular or gluten free
1/2 cup thinly sliced prosciutto
Half of 1 locally grown California Clean nectarine, halved, pitted and sliced into at least 6 pieces
2 to 3 tsp. Sigona's Summertime Peach White Balsamic
Black pepper, to taste
For the Pizza: Directions: Evenly spread the pesto over the pizza crust. Add on a layer of fresh mozzarella slices and a sprinkling of Feta. Evenly distribute the sliced prosciutto on top of the cheeses, then add, in a circular manner, the nectarine slices.
Bake the pizza according to the directions on the Viccolo crust package.
Just before serving, drizzle on the peach balsamic. Finish with a few twists of fresh-cracked black pepper.
Sigona's Basil Pesto
Makes about 3/4 cup.
Ingredients:
About 1 cup (semi-packed) fresh basil leaves (you can try arugula in place of the basil)
1 to 2 cloves garlic
1/4 cup freshly grated Parmigiano Reggiano
3 T of pine nuts
1/4 tsp. or so each salt & pepper
About 1/3 cup Sigona's Fresh Press Extra Virgin Olive Oil
Directions: Place all ingredients, except the olive oil, in a food processor or blender. Turn on the processor to bring ingredients together for about 30 seconds, then drizzle in the olive oil, processing about 1 minute or until you get a good consistency (if you like your pesto sauce thicker, add a bit more cheese…if you want it thinner, add a bit more oil). Use immediately or cover well and store in the fridge up to a week. It also freezes well.