In the Kitchen with Sigona's Featuring: Grape, Arugula and Gouda Skewers with a Walnut-Thyme Drizzle
Grape, Arugula and Gouda Skewers with a Walnut-Thyme Drizzle
Grapes and Gouda make for a sweet & savory combination, which pairs perfectly with peppery arugula. If desired, drizzle the dish with a little Sigona's French Roasted Walnut Oil mixed with a little thyme. Serves 6 to 8.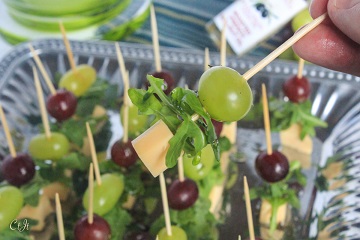 What you need:
24 grapes, such as green Natural Thompson or a combination red and green grapes, which adds more color to the presentation
48 leaves of baby arugula
About 4 oz. Artikaas grass-fed Gouda, sliced into 24 cubes (1/2-inch in size)
Equipment: Small skewers or toothpicks, about 4-inches long
Walnut & Thyme Drizzle (optional):
1/4 tsp. dried thyme or 1 tsp. fresh thyme
1 Tbsp. Sigona's Roasted French Walnut Oil (Mix it up! Try Sigona's Herbes de Provence Olive Oil and simply leave out the dried or fresh thyme.)
Directions: Slide a grape halfway onto a skewer. Gently bend two arugula leaves in half and thread them on the skewer. Finish by threading on a cube of cheese, then stand or lay the skewer on a serving tray. Repeat with all remaining ingredients.
Optional finishing oil: In a small bowl, mix together the walnut oil and thyme (or skip if using Sigona's Herbes de Provence Olive Oil). Drizzle the oil mixture around the dish and lightly over the top of the skewers. Serve.