In the Store with Sigona's Featuring: Small But Mighty: Pee Wee Avocados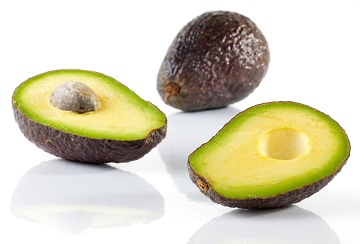 Small But Mighty: Pee Wee Avocados
Diane Rezendes, food writer
Small But Mighty: Pee Wee Avocados
Avocados are the it food right now. New England Patriots Quarterback (and forever Serra Padre) Tom Brady swears by his chocolate avocado ice cream, though you don't have to hide avocados in a raw vegan dessert* to appreciate just how great they are. Here at Sigona's, we think avocados are just terrific in salads, salsas, ceviche, sauces. Sometimes the best preparation is simplest: halved and eaten out of hand – maybe drizzled with some of our basil-infused Fresh Press Extra Virgin Olive Oil and sprinkled with a bit of natural coarse sea salt.
There's a good reason avocados are so popular. They are low in sugar, contain no cholesterol, and because they have all essential amino acids, are a complete protein. They contain fiber, a host of B vitamins, and more potassium than two bananas. (By the way, many babies love avocado, making it a good option as they start getting into solid foods.)
True, avocados have a reputation for being high in fat. That's because they are high in fat – and it's fat that is good for us. Thankfully, the days of misunderstanding good fats are mostly behind us now. Our bodies and brains need the good fats we get in food like salmon and sardines, avocado and extra virgin olive oil to perform at their very best.
Avocado is actually a fruit – technically a berry, just like raspberries and blueberries. Though there are some 500 varieties of avocado, only a few are grown commercially. Of these, Hass is the dominant variety. Pee Wee is a very small type of Hass avocado – the perfect single-serving size.
Choosing and Using
Sigona's always has ripe avocados available for our customers (look for the orange Ripe stickers). We have natural atmosphere rooms that ripen our avocados to perfection. These fully ripe avocados have a dark green color when ripe and feel slightly heavy for their size.
You can also buy them when they are still firm and ripen them at home. Once ripe, the fruit can be refrigerated until it is eaten, but generally not for more than two or three days.
To prepare an avocado, slice it lengthwise around the pit. Hold one half in each hand and twist it open. Take out the pit (you can stab it with the sideways edge of the knife and twist it out). Scoop out the creamy, buttery fruit with a spoon; slice it up for a salad or smash it for guacamole or sauce.
Tip: to keep guacamole from turning brown, put the pit back on top of the guac and sprinkle some lemon juice over it all. Cover with plastic wrap till you're ready to serve.
*By the way, to approximate a delicious TB12-inspired chocolate pudding, just take a couple avocados, some melted good quality dark chocolate or cocoa, and almond coconut milk – roughly equal portions, maybe a bit heavier on the avocado. Blend till it's a smooth, pudding consistency. Adjust the proportions if you need to. Pour out into serving dishes; let it chill to set. It's really nice with some sweetened whipped cream, though that would not be Brady's coach's idea of de rigueur.
But none of us is aiming to be the G.O.A.T.** anyway, right?
**Greatest Of All Time