Chilled Peach Soup
Our friends from the South say peaches can be incorporated into almost every dish, including soup! Chilled peach soup is an elegant treat on a hot summer day, served for any meal. Inspired by the Georgia Peach Council. Makes about 4 cups.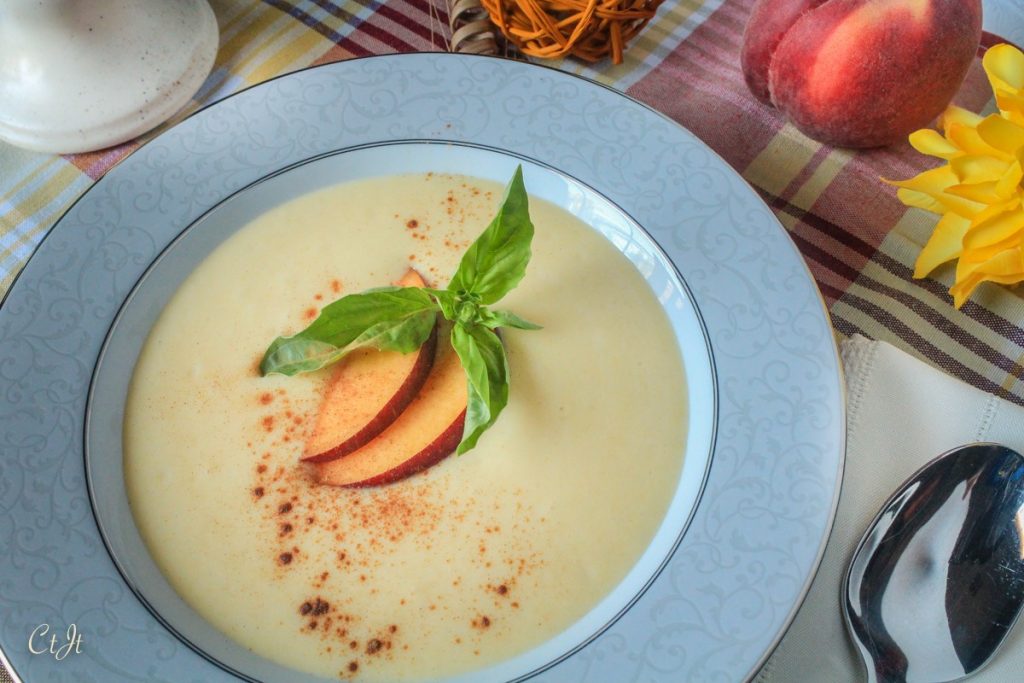 Ingredients:
4 cups fresh peaches, peeled and sliced (about 5 medium peaches), plus more for garnish
1 cup white wine (such as Sauvignon Blanc or Pinot Grigio)
1 cinnamon stick (3-inch)
1/8 tsp. ground ginger
2 Tbsp. honey, such as honey from Honey Hole Honey Co., available at Sigona's
1 Tbsp. fresh lime juice
6 oz. plain yogurt (use vanilla for a sweeter soup, if desired)
A splash of vanilla extract
Fresh basil or mint, for garnish
Optional: ground cinnamon, for garnish
Directions: In a medium saucepan, combine peaches, wine, cinnamon and ginger over medium-high heat. Bring to a boil, reduce heat, cover, and simmer for 10 minutes or until peaches are soft.
Remove peaches from heat and let cool, stirring occasionally, for about 15 minutes. Remove and discard the cinnamon stick then add the peaches to a food processor and process until smooth. Add honey and lime juice, then pulse to combine. If peaches are still a little warm, allow the mixture to cool to about room temperature before adding the yogurt. Add the yogurt and vanilla and blend until smooth.
Add a little more yogurt for a thicker soup.
Refrigerate mixture until well chilled, about 1 hour. To serve, ladle into individual serving dishes, garnish with basil and fresh peach slices. Add a dash of ground cinnamon, if desired. Serve chilled.
Peach & Berry Galette with a Pecan Crust
A galette is a sort of rustic, simply pie, but without the hassle of a pie plate or excess dough. You don't have to make it look beautiful either— the more rustic in appearance, the better! Adapted from Bon Appetit. Serves 6 to 8.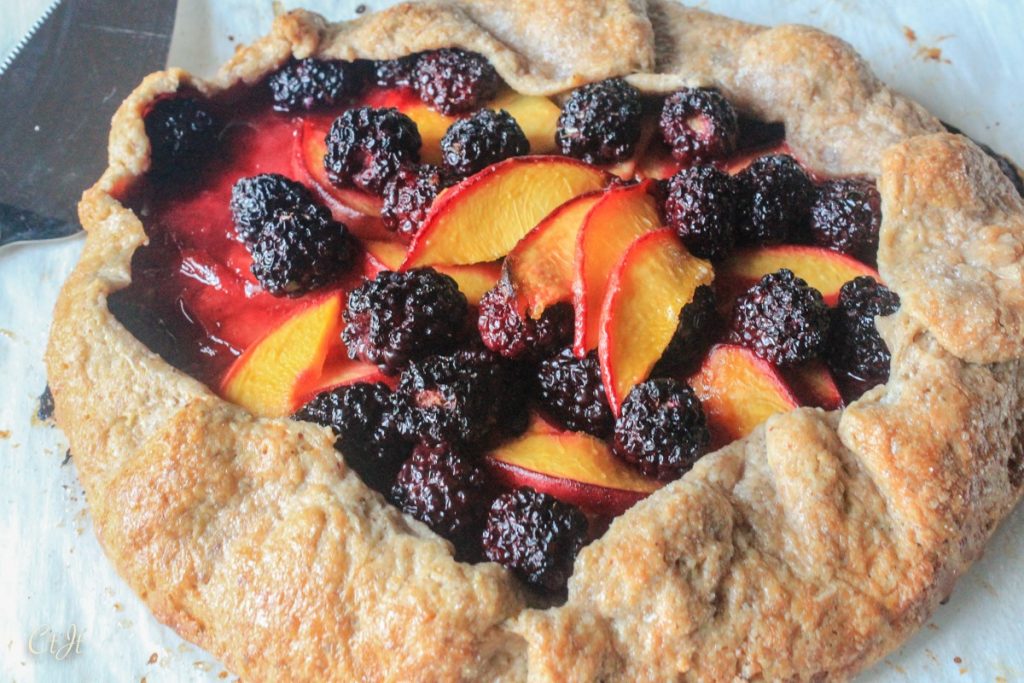 Crust:
1/2 cup pecans
1 cup plus 2 all-purpose flour
1 tsp. sugar
1 tsp. brown sugar
1/2 tsp. kosher salt
1/4 tsp. ground cinnamon
Pinch of nutmeg
1/2 cup (1 stick) chilled unsalted butter, cut into pieces
4 to 5 Tbsp. ice water
Filling And Assembly:
1 cup fresh blackberries, olallieberries, blueberries, boysenberries or raspberries, or a mix of different berries
1 cup sliced peaches
1 Tbsp. fresh lemon zest
1 1/2 tsp. fresh lemon juice
Pinch of ground ginger
3 Tbsp. sugar, plus more for sprinkling
All-purpose flour (for surface dusting)
2 Tbsp. milk
Directions: Place the pecans in a food processor and pulse until they are the consistency of coarse meal. Add flour, sugars, salt, cinnamon and nutmeg, then pulse until just combined. Add the butter and pulse until mixture resembles coarse meal with just a few pea-size pieces remaining.
Transfer the mixture to a large bowl and drizzle with about 4 tablespoons of ice water. Mix, adding another tablespoonful of water if needed, just until mixture comes together. Gently pat dough into a disk about 6 inches in diameter. Wrap in plastic and chill at least 1 hour.
When ready to assemble the galette, preheat oven to 375°F.
In a large bowl, gently toss together the berries, peaches, lemon zest, lemon juice, ginger and sugar.
Lightly sprinkle a sheet of parchment paper with some flour; roll out dough on the parchment to create a 12-inch round. Carefully transfer parchment and dough to a baking sheet (remove any excess flour from around the dough). Leaving a 2-inch border, arrange or mound the peach and berry mixture in center of dough. Fold edges up and over, overlapping slightly. Brush dough with milk and sprinkle the edges with remaining sugar.
Bake galette until crust is dark golden brown and filling is bubbling, 45 to 50 minutes, checking around 35 to 40 minutes. Let cool before serving.
Note: This is delicious served with a scoop of vanilla bean gelato.
Prosciutto-Wrapped Peaches and Basil with a Summertime Peach Balsamic Reduction
Sweet, salty and herbaceous, with a little tangy flavor from the peach balsamic reduction, these make a simple, healthy, delicious and beautiful appetizer. You can use nectarines in place of the peaches, if desired. Mint can also be used in place of the basil. Makes 16 slices, serves 8.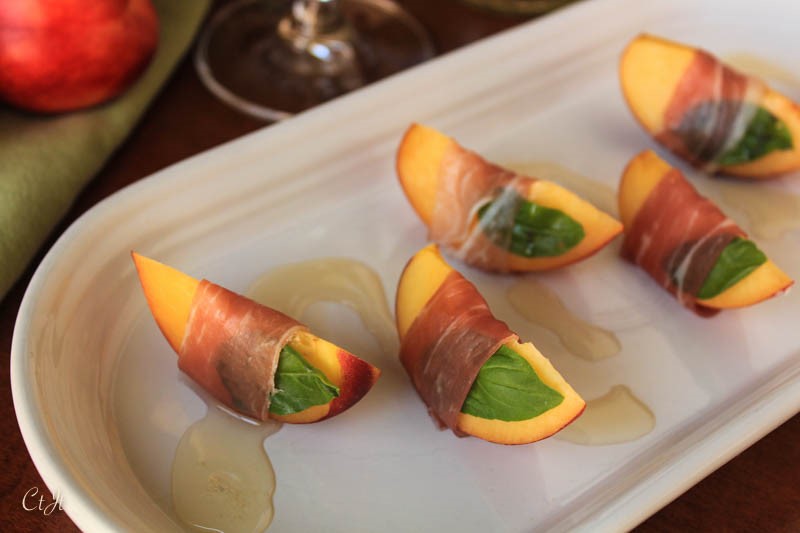 Ingredients:
3 slices prosciutto
2 locally grown California Clean peaches
16 small basil leaves, about 1-inch long (slice larger leaves if needed)
Directions: Pour balsamic into a small saucepan over medium heat. Bring it to a slow simmer; let reduce over the heat for about 3 minutes. Turn the heat to low; allow it to continue to reduce, stirring occasionally, until reduced by about half, about 3 minutes more. Remove from heat (it will continue reducing and become syrupy).
Meanwhile, slice each piece of prosciutto lengthwise into three strips, then slice each strip in half.
Slice each peach in half and remove the pit. Cut each half into 4 slices. Place a basil leaf on one side of each peach slice and then wrap a strip of prosciutto around the middle of the peach, securing the basil leaf to the peach. Place on a serving dish. Repeat with each peach.
Just before serving, drizzle the balsamic reduction over the prosciutto-wrapped peaches.