In the Kitchen with Sigona's Featuring – Fresh Pineapple
Pineapple Salsa
This is a delicious combination of sweet and spicy. Enjoy with grilled chicken or fish or as an appetizer with chips. Recipe and photo courtesy of Luisa Ormonde of Luisa's Catering in San Bruno.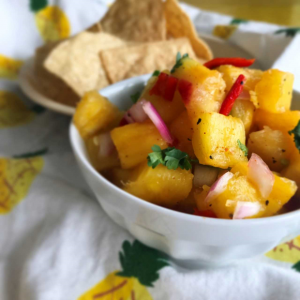 Ingredients:
2 cups fresh pineapple, diced
1/4 cup fresh cilantro, chopped
1/4 cup fresh mint, chopped
1/2 cup red onion, finely chopped
1 jalapeno or Fresno red chili, finely chopped
1 lime, juiced
2 tablespoons rice vinegar
Agave nectar, to taste
Fine sea salt and fresh ground black pepper, to taste.
Directions: In a large bowl, toss all of the ingredients together to combine. Cover and refrigerate.