Grape, Arugula and Gouda Skewers with a Walnut-Thyme Drizzle
Grape, Arugula and Gouda Skewers with a Walnut-Thyme Drizzle
It's grape season! Don't miss an opportunity to get a taste of incredible flavor of local, in-season grapes. Grapes and Gouda make for a sweet & savory combination, which pairs perfectly with peppery arugula. The smooth, herbed finish of our walnut oil with thyme brings the whole thing together. Serves 6 to 8.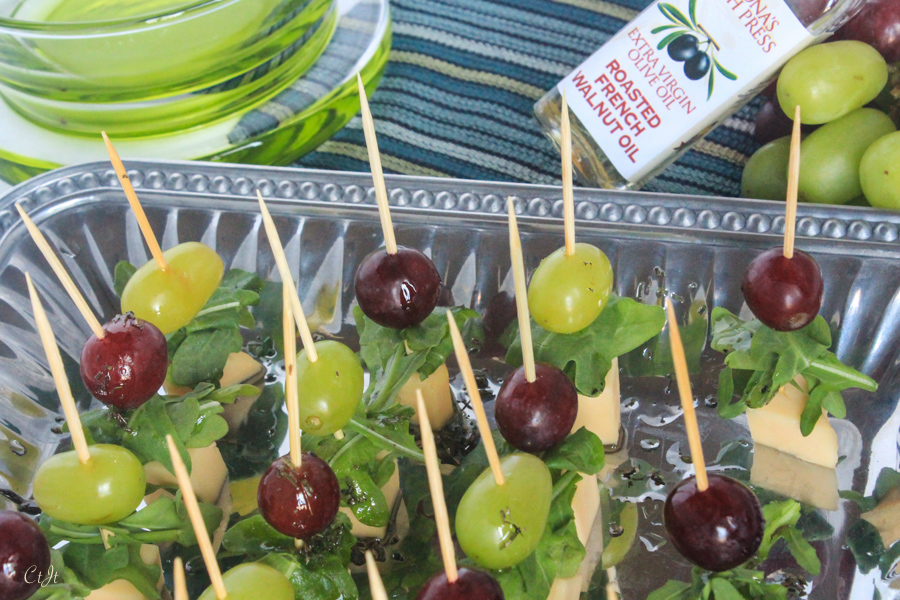 What you need:
24 grapes, such as black sapphire, Thompson, gum drop, flavor pop or a combination red and green grapes, which adds more color to the presentation
48 leaves of baby arugula
About 4 oz. Beemster Vlaskaas Gouda, sliced into 24 cubes (1/2-inch in size)
1/4 tsp. dried thyme or 1 tsp. fresh thyme
Equipment:
Small skewers or toothpicks, about 4-inches long
Directions: Slide a grape halfway onto a skewer. Gently bend two arugula leaves in half and thread them on the skewer. Finish by threading on a cube of cheese, then stand or lay the skewer on a serving tray. Repeat with all remaining ingredients.
In a small bowl, mix together the walnut oil and thyme. Drizzle the oil mixture around the dish and lightly over the top of the skewers. Serve.