Recipe Roundup: Sigona's Dark Maple Balsamic
We've combined 100% pure maple syrup with aged balsamic to create a perfect balance between sweet and tart. Drizzle over ice cream, strawberries, angel food cake or use to glaze ribs.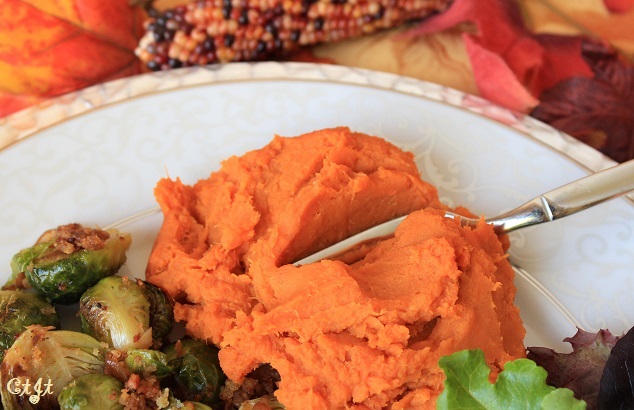 Dark Maple Balsamic Whipped Garnet Yams
Garnet yams get sweeter as they roast. Their natural sugars caramelize in the oven, creating a delicious sweetness which is enhanced by the maple balsamic. One yam serves about 2, depending on size.
What you need:
Garnet yams, medium to large in size
Sigona's Dark Maple Balsamic, about 2 to 3 tsp per yam, to taste
A couple pats of butter, as desired
Salt and pepper, to taste
Optional: Candied pecans, lightly crushed
Directions: Preheat oven to 400°F
Wash the Garnet yams and pierce the skin multiple times with a fork. Bake on a baking sheet for about 1 hour or until yams are knife tender. Remove from oven and allow to cool.
When cool enough to touch halve the yams and use a spoon to scoop out the flesh; discard the skin.
In a large bowl, mash and whip together the yams and butter until the yams are like mashed potatoes — mostly smooth, but some lumps are okay.
Measure in the balsamic, about 2 teaspoons per yam (you can always add more, so start light), and season with salt and pepper to taste. Add more balsamic if desired. Serve warm with a pat of butter on top, sprinkled with candied pecans, if desired.
---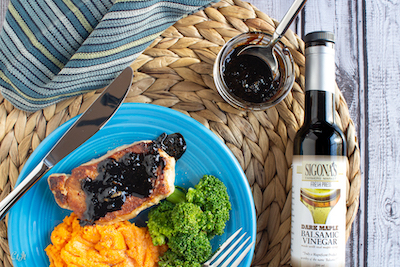 Maple-Balsamic Glazed Pork Chops
This dish is simple for any night of the week, yet impressive enough to be served for Sunday dinner. Delicious! Recipe courtesy of Rachel Bradley-Gomez of Au Jardin Potager. Serves 4
Pork Chops:
6 to 8 boneless pork chops, 1/2-inch to 1 inch thick, trimmed
1/2 tsp kosher or sea salt
1/4 tsp fresh ground pepper
1 TBL Sigona's Fresh Press olive oil (we suggest a robust oil)
3 TBL finely sliced shallots
1/3 cup Sigona's Dark Maple Balsamic
Directions: Pat pork chops dry with paper towels. Sprinkle with sea & and pepper. In a nonstick, 12 inch skillet, heat the olive oil over med-high heat. Cook 1/2-inch chops for 4 minutes on one side, cook 1-inch chops for about 6 mins aside, turning once. Transfer to platter and keep warm with a tent of aluminum foil.
Increase heat to high and stir the shallot into the pan juices. Cook for 2 minutes. Stir in the balsamic, scrap up any brown bits from the pan, and cook down for an additional 2-4 minutes or until reduced so it's at a syrup-like consistency. Adjust seasoning with sea salt and fresh ground pepper.
To serve, ladle the pan sauce over the pork chops.
---
Carmelo's Buckwheat Pancakes with a Dark Maple-Olive Oil Syrup
Buckwheat is a fantastic alternative for those who are gluten intolerant or are seeking a healthier alternative to from-the-box pancake mixes. I simply love mixing our Dark Maple Balsamic with our Arbequina olive oil because the olive oil is mild and buttery in flavor so there is no need to add on extra butter. It's a two-for-one! Serves 4-6.
Pancakes:
2 cups buckwheat flour
2 1/2 Tbsp brown sugar (or raw sugar or honey)
2 tsp baking powder
1 tsp baking soda
1 tsp salt
1/2 tsp cinnamon
2 eggs
2 cups low-fat buttermilk or milk (buttermilk makes for a richer flavor)
2 Tbsp Sigona's Fresh Press olive oil OR melted butter
Balsamic Syrup:
Whisk well together equal parts; adjust flavor by adding more of one or the other to achieve best flavor.
Optional:
Fresh, in-season berries
Very thinly sliced apple
Directions: Mix together the dry ingredients in a large bowl then create a crater in the middle of the mix.
In a smaller bowl, mix together the wet ingredients. Pour the wet ingredients into the crater made in the dry ingredients and stir together to mix.
Preheat your skillet to optimum pancake-cooking temperature. If desired, add some cooking spray or oil. Pour about a 1/3 cup of the mix onto the skillet or griddle at a time. Cook on one side until tiny bubbles appear, then flip the pancake and cook until evenly browned on both sides and cooked through.
Serve with the Dark Maple Balsamic-Olive Oil syrup. Add on fresh berries for a sweet treat.
---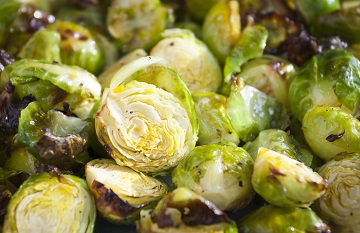 Brussels Sprouts with Dark Maple Balsamic TWO WAYS
This recipe, courtesy of Caroline, author of the food blog After Dinner Dance, is simple, healthy and delicious. Roasting the Brussels sprouts with the balsamic makes for a richer, more caramelized flavor. Serves 2-4 as a side.
Ingredients:
Directions:
Preheat oven to 400F. Cut the ends off of your Brussels sprouts and remove a few of the outer leaves. Cut the ends off of your Brussels sprouts and remove a few of the outer leaves. Cut the ends off of your Brussels sprouts and remove a few of the outer leaves. Chop your Brussels sprouts in half and place them on a baking sheet or pan.
Combine the olive oil and balsamic, then drizzle evenly over your Brussels sprouts. Season with salt and pepper. Toss your Brussels sprouts to coat them with the glaze. Roast Brussels sprouts in oven for 35 minutes, flipping halfway through.
Adjust seasoning as needed and serve warm.
---
Maple-Sesame Pot Sticker Dipping Sauce
Whether you've made your own or picked some up at the store, pot stickers are always best served with a sauce for dipping. Sweet and tangy, this simple recipe is a Sigona's favorite.
What you need:
Sigona's roasted sesame oil
Sigona's Dark Maple Balsamic
Optional: red chili flakes
What to do: In a small bowl, mix together 1 TBL roasted sesame oil and 1 TBL Dark Maple Balsamic. Give it a taste, add more of one ingredient if necessary to adjust flavor. Add in a shake or two of red chili flakes to give it a little heat. Serve with warm pot stickers.
---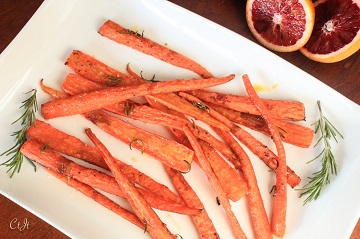 Roasted Organic Carrots with Blood Orange, Dijon and Rosemary
These roasted carrots, infused with the flavors of blood orange, Dijon and rosemary, and finished with a little sweet from our maple balsamic, are simply incredible. The flavor pairs well with roasted meats. Don't skip on the finishing salt; it rounds out the dish perfectly. Adapted from Fine Cooking. Serves 4 to 6.
Ingredients:
1 1/2 lb. carrots, peeled and trimmed, halved lengthwise, larger carrots quartered
1 1/2 tsp. Dijon mustard
1 blood orange; zested and juiced
Kosher salt and pepper, to taste
1/2 Tbsp. fresh rosemary leaves
1 Tbsp. Sigona's Dark Maple Balsamic
Ancient sea salt, for finishing
Directions: Heat the oven to 425°F.
Arrange the carrots in a single layer on a foil-lined rimmed baking sheet. In a small bowl, whisk together the blood orange olive oil, mustard and orange zest. Pour over the carrots and toss to coat. Season generously with salt and pepper.
Pour the orange juice around the carrots and sprinkle rosemary over the top. Cover tightly with foil and roast until the carrots are nearly tender, about 15 to 18 minutes. Uncover, drizzle with the maple balsamic, and roast, uncovered, until tender and beginning to brown, 15 to 18 minutes more.
---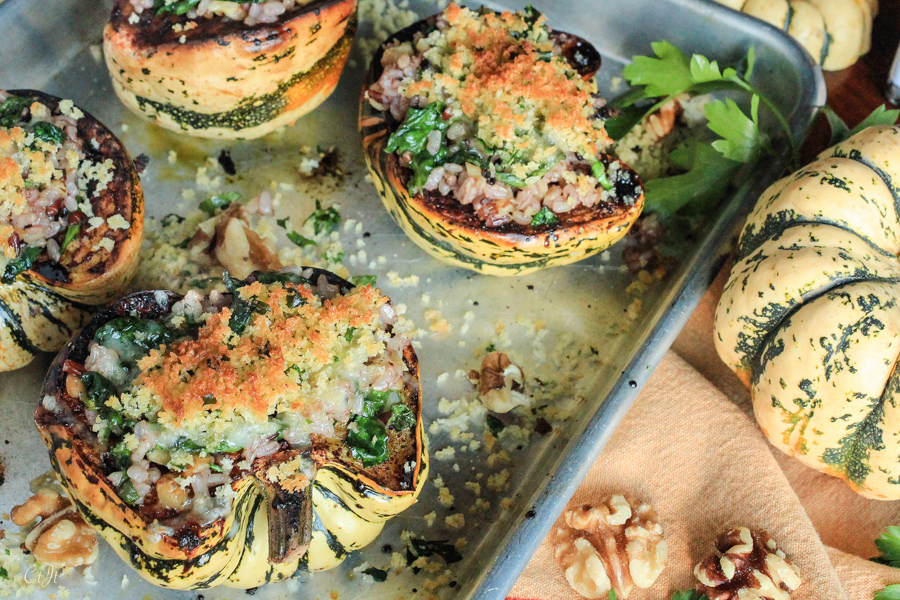 Sweet Dumpling Squash Stuffed with Wild Rice and Walnuts, Topped with Dill Havarti
Your tastebuds will swoon over how all the flavors work together in this recipe. There is a sweet factor from the dark maple balsamic, an herbaceous note from the dill havarti, a meaty earthiness from the walnuts and a freshness from the parsley and spinach. Fall is a fantastic time for squash; we hope you enjoy this dish. Inspired by Half Baked Harvest. Serves 4.
Ingredients:
• 2 sweet dumpling squash, halved vertically, seeds and membrane discarded
• 2 Tbsp, divided, Sigona's Fresh Press Extra Virgin Olive Oil
• 1 Tbsp Sigona's Dark Maple Balsamic
• 1/2 tsp ground cinnamon
• Salt and pepper, to taste
• 1/2 cup wild rice, such as Lundberg (you'll love the slight bite and crunch of this wild rice blend)
• 3 cups baby spinach, stems trimmed
• 2 Tbsp Sigona's Olive Oil Wood Smoked Olive Oil (If you want a bit of heat and smoky flavor, try our Sigona's Smokey Chipotle Oil)
• 1/2 cup heirloom walnut halves, chopped
• 1/2 tsp each Kosher salt and freshly ground black pepper
• 1/2 cup shredded dill havarti cheese
1/4 cup panko crumbs
• 2 Tbsp chopped fresh parsley, plus more for garnish
Directions: Preheat oven to 450°F.
Mix together 1 tablespoon olive oil with the maple balsamic and cinnamon. Brush all cut sides and the cavity of the squash with the mixture; season with salt and pepper. Roast for 40 minutes or until fork-tender. When done, set aside but leave oven on.
Meanwhile, cook rice according to package directions. After it's cooked, to the same pot as the rice, add the smoky olive oil, spinach, walnuts, salt and pepper. Stir to incorporate, replace the lid and allow the mixture to sit about 10 minutes while the spinach wilts.
Mix together in a small bowl the panko, remaining 1 tablespoon regular olive oil and parsley. Set aside.
Scoop rice mixture into the cavities of the roasted squash. Onto each squash half, sprinkle on about 2 tablespoons of the dill havarti and top with about 1 tablespoon of the panko mixture. Return the stuffed squash to the oven to cook another 3 to 5 minutes or until the panko is browned (watch so it doesn't burn) and the cheese is just melted. Serve immediately.
---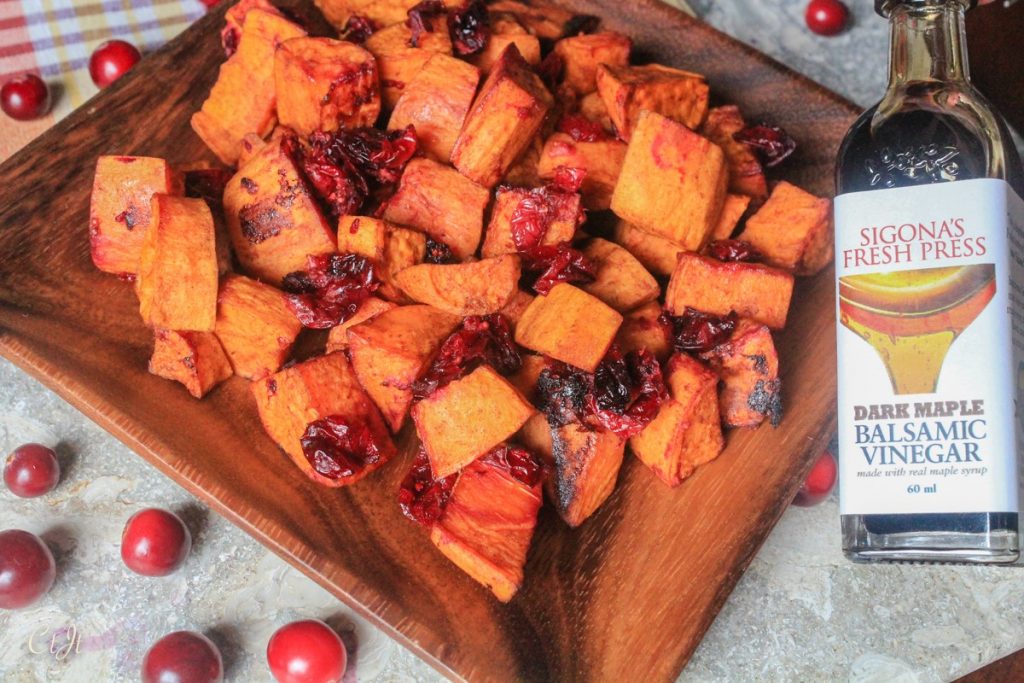 Cinnamon-Roasted Yams with Cranberries and Maple Balsamic (Sweet Potatoes)
Roasting these ingredients together will fill your home with the scent of the holidays. The rich spice of the cinnamon pairs nicely with the sweet balsamic and the natural caramelization of roasted yams. The tang of the roasted cranberries adds a fantastic layer of flavor. Serves about 6.
Ingredients:
4 medium garnet yams, peeled and sliced into 1.5" cubes
1 1/2 cups fresh cranberries
2 Tbsp. Sigona's Dark Maple Balsamic
1 tsp. cinnamon
Salt and pepper, to taste
Directions: Preheat oven to 400°F. Line a rimmed baking sheet with parchment paper.
In a large bowl, combine the yams with the cranberries, balsamic and oil. Toss until well coated. Sprinkle in the cinnamon, salt and pepper. Toss to coat, ensuring cinnamon is well distributed; spread out the mixture in a single layer on the baking sheet.
Roast for about 40 to 50 minutes, stirring about every 10 minutes. Yams should be easy to pierce with a fork when done.
Transfer to a serving dish, season with salt and pepper, if needed. Serve warm.
---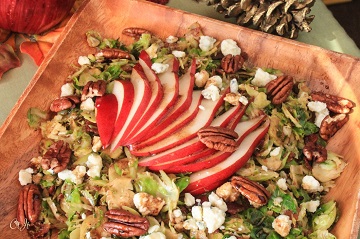 Shredded Brussels Sprouts Salad with Pears and Bacon, Topped with a Maple Balsamic Vinaigrette
The maple and bacon in this are likely to make a Brussels sprout lover out of even those most adamantly opposed to this Brassicaceae-family vegetable. Topped with sweet pear and Gorgonzola, this is a perfect way to incorporate Brussels sprouts to your Thanksgiving menu. Serves 4 to 6 as a side.
Ingredients:
1 to 1 1/2 lbs. Brussels sprouts, outer/yellow leaves removed and ends trimmed
4 slices of bacon
1 shallot, diced
Salt and pepper, to taste
1 Tbsp. Sigona's Dark Maple Balsamic
1 tsp. fresh lemon juice
1/2 tsp. Dijon mustard
2 to 4 oz. crumbled Gorgonzola
Half of one red pear, such as a Red D'Anjou, thinly sliced*
1/4 cup pecans, optional (candied or regular)
Directions: Begin by shredding the Brussels sprouts using either a sharp knife or a food processor fitted with a thin slicing disc. Set aside.
In a large, deep skillet, cook the bacon until crispy. Leaving the drippings in the skillet, remove bacon from skillet to a paper-towel lined plate and allow to cool to the touch. When cool, chop and set aside.
Reduce heat to low and add the shallot to the bacon drippings; season with salt and pepper. Sauté, stirring, until soft, about 3 minutes. Add the shredded Brussels sprouts to the skillet and stir to coat well in the bacon drippings. Increase heat to medium-low and cook, stirring, for 5 minutes. Remove the Brussels sprouts to a large bowl.
Meanwhile, prepare the vinaigrette in a small bowl. Whisk together the balsamic, lemon juice and Dijon. While whisking, drizzle in the olive oil. Season with salt and pepper.
To the large bowl of Brussels sprouts, add the bacon and about half to a third of the vinaigrette; toss well to coat. Transfer the mixture to a serving platter.
Top the Brussels sprouts mixture with crumbled Gorgonzola, sliced pear and pecans, if using. Drizzle with remaining vinaigrette and serve.
*You can chop the pear and sprinkle it over the top instead of laying on slices. You can also toss the chopped pear with the sprouts.
---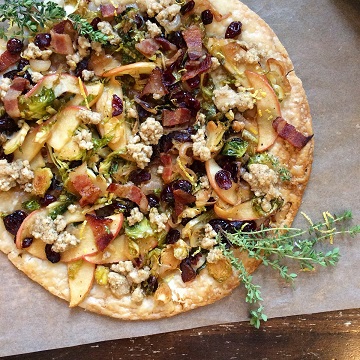 Puff Pastry Pizza with Brussels Sprouts, Apple, Bacon and Parmigiano Reggiano
Talk about a fantastic fall appetizer! If you're looking for a low-carb option, skip the pastry and top seasoned chicken breasts or pork chops with the Brussels sprout mixture and bake at 350°F for 30 minutes, uncovered. Recipe and photo courtesy of Luisa Ormonde of Luisa's Catering. Makes 2 rectangular pizzas, serves about 6 to 8.
Ingredients:
3/4 cup raw walnut halves (available in Sigona's dried fruit & nut department)
1/4 cup freshly grated Parmigiano Reggiano cheese
1 Tbsp. chopped Bay Area Herbs fresh lemon thyme
Sea salt and black pepper, to taste
1 Tbsp. unsalted butter
1 shallot, thinly sliced
1 lb. fresh Brussels sprouts, trimmed and thinly sliced
1 large Fuji apple, cored and thinly sliced
1 Tbsp. Sigona's Dark Maple Balsamic
2 Tbsp. Sigona's East Coast Dried Cranberries
1/2 package Niman Ranch uncured maple bacon, cooked and sliced
Fresh zest from one lemon
2 puff pastry sheets, thawed according to package directions
Directions: Preheat oven to 425ºF.
Put the walnuts, cheese, olive oil and lemon thyme in a food processor and process until crumbly. Season with lightly salt and pepper.
Heat the butter in a large skillet over medium heat. Add the shallot and cook for about 5 minutes, until softened. Stir in the Brussels sprouts and apple slices; cook about 10 minutes more, or until apples and sprouts are beginning to brown. Stir in the maple balsamic and cranberries, then remove from heat and season to taste with salt and pepper.
Place the puff pastry on baking sheets lined with parchment paper; roll the pastry out to about 9 x 12 inches**. Prick all over with fork and bake for 8 to 10 minutes, or until the pastry is puffed and golden brown.
(**Before baking, you can trim the pastry to be circular, though it would allow excess pastry go to waste.)
Gently press down the center of the pastry, leaving a 1-inch margin on all sides. Sprinkle some of walnut pesto onto the crust, then top with the sprouts mixture and cooked bacon pieces (you might have some of the walnut pesto leftover.)
Return to the oven for 5 more minutes to melt the cheese, then top with the fresh lemon zest. Garnish with additional lemon thyme.
Slice into desired sized pieces and serve warm or room temperature.
---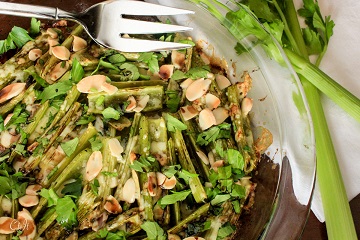 Honey & Cayenne Roasted Organic Celery with Blue Cheese and Almonds
This side would be the perfect complement to Buffalo-seasoned chicken; it'd be a sort of classy version of hot wings, accompanied by blue cheese and celery, from the local pub. Adapted from Fine Cooking. Serves 4 to 6.
Ingredients:
2 Tbsp. butter, melted*
1 Tbsp. Sigona's Cayenne Chili Oil or Sigona's Red Chili Harissa Oil
1 Tbsp. honey, such as Wild Mountain by Honey Hole Honey Co., available only at Sigona's
Salt and pepper, to taste
1 bunch organic celery (about 1 1/2 lbs.), leafy tops reserved; stalks trimmed, peeled, and cut into 2-inch pieces (about 5 cups), rinsed but not dried
3 oz. crumbled blue cheese, such as Stilton (about 3/4 cup)
1/2 cup chopped blanched almonds or hazelnuts
*If you'd like to more or less spice to the dish, adjust the ratio of butter and oil as desired.
Directions: Preheat oven to 450°F, ensuring a rack is in the center.
In a large bowl, combine melted butter, oil, honey, salt and pepper. Add the celery and toss to coat. Transfer to an 11-inch quiche dish or a 9×13-inch baking dish, spreading the celery out in an even layer. Roast until crisp-tender and starting to brown in spots, 25 to 30 minutes.
Meanwhile, roughly chop about 2 to 3 tablespoons of the celery leaves. Set aside.
Remove from the oven, sprinkle evenly with the cheese and almonds. Return to the oven to roast until the cheese melts and the almonds are lightly toasted, about 10 minutes.
Sprinkle the dish with the chopped celery leaves and drizzle with balsamic. Serve warm.
---
DIY Candied Pecans
To make your own candied pecans, combine 3 tablespoons brown sugar, 1 tablespoon balsamic (we recommend Sigona's Pumpkin Spice Balsamic or Sigona's Dark Maple Balsamic) and 1 tablespoon olive oil over medium-high heat, stirring to dissolve sugar, until the mixture is bubbly. Add 3/4 cup the pecans and stir to coat. Cook, stirring regularly, until the coating is thickened, about 5 to 6 minutes, being careful that the mixture doesn't burn or smoke. Turn pecans out onto a parchment-lined baking sheet and work quickly to separate the pecans. Allow to cool completely. Store in an air-tight container.
---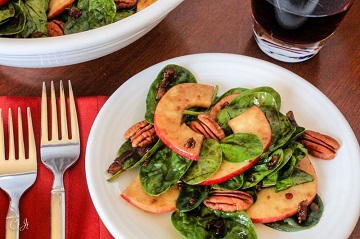 Gala Apple and Spinach Salad with a Warm Bacon-Maple Vinaigrette
The mingling flavors of bacon and our maple balsamic is fantastic, and our Herbes de Provence olive oil adds just the right amount of savory to this delicious fall salad. Serves 4.
Ingredients:
1 local Gala apple, cored and very thinly sliced (a mandoline set to 3mm works well)
5 oz. baby spinach
3 to 4 slices bacon, diced
3 green onions, sliced on the bias
3 Tbsp. Sigona's Dark Maple Balsamic
1 Tbsp. Dijon mustard
1/4 tsp. salt, or to taste
Raw pecans, for topping (look for them in our dried fruit & nut section)
Directions: In a large bowl, gently toss together the spinach and sliced apple. Set aside.
In a medium skillet, over medium heat, cook the bacon until browned and slightly crispy. Add the green onions and cook for about 1 minute more. Remove skillet from heat and add the balsamic, olive oil, Dijon and salt. Stir to combine.
Pour the warm vinaigrette over the salad and toss gently until well coated. Serve immediately.