Parmesan & Panko Roasted Asparagus Fries with Basil Aioli
Everyone! Get excited about local asparagus being in season! Our basil oil is a top seller, and pairs incredibly well with vegetables, both fresh or roasted. You'll absolutely love this aioli, and you can use what's left over as a sandwich or burger spread, or use it on seafood, such as salmon or shrimp. The asparagus can easily be made gluten-free by carefully selecting your panko. Makes about 2/3 cup aioli.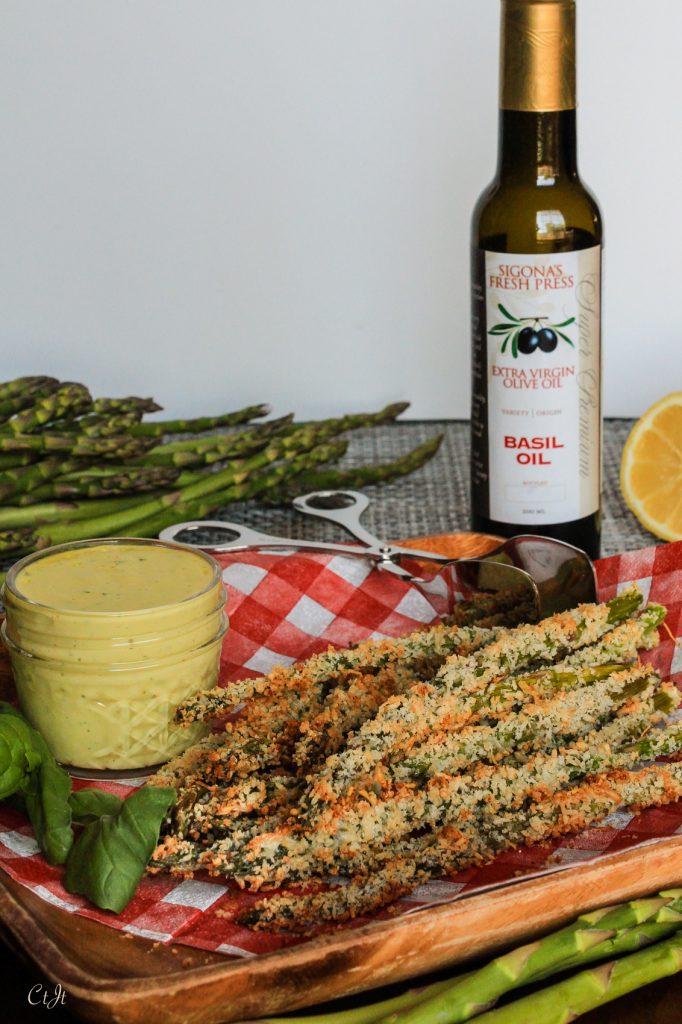 For the asparagus:
2 egg whites
1 cup panko-style breadcrumbs (look for gluten-free if you desire)
1/2 cup grated parmesan
Salt and pepper, to taste
1 bunch asparagus, ends trimmed
For the aioli:
1 egg
1 Tbsp lemon juice
2 to 3 cloves garlic
1/2 tsp Dijon
1/4 cup Sigona's Fresh Press Extra Virgin Olive Oil, such as Spanish Arbosana
1/4 cup Sigona's Basil Oil
About 2 Tbsp fresh basil, more or less to taste
Salt and pepper, to taste
For the aioli: Add the egg, lemon juice, garlic and Dijon to the bowl of a food processor or the pitcher of a blender. Run for about 30 seconds to combine the ingredients.
With the blade running, slowly (very, very slowly), drizzle in the olive oil so the mixture emulsifies and becomes thick and creamy. Season with salt and pepper. Add the basil leaves a couple at a time; taste and adjust seasoning or add more basil as needed. Transfer mixture to a small bowl and refrigerate until ready for use.
For the asparagus: Preheat the oven to 425°F. and line a baking sheet with parchment paper.
Whisk together the egg whites and pour them onto a shallow plate. On a second plate, stir together the panko, parmesan, salt and pepper.
Working with one or two spears at a time, roll the spears around in the egg whites then transfer to the panko mixture, coating and patting to ensure the mixture sticks. Transfer the coated spears to the prepared baking sheet.
Roast for 12 to 15 minutes or until the panko has a lovely toasted, golden color. Transfer to a platter and serve immediately with the aioli.