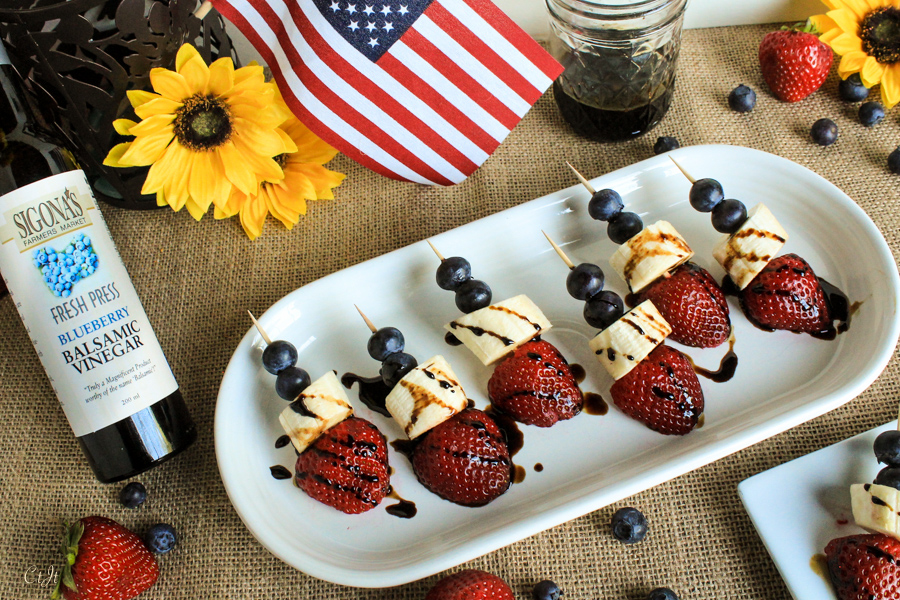 Red, White & Blueberry Balsamic Fruit Kabobs
Simple, healthy and delicious! Raspberries work in place of the strawberries, if you wish. You can even add a savory factor and replace the banana with a cube or ball of cheese. Either way, adding the balsamic reduction will get oohs and ahhs from guests. We suggest making at least 2 per guest.
What you need:
About 1 cup Sigona's Blueberry Balsamic (will render about 1/2 cup reduction)
Long toothpicks or skewers
Fresh strawberries, halved (use at least one half per kabob)
Fresh blueberries, at least two per kabob
Fresh bananas. sliced into 1-inch rounds (at least one slice per kabob)
Directions: Add balsamic to small saucepan over medium-high heat. Stirring occasionally, bring to a boil and then reduce to a simmer. Cook, stirring occasionally for 10-15 minutes until balsamic has thickened and reduced by about half. Keep in mind the reduction will thicken as it cools. Pour into a small bowl or jar and set aside and allow to cool.
To make the kabobs, work in a red, white and blue pattern to skewer the fruit. Arrange completed kabobs on a serving tray in a line, circular pattern or whatever works for your tray. Drizzle the blueberry balsamic reduction over the kabobs just before serving. Serve remaining reduction on the side.
---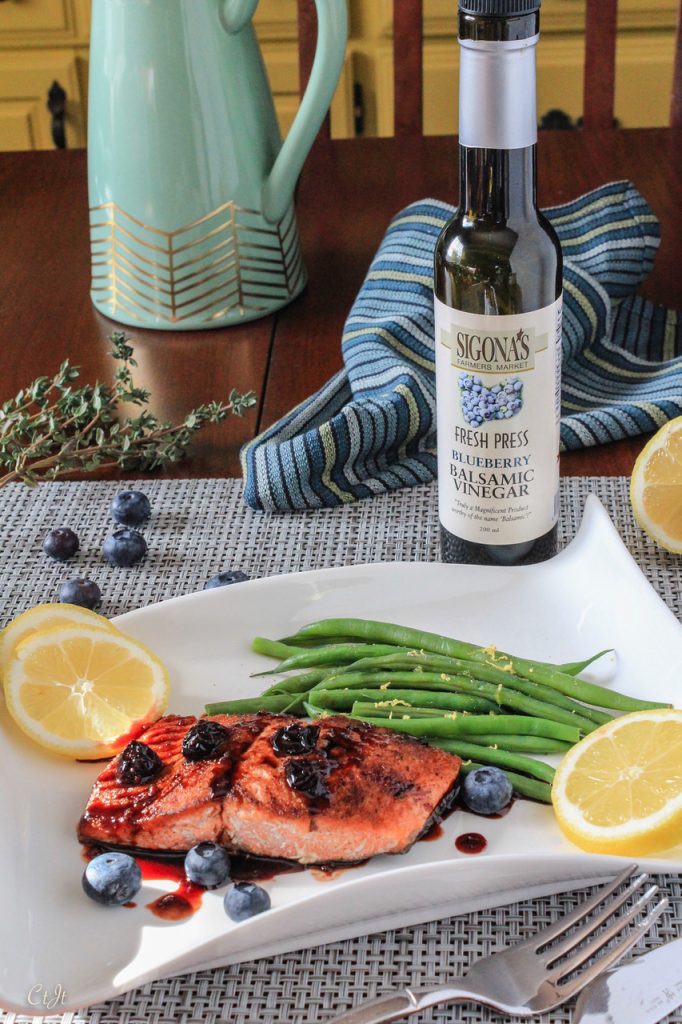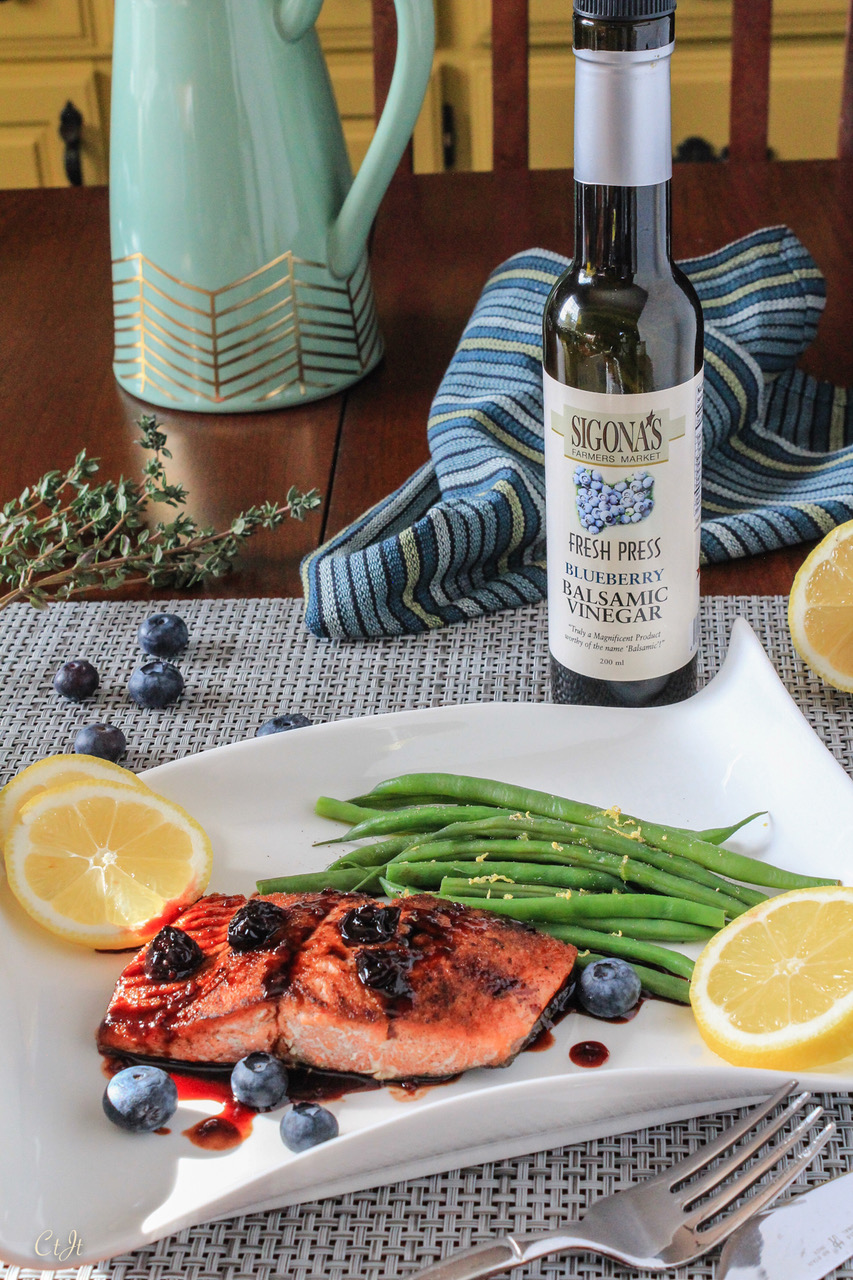 Wild Salmon with a Savory-Sweet Savory Blueberry Balsamic Glaze
Simple, elegant and delicious! The fruity, rich blueberry balsamic combines well with the rest of the reduction ingredients to create a perfectly sweet & savory topping for pan-seared wild salmon. Serve with a side of green beans or kale panzanella salad. Serves 4.
Blueberry Balsamic Glaze:
1/2 cup Sigona's Blueberry Balsamic
1/2 cup fresh blueberries
1/4 cup white wine, such as sauvignon blanc
2 Tbsp honey, such as raw, local, unfiltered Honey Hole Honey Co honey, available only at Sigona's
2 tsp Dijon mustard
2 cloves garlic, minced
2 sprigs fresh thyme, plus more for garnish
Salmon:
Grape seed oil or butter, about 1 to 2 tablespoons
4 salmon fillets, about 3 to 5 oz. each
Salt and black pepper, to taste
Lemon slices, for garnish
Directions: In a small saucepan, stir together the balsamic, blueberries, wine, honey, Dijon, garlic and sprigs of thyme. Bring to a boil over medium-high heat, stirring occasionally. Reduce to a simmer and allow mixture to cook, stirring occasionally, until it has thickened and reduced by at least half, about 15 minutes. Remove from heat, remove thyme sprigs and set mixture aside; it will continue to thicken off the heat.
Meanwhile, heat the cooking oil or butter in a nonstick skillet over medium-high heat. If using butter, heat it until the foam subsides and it turns a deep golden brown, about 3 minutes.
Season both sides of the salmon with salt and pepper. When skillet is ready, add salmon to the skillet skin-side up. Cook without flipping for 3 to 5 minutes or until the fish turns a nice deep crispy brown. Flip the fish and allow it to cook to desired doneness, about 3 minutes more depending on thickness.
To serve, drizzle a little of the reduction, a teaspoon or two, on each of four individual serving plates. Place the salmon on top of the drizzle then top each fillet with more of the reduction, being sure to include a few of the blueberries. Finish the presentation with fresh thyme and lemon slices. Serve immediately.
---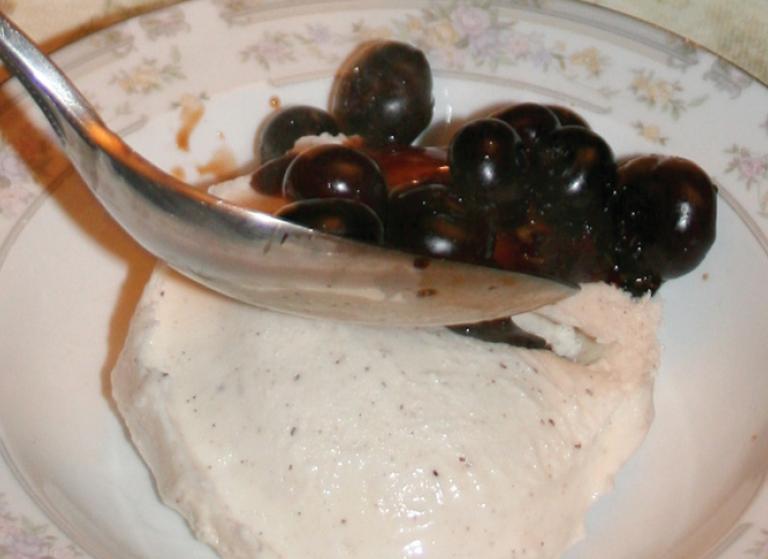 Blueberry Balsamic Reduction over Vanilla Bean Gelato
Gelato's flavor and richness make it seem decadent, but in fact, it's a pretty light dessert because it's made with milk instead of cream, giving it half the fat and calories or most ice creams.
Ingredients for two:
½ cup Sigona's blueberry or black currant balsamic vinegar
½ cup fresh blueberries
a generous scoop of vanilla bean gelato (We used Massimo, a locally-produced brand.)
Directions:
Put the berries and vinegar into a saucepan, over medium heat. Bring it to a slow simmer; let reduce for only about a minute. The reduction will continue from residual heat, so don't let it get too thick over direct heat. Pour the reduction directly over the vanilla bean gelato and serve.
Carmelo recommends: "You should take the gelato out of the freezer a few minutes ahead of time. You want it to be slightly soft, not hard-frozen."