Easter may look a little different this year, but that doesn't mean you can't have a nice meal. Find all these ingredients and more at Sigona's in Redwood City or in the Stanford Shopping Center. We also deliver via Instacart!
Fresh Fruit Salad with a Honey & Poppy Seed Dressing on a Bibb Lettuce Bed
If you're looking for a salad everyone will love for Easter, look no further. This is a simple, healthy and delicious fruit salad with a fantastic honey dressing; a combination worthy of resting upon its very own bed of lettuce. These will look elegant on salad plates at your Easter tablescape. Inspired by Food Network. Serves 4.
Ingredients:
1 apple, cored and diced
1 banana, sliced
2 mandarins, peeled, segments separated
1/3 cup halved red grapes
Juice from one lemon, divided
1/3 cup honey, such as orange blossom honey from Honey Hole Honey Co., available at Sigona's
1/4 cup Sigona's Fresh Press Extra Virgin Olive Oil (Mix it up! Use Sigona's Meyer-Lemon Fusion Oil or Sigona's Blood Orange Fusion Oil for more flavor!)
1/4 cup orange juice
2 tsp. poppy seeds
1/2 tsp. Dijon mustard
Salt, to taste
4 leaves from a head of Pescadero-grown Suncrest™ Bibb lettuce, separated
1/2 to 1 avocado, peeled and cut lengthwise into about 8 or 12 slices
About 1/3 cup walnuts
Directions: In a medium bowl, toss together the apple, banana, mandarins and grapes with all but 1 teaspoon of lemon juice. Set aside.
In a small bowl, whisk together the honey, oil, orange juice, the remaining one teaspoon lemon juice, poppy seeds, Dijon and salt, to taste.
Place one lettuce leaf on each of four salad plates. Divide the fruit mixture evenly between the four lettuce cups. Just before serving, fan out 2 to 3 slices of avocado on each of the salads and top with a few walnuts. Drizzle the salads with the dressing, serve any remaining on the side.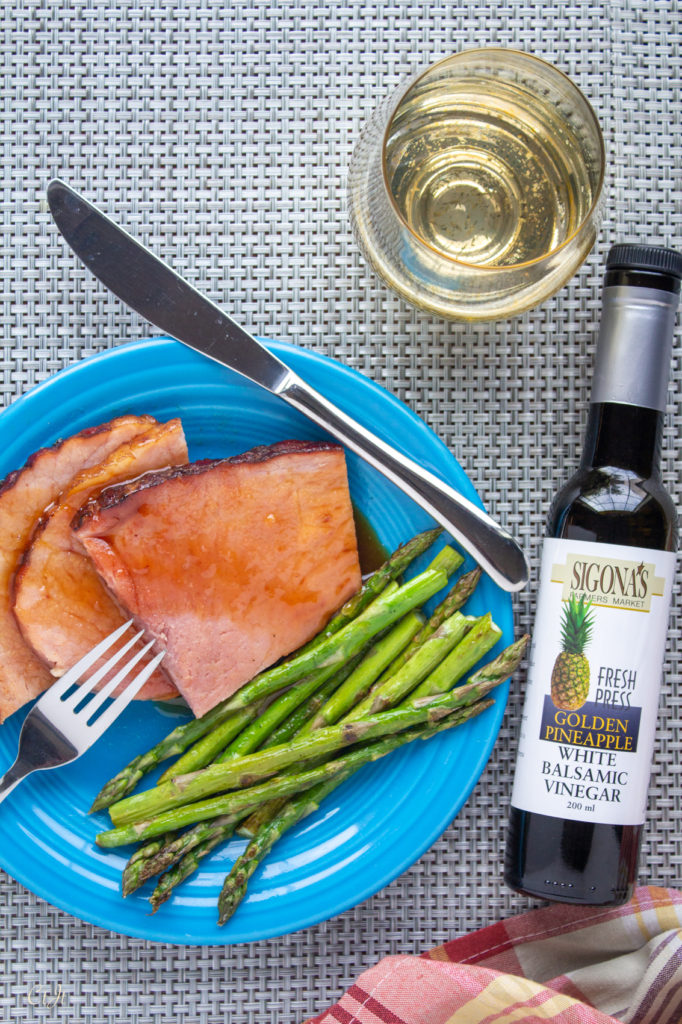 Golden Pineapple Balsamic Glazed Ham Steak
Ham steaks are an excellent choice for a quick, weeknight meal. The steaks are precooked so prep and cook-time are minimal. Pineapple and ham are a classic combo! Serve this dish with a side of mashed potatoes, asparagus or a simple salad. Inspired by The Olive Oil & Vinegar Lover's Cookbook. Serves 4.
Ingredients:
Directions: In a small saucepan combine the balsamic, honey, 1 tablespoon oil, Dijon and pepper. Bring to a boil over medium-high heat, whisking occasionally. Reduce heat to low and continue to cook, whisking occasionally, for 7 minutes. Remove from heat.
Heat remaining oil in a large sauté pan over medium-high heat. Add the ham steak and brush the top with some of the balsamic mixture. Cook for 2 to 3 minutes a side, flipping once, brushing the top when flipped with the balsamic mixture. Remove steak and keep warm.
Reduce heat to medium-low and add the remaining balsamic mixture to the pan, scraping up the brown bits. Allow the mixture to cook for 1 minute then transfer to a small bowl.
Slice the steak into serving portions and drizzle with the balsamic glaze. If the glaze has thickened too much, add 1 teaspoon of water and reheat, stirring, over low. Serve any remaining glaze on the side.
Simply Roasted Asparagus with Fresh Herbs and Sliced Almonds
If you're looking to spruce up your go-to asparagus side dish, give this recipe a try. Adding fresh herbs, a little lemon juice and almonds will definitely add the flare you're after. Serves 4 to 6.
Ingredients:
1 lb. fresh asparagus, ends discarded (option: slice stalks into 2 1/2-inch pieces)
1 Tbsp Sigona's Fresh Press Extra Virgin Olive Oil
1 1/2 Tbsp fresh lemon juice
1 Tbsp chopped fresh herbs, such as chives, basil, parsley or tarragon
Salt and pepper, to taste
2 Tbsp sliced almonds (Find them in our dried fruit and nut section!)
1/4 cup shaved Parmigiano-Reggiano
Directions: Heat 1 tablespoon olive oil in a large skillet over medium heat. When hot, lay asparagus in the skillet and gently shake to coat all stalks evenly in oil. Cover and cook about 5 to 8 minutes, gently shaking skillet from time to time so make sure all sides of the stalks cook evenly. Asparagus should be bright green and crisp, yet tender, and lightly charred in places. Sprinkle with salt and pepper.
Remove pan from heat. Let asparagus rest 1 minute. Toss with the lemon juice and allow to absorb, heating slightly if necessary. Sprinkle in all but a 1/2 teaspoon of the herbs, season with salt and pepper. Transfer to a serving dish and top with shaved Parmigiano-Reggiano; finish with almonds and reserved herbs.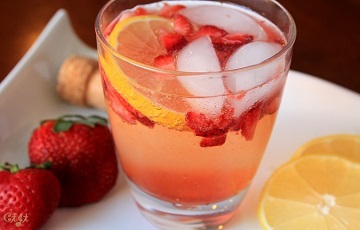 Strawberry Champagne Muddle
With a little slice of lemon, this refreshing sparkler is bound to be a new hit at brunch. Inspired by Bon Appetit. Makes 3 to 4.
Ingredients:
1 cup chopped fresh strawberries, hulled and stems removed
At least 6 Tbsp ginger ale, such as Bruce Cost original ginger ale
3 to 4 thin lemon slices
Ice cubes
1 (187 ml) bottle chilled JFJ champagne
Directions: Divide strawberries among three or four juice glasses (about 6 to 8 oz.) Add about 1 1/2 tablespoons ginger ale to each glass and then mash with a muddler (the handle of a wooden spoon or the like works in a pinch). Add lemon slice to each and mash slightly to release flavor. Add several ice cubes to each glass, then fill with champagne.