Air Fryer Green Beans with Garlic Aioli
Blue Lake beans are your typical green beans. Though this is the quintessential canning bean, you really can't beat them when they're fresh. Fresh Blue Lakes are tender, sweet and flavorful. The variety is long, straight and bright green with a thick pod surrounding small beans. The whole bean, pod and all, is edible, though you'll want to snap or snip off the stem end before cooking.
You know you're lucky to live in California, and especially the San Francisco Bay Area, right? It's one thing to know it, but it's another to take advantage of what we're lucky to have in our surrounding area.
Almost any vegetable you can think of, California can grow it. The best part? You get to eat it when it's fresh. 
Fresh-picked produce is in a class of its own. You can't beat the snap of a fresh bean, the sweetness of an ear of corn or still field-warm strawberry. Do you know how to check the freshness of a bean on the spot? Try putting a bean in the palm of your hand and snap one end with your thumb; if it bends to more than a 90 degree angle without snapping, it's past its prime.
This recipe for air fryer green beans with garlic aioli is great for a happy hour snack. The beans are lightly crispy and flavorful (they can be dairy-free too, just leave out the cheese), and the aioli…oh the aioli. It's so good! Don't skip on that. It's made with our garlic infused olive oil and an extra garlic clove for good measure.
We have many recipes for green beans on our blog, so do a quick search for extra inspiration after you enjoy our recipe for Air Fryer Green beans with garlic aioli!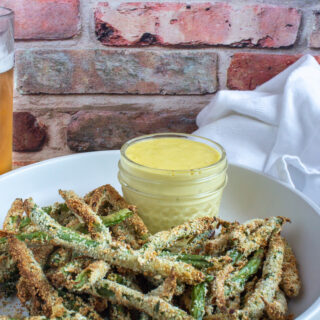 Air Fryer Green Beans with Garlic Aioli
These are great as an appetizer during happy hour. Use the left-over aioli for sandwiches, roasted veggies or anything you desire. Serves 2 to 4.
Ingredients
For the green beans:
1

egg

Salt

to taste

2

Tbsp

all-purpose flour

1/2

lb.

fresh green beans

such as Blue Lake beans, ends trimmed

1

cup

dry breadcrumbs

we recommend Italian seasoned

2

Tbsp

freshly grated Parmigiano Reggiano

leave out for a dairy-free option
For the garlic aioli:
1

egg

1

Tbsp

fresh lemon juice

1

clove

garlic

1/2

tsp

Dijon

1/2

cup

Sigona's Garlic infused olive oil

see note

Salt

to taste
Instructions
For the beans: In a large bowl, whisk together the egg, olive oil and salt. Rinse and shake dry; it's best if a little water remains as it helps the flour to better adhere.

In another bowl, toss the green beans in the flour.

Pour the egg mixture into a medium-sized shallow plate. Add the breadcrumbs and cheese to a separate plate, stir to mix.

Line the basket or tray of an air fryer with foil.

Working with one bean at a time, dip the beans in the egg mixture then roll it in the breadcrumb mixture. Lay the beans out in a single layer on the air fryer tray. Depending on the size of the tray or basket, you might need to cook them in batches.

Air fry the beans for 8 to 10 minutes.

For the aioli: add the egg, lemon juice, garlic and Dijon to the bowl of a food processor or the pitcher of a blender. Run for about 30 seconds to combine the ingredients.

With the blade running, slowly drizzle in the olive oil so the mixture emulsifies and becomes thick and creamy. Season with salt and pepper to taste. Transfer to a small bowl and chill until ready to serve.
Notes
All our infused olive oils and balsamics, such as the garlic infused olive oil, are available for purchase in our markets and online: www.sigonas.com