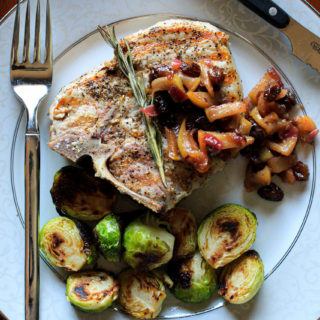 Pan-Seared Rosemary Pork Chops with a Savory Apple Chutney
Once you've seared pork chops in our wild rosemary oil, you'll never want them any other way again! A well-seasoned, seared chop that's finished in the oven is a dish to celebrate. If you top it with the bonus recipe for balsamic-infused apple chutney, you might as well call it Christmas dinner. Serves 2.
2

bone-in pork chops

thick cut or regular; adjust cooking times as needed

Sigona's Wild Rosemary Olive Oil

at least 2 tablespoons

Kosher salt

Freshly ground black pepper

2

sprigs fresh rosemary
Preheat oven to 400°F. Set an oven-safe, indoor grill pan on the stovetop over medium-high/high heat to warm up.

Rub about 1 tablespoon of olive oil all over each pork chop, coating all sides. With a heavy hand, season the pork with salt (pork needs a lot of salt to bring out the flavor), followed by a bit of freshly ground pepper.

Sear the pork for 2 minutes per side, turning once. Place one sprig of rosemary on top of each pork chop, then pop the whole pan in the oven to finish cooking the pork chops (5 to 7 minutes for a regular chop, 10-15 for a thick-cut chop; a good rule of thumb is 5 minutes for each half-inch of meat). Remember to use an oven mitt when removing the pan from the oven. The pork chops are done when the internal temperature has reached at least 145°F.

Allow chops to rest for 5 minutes off the heat before slicing. Serve topped with a couple tablespoons of the savory apple chutney (recipe follows).