Farm Focus: Locally-grown Natural Thompson Seedless Grapes
Farm Focus: Locally-grown Natural Thompson Seedless Grapes
California's all-around most popular grape!
By Robbie Sigona
The Thompson Seedless grape is no stranger to Californians – we're most used to seeing Thompson Seedless grapes sold as "table grapes," along with other popular varieties, such as Flame, Sultana and Muscat.
Less commonly seen in a market produce section is the Natural Thompson Seedless grape, but don't let that fool you into thinking it's a rare variety. You've probably eaten more Natural Thompson Seedless (NTS)
grapes than you realize because not only are they super sweet eating grapes, they make a killer raisin! Did you know California is the leading producer of raisins in the United States? Most of which are from the NTS grape!
According to the California Table Grape Association, the average American consumes about eight pounds of fresh grapes per year, and 98 percent of these grapes come from California. Our state has our rich soil and a warm, dry climate which, when combined, produces the sweetest fruit.
NTS grapes are harvested in the early fall when they have reached optimum sweetness. They are smaller than most other commercial grapes because the vines are non-girdled, nor are they treated with plant growth regulators.
Girdling is a process used by some grape farmers where they cut a circle around the lower part of vine stump,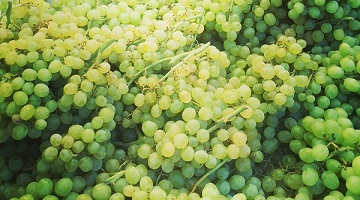 allowing the water up the vine but not back down. NTS grapes are called "natural" because they are what nature intended – they're smaller in size as no girdling has done to the vine – what you end up with is a grape that is simply bursting with its natural, sweet juices and hasn't retained extra water.
Most supermarkets tend to favor big Thompsons that are bright green and stay on the bunch, but the ripest, sweetest ones – the non-girdled ones that are yellowish or amber in color – are available chiefly at farmers markets.
Though we're used to seeing grapes available all year, right now is the prime season for California grapes. The NTS grapes we have come from Fresno and they're delicious! C'mon in!