Local | Fresh | Family
Blog
Cranberry sauce is a must-have for holiday meals. We have two suggestions for you to try. One you simmer on the stove and the other...

These oils pack a punch! If you know someone who is always looking to add some heat to their meals, this is the perfect gift....

The flavors of these infusions evoke a sense of comfort and memories of gathering around the dinner table with family during the harvest season. If...

This gift set sampler includes recipes and the following 60 ml bottles: Fig Balsamic Strawberry Balsamic 12-Year Aged Traditional Balsamic Condimento Tradizionale Blackberry Ginger Balsamic...

We select new infused olive oils and balsamics each month for an in-store and online sale to give more people an opportunity to try these...

Warmed Brie with Caramelized Balsamic, Pear & Pecan Compote Win over your holiday guests with this delicious Brie topper! It comes together in just minutes...

Corn Chowder with Hatch Chiles, Bacon and Cilantro & Roasted Onion Infused Olive Oil This is a hearty, dairy-free chowder that's great any time of...

This is a light, refreshing drink that's a great to serve with foods that have a spicy kick! Serves 1. Ingredients: 6 fresh mint leaves,...

Carmelo's Best Ever Lobster Mushroom & Patagonian Red Shrimp with Pappardelle in a Wine & Cream Sauce Lobster mushrooms are as unique as they are...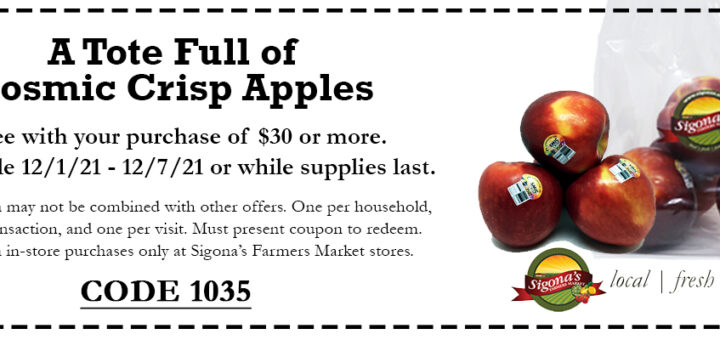 Get a tote full of delicious Cosmic Crisp apples with your coupon when you spend $30 or more in the market! Go green with Sigona's!...

Free Satsuma mandarins with your coupon and in-store purchase of $30+. Available while supplies last.