Local | Fresh | Family
Wine-soaked Fresh Black Mission Figs, Sicilian-Style My grandfather used to make his own zinfandel wine with a combination of 1/4 Muscat grapes and 3/4 Lodi...

This simple recipe is the absolute best for homemade strawberry shortcake! It comes to us courtesy of Sigona's fan Sandra Moon Farley and her cookbook,...

What makes Dream of the Mountain Ravioli so unique? It's filled with our exclusive, customer-favorite mountain cheese, Dream of the Mountain, is made by our friends at...

Each month we feature a handful of our infused oils and balsamics for a sale for YOU! We have so many infused oils and balsamics...

You've heard of pesto eggs, but this takes the idea up to a whole new level! Our new Spicy Calabrian Pesto Oil has a little...

A new set of infused olive oils and balsamics go on sale the first Wednesday of each month so you get a chance to try...

We choose new infused oils or balsamics each month to put on sale so you get a chance to try something different at a great...

"Fresh, wild porcinis from the Shasta, CA, area are in season now. Blink and they'll be gone, so get them while you can! This dish...

Our Dream of the Mountain ravioli is a specialty item at Sigona's – the only place on earth you can find it! The filling is...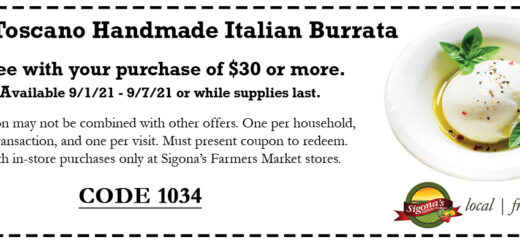 Go green with Sigona's! Show this coupon on your phone or tablet at check out.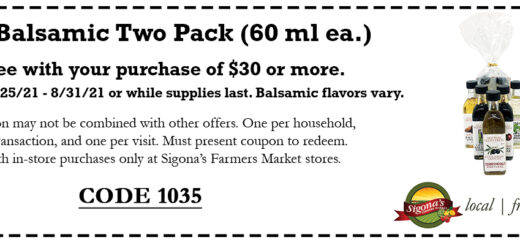 The 2 pack includes one bottle of a 60 ml Cobrancosa olive oil and one 60 ml bottle of an infused balsamic (flavors vary).