Refresh Your Salad Strategy
If done right, salads are a healthy option for meals and are a fantastic way to increase your intake of nutrient-packed leafy greens. If eating salad day after day seems boring or you're in a toppings rut, consider the following for adding some texture, flavor and something new to your greens. – Carmelo Sigona
Add an extra layer of crunch to your salad
Add a sprinkling of seeds or nuts, such as sunflower seeds or Marcona almonds make a great addition for texture and flavor.
Add another layer of flavor to your salads
Toss in little bits of fruit that would highlight a sweet-tart explosion in your mouth, such as blueberries, strawberries, raspberries or citrus, like blood oranges or mandarins.
Add layers of flavor and pungency
Herbs offer huge flavor. Soft-leaf herbs like chervil, cilantro, basil, flat leaf parsley, dill…you name it! Just about anything in the herb department your palate prefers will add that extra dimension of little exploding flavors. Don't be afraid to add several herbs at the same time and see what you think.
Mix up your salad dressings: make your own
A base of high quality olive oil and an acid (vinegar, citrus juices, etc.) are a great start. It can be that simple or you can do any combination of olive oil and an acid. A little bit of Dijon mustard to this combination emulsifies the dressing to a thicker degree. Add a little explosion of sweetness by a sprinkling of currents or other tiny bits of dried fruit.
Pack on the protein
Salads don't need to leave you hungry, and you don't need to eat cups and cups of greens just to fill your stomach. Add on some grilled chicken, fish, shrimp or even steak to add some proteins to the dish. Lentils, beans and quinoa also provide protein, flavor, texture and depth to a salad.
Cheeses also add a great dimension to your salads
The pungent-ness of a goat cheese can add creaminess and again another explosion of flavor that kind of keeps your palate guessing on what's coming next? Cheese is also a nice source of protein.
Mix up your salad greens
There are pre-packaged & prepped salad options, but we also carry many heads of other lettuces and leafy greens, including flavorful members of the chicory family, such as endive, radicchio, friseé and escarole. Try a simple, basic, friseé salad with olive oil a little bit of citrus juice, perhaps a sprinkling of currants and maybe some citrus segments, tossed with a little bit of satsuma Mandarin balsamic (such as the salad pictured). The idea is to mix it up to keep things exciting and not have your palate whispering to you, "I'm bored."
Cook's Tips:
Above all, start with the ingredients being absent of water which will get in the way of your dressing flavoring every leaf… So dry, dry, dry your salad greens before adding the dressing.
Add little drizzles of the dressing at a time toss, toss, toss to make sure everything is well coated before you add more, if necessary. Always taste first to evaluate the need for more.
An overdressed salad destroys the taste of all the nuances that you are trying to create. Let your palate enjoy all the taste.
Recipes
Salads are one of our favorite things, as you can tell. We love the fresh factor and how the season changes present us with new options for that will taste best. We have many, many salad recipes on our blog if you're looking for inspiration. Here are a few or just search for a certain ingredient with the word salad in our search bar (ex. beets salad) and you'll likely be presented with many options:
Concorde Pear Salad with Frisée and Belgian Endive
The sweetness of the Concorde pear works well with the slight bitterness of the two greens: the frisée and the Belgian endive. The burst of sweet-tart from the pomegranate seeds makes for the perfect bite. Adapted from Food & Wine. Serves 2 to 3.
Check out this recipe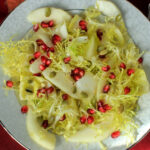 Grapefruit & Greens Salad with Avocado, Pistachios and a Grapefruit Vinaigrette
This is a cheerful salad for winter. The a tangy pink grapefruit awakens the palate while the dried cranberries and pistachios add more layers of flavor, interest and delight to the dish. Leave off the cheese if you wish. Adapted from The Olive Oil and Vinegar Lover's Handbook. Serves 4.
Check out this recipe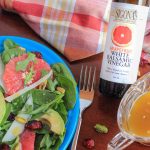 Persimmon Salad with Medjool Dates, Cashews & Honey
It has been an outstanding year for California-grown Medjool Dates, and what better to pair them with than locally grown Fuyu persimmons? This dish, originally featured in Sunset magazine in October 2010, is simple, just the way we like it. Plus, all the ingredients are at Sigona's! Find the original post on the Sunset website. Makes 6 servings (serving size: 1 cup).
Check out this recipe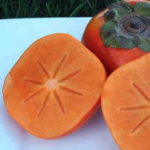 Apple & Walnut Harvest Salad with Sweet Grass Dairy Griffin and a Gravenstein Vinaigrette
Sweet Grass Dairy describes its porter-soaked Griffin cheese as having aromas of malt, earth, maple syrup and coffee beans – all of which can be considered flavors of fall – making this cheese an appetizingly appropriate addition to our apple & walnut harvest salad. The hints of porter in the Griffin perfectly compliment the Gravenstein apple balsamic vinaigrette. Makes about 2/3 cup vinaigrette; serves 4 to 6.
Check out this recipe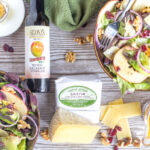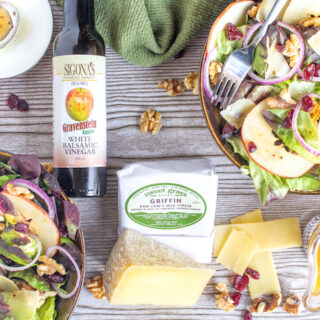 Big Grain Bowls with Spiraled Sweet Potatoes and a Tahini Dressing
Time to clean out the fridge? Try a big grain bowl! Sometimes called hippie bowls, macro bowls, they're often called Buddha bowls because the approach is about a balance to what you eat, that and the ingredients are generally served in a deep-rimmed dish that's rounded at the top by overflowing, vibrant food. There are no strict guidelines to assembly; add in or remove any ingredients you like best. Buddha bowls are excellent vegan or plant-based options, but you can add a fried or soft-boiled egg, or even shredded chicken for added protein. Layering in fermented food, such as sauerkraut or pickled beetroot, is a great way to add in more nutrients and health benefits. Choose all raw ingredients or add more flavor by roasting some veggies.
Check out this recipe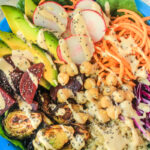 Local Fuyu Persimmon and Mixed Chicories Salad with Sigona's Sicilian Lemon Vinaigrette
Each thinly sliced bit of the sweet persimmon, paired with the slight tartness of the vinaigrette and the bitterness of the chicories, creates a lovely, balanced bite. Fuyu persimmons go out of season as quickly as they come, so get them while you can. Adapted from Martha Stewart. Serves 6.
Check out this recipe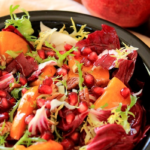 Roasted Butternut and Asian Pear Salad with a Pomegranate Vinaigrette
These flavors may scream fall, but sometimes you just need a hearty, comfort-flavored salad, right? Add cheese or leave it off for a diary-free option. Goat or Feta adds a nice salty and creamy factor, if you choose to use it, and pairs beautifully with the roasted squash and bright, juicy pomegranate seeds. Asian pears are crisp and hold up well in salads, but you can also use apple or pear. Serves about 6.
Check out this recipe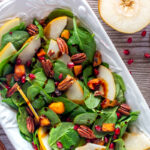 Roasted Beet Salad with Creamy Camembert and a Grainy Mustard & Pomegranate Quince Balsamic Vinaigrette
A lively, bright salad. Serves 6 to 8.
Check out this recipe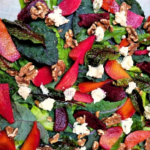 Kale & Citrus Salad with Goat Cheese and a Creamy Basil Dressing
Citrus is shining at the moment – it's in season and it is absolutely delicious! This salad, inspired by the Pioneer Woman, is a nice side for the New Year, and the basil-infused dressing adds a bright, herbaceous note and plays nicely with the citrus and goat cheese. Serves 4.
Check out this recipe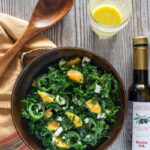 Mixed Greens Salad with Asian Pears, Glazed Walnuts and a Cranberry-Pear Vinaigrette
Simple fall flavors in this dish make for a great salad. Asian pears are refreshing and crisp, and hold up well when tossed with the other ingredients. Plus they're a little more exotic than apples or regular pears; perfect for a holiday dish! Serves 4 to 6.
Check out this recipe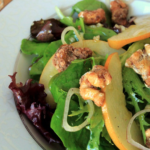 Fresh Greens Salad with Nectarines, Blueberries, Feta and Glazed Walnuts
Fresh, light and flavorful, this salad would be a great complement to any grilled meats, especially when made with peppery arugula. Additionally, you could add strips of grilled chicken to the salad and serve it for lunch or dinner. Serves 4 to 6.
Check out this recipe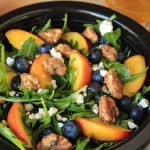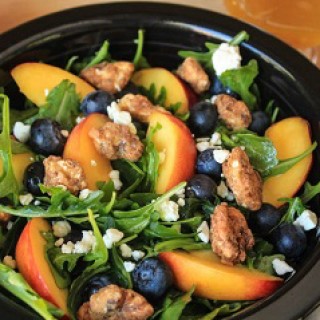 Butter Lettuce Hearts tossed with Olive Oil and Summertime Peach White Balsamic
This French-style salad is typically served after dinner. The lettuce is very lightly dressed in oil and balsamic – just enough so there is a hint of flavor. You'll love the butter lettuce hearts; they're soft and light and delicately delicious. Serves 2 to 4. Enjoy – Carmelo Sigona
Check out this recipe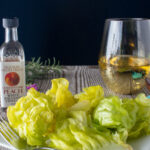 Crisp Asian Pear, Daikon and Avocado Salad with Sigona's Sicilian Lemon Vinaigrette
This dish, inspired by a Vegas-favorite of one of our staff, is light, crunchy and a great, unique way to use Asian pears that's different than a typical salad of greens. Our Sicilian lemon white balsamic adds a fantastic flavor that will knock your socks off. Serves 2.
Check out this recipe