Fresh-picked, local apples are now available in our stores, including some unique heirloom varieties from Gizdich Ranch in Watsonville, Calif
Fresh-picked, local apples are now available in our stores, including some unique heirloom varieties from Gizdich Ranch in Watsonville, Calif.
Despite the latest hot spell, fall is rolling in around the Bay Area. School has started, the leaves are beginning to change and locally grown apples have made their way to our stores.
Over the next few days you'll find heirloom varieties with names as unique as their flavor, including Newtown Pippin, Stayman Winesap, Black Twig. These and more, such as Honeycrisp, MacIntosh, Gala and Fuji, come from Vince Gizdich of Gizdich Ranch in Watsonville, Calif.
Our relationship with Gizdich Ranch is indeed treasured. We've worked with Vince for more than 30 years to provide sweet, vine-ripened berries, such as boysenberries and olallieberries, unique and heirloom apples and even fresh-pressed apple juice.
"We've started harvesting Honeycrisp and Gala varieties, which we delivered yesterday to Sigona's, and we've also started size-picking a few Pippins," said Vince, a third-generation farmer. "The Pippin is one that's definitely an heirloom, though some don't really recognize it as such. George Washington planted them on his farm in Virginia."
Heirloom apples, much like heirloom tomatoes, are not known for their beauty. They're often scarred, small and quickly perishable. That's because their makeup hasn't been altered to beautify or prolong shelf life. For produce to be considered an heirloom, the variety has to have been grown without being tampered with or cross-bred, from generation to generation, for at least 50 years.
Vince grows many apple varieties just as they originated – some of his trees are 100 years old – so they maintain their true heirloom qualities. Take the Gala, for example.
There's the Gala you can buy at a supermarket or big box store at any point in the year, and then there's the original, Royal Gala that comes straight from within hours of harvest. This Gala, a smaller, not-so-perfect apple is sweeter and crisp with a lovely perfumed fragrance that's outstanding for a Gala.
Some Varieties We Have In Now: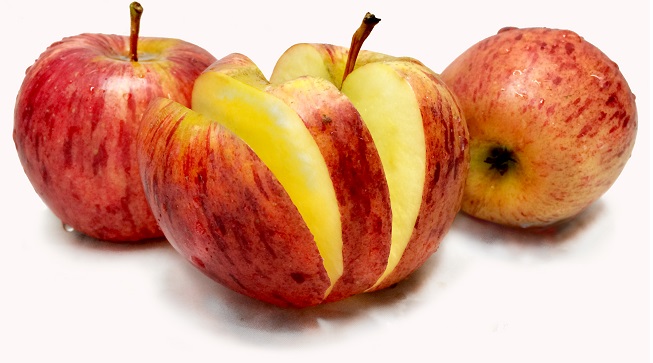 Gala: This is an early harvest dessert apple that originated in New Zealand and was introduced to the U.S. in the 1970s. Its skin is orange and yellow with a red blush, and its flesh is sweet and slightly crisp. It's great for snacks, salads and lunchboxes. It doesn't do well as a cooking apple, but we won't stop you if you try. This variety is available now.
Newtown Pippin: This light green apple has a distinct mottled collar (meaning a darker, rougher spot around the stem. The heirloom Newtown Pippin, which is said to have originated about 300 years ago in Newtown, Long Island, NY, is a tart, crisp and juicy apple that's fantastic for pies, sauces, juicing or simply eating out of hand. When cooked, it retains its shape well. They'll be available any day. Thomas Jefferson is said to have once written home from Paris as saying, "They have no apples here to compare with our Newtown Pippin."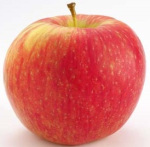 Honeycrisp: This apple, introduced in 1991 and originated in Excelsior, Minnesota at the University of Minnesota's apple development program, is a cross between a Macoun and a Honeygold. It's large, crisp and juicy, making for a great eating apple.