John's Pick of the Week: Select size (old fashioned) Thompson raisins
California Heirloom Thompson Raisins
Spectacular Price!
79¢/ 10 oz
Reg. $1.99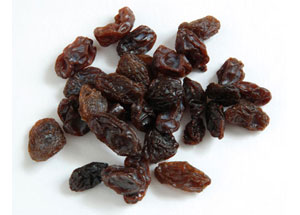 NO THIS IS NOT THE 1950'S, but it may as well be with this great price for Heirloom Old Fashioned Raisins!
From The Coachella Valley, California; these are healthy, wonderful sun-dried and delicious!               
Here is a healthy, fresh dessert I highly recommend and children love it:
Banana-Raisin Coconut Delight
Adapted from The Late Great Health Guru, JACK LALANNE—one of my all-time favorite people. Serves 2.
Ingredients:
1-ripe large banana
Pinch of ground cinnamon
Handful of red flame raisins, or to taste
1 tbsp shredded coconut (find at Sigona's)
1 tsp. Honey Hole Honey, available at Sigona's
Directions:
In a flat dish mash one ripe large banana, until smooth and creamy. Sprinkle with a bit of cinnamon and top with raisins, coconut. Drizzle honey over and enjoy.
Perfect in so many ways, besides a great out of hand snack:
Cereals
Vegetable and Fruit salads
Broccoli salads
Rice Pudding
Breads
Scones
Chicken recipes—Curry or Spanish Chicken, for example
Some health benefits:
High in iron
High in potassium
High in fiber
Natural Sweetener