Toni's Health Tip #28: A must read about your Vitamin D level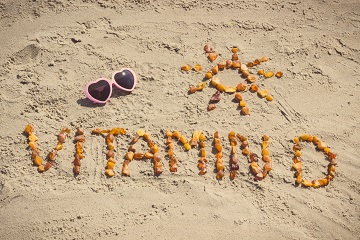 Tip #28: A must read about your Vitamin D level
By Toni Julian, Health Advocate & Author
Friends,
After reading this headline your first thought may be to proudly exclaim, "I take Vitamin D every day" or "I still feel healthy without it".  Either way, you are probably not getting what you need unless you peer down a little deeper into the rabbit hole to really know for sure.
We ALL have busy, impacted, full and hopefully fulfilling lives where how much one itsy bitsy particular vitamin is so important. So, I want very much to get Vitamin D on your radar, right now.
I was in the camp of being a good little girl scout and taking it regularly. So I thought I was fine, right? Nope! I'm also a health guru, supposedly knowing how much I should be taking, right? Embarrasingly, a double nope!
Because, you see, I was on auto-pilot coming out of a five year stint of taking care of a terminal parent. Every day was completely unpredictable so I was living in crisis mode for longer than I anticipated. I only had so much band-width and on that final stretch of his transition; there wasn't much "me" left to take care of.
Because you live in an undesirable zip code (awkward pause). I'm just kidding, we live in a beautiful city. The only thing undesirable about it is that from November through February, it's impossible to get the amount of Vitamin D from the sun. In our world of amazing software, I was able to plug in the latitude and longitude of our area and found the sun is simply not high enough in the sky to make this happen. And if it was the time of year to make that feasible, you would need to spend about 30 minutes each day exposing your arms and legs to soak up the D you need. So, it is apparent that at least during several months of the year, we need to supplement. In fact, about 85% of people in the U.S. have a deficiency.
So, the question is, how much? We're not going to be able to discern this on our own, so a quick trip to your local family practitioner will be able to advise you. I always take a short cut and call in advance for them to leave a lab slip at the desk for a CBC and vitamin panel. I love my doctor but don't need to him twice on this, the inefficiency alone would make me sick!
The test should appear as "Vitamin D, 25-Hydroxy, Serum" and the normal range is between 32.0-100.0 ng/mL
Vitamin D is a fat-soluble vitamin, so it is possible to take too much which would create toxic reactions, or be deficient; each having its own set of symptoms and potential for disease.
The Recommended Dietary Allowance (RDA) for Vitamin D is about 600 IU (800 IU if over 70 years old), and the most Vitamin D one can absorb safely, or Tolerable Upper Intake Level (UL), has been set at 4,000 IU.
Just to give you an example, I needed 5,000 IU per day in addition to the 6,000 I was already taking. And my daughter, who had moved to Ohio and has Celiac disease and didn't know it, has extremely deficient and needed to take 50,000 IUs. Then, we needed a three month check to adjust downward for maintenance.
Every person is unique, so do seek out the advice of your physicians, and not friends, and not me. I am simply sharing so you get this on your radar and be aware of your levels so you stay healthy, vibrant and shining like the gem you are!
Please share this with your friends who would like to help stay healthy!
From my heart to yours,

Toni Julian is the 2017 recipient of the Top Women of Influence by the Silicon Valley Business Journal, is a nationally renowned health advocate, nutrition adviser, fitness expert, and author of BITE ME! Change Your Life One Bite at a Time. She a 50-something mom of four, on the board of directors for NAWBO (National Association of Women Business Owners) and Creator of TONI'S Protein Meals, with 18 grams of protein for a conveniently healthy and complete meal that's ready in minutes. Get yours at Sigona's! Visit www.ToniJulian.com