DREAM OF THE MOUNTAIN: A story by John Nava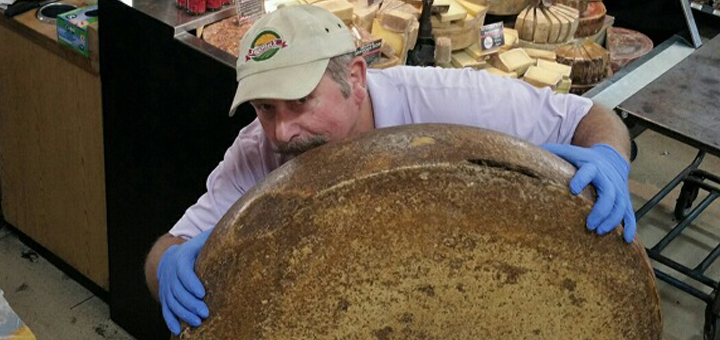 DREAM OF THE MOUNTAIN
Historically and simply known as "mountain cheese," Dream of the Mountain was named by yours truly, the specialty foods and cheese buyer for Sigona's, during got trip of a lifetime visiting cheesemakers in Switzerland.
Story by John Nava
Somewhere in the fabled Emmental Valley of Switzerland sits a mountain dairy known for making the best Emmentaler in all the land. This award-winning Emmentaler, along with a few other cheese creations, is made by world champion cheesemakers Bernhard & Mariles Meier. I was awarded the opportunity to travel earlier this summer to Switzerland to meet with the Meier family and other international cheesemakers face-to-face and learn about how the cheeses we sell in our store are made. After a full morning of watching the Meier masters handcraft world famous cheese, I found myself inside their humble abode, seated at the breakfast table. The aroma of freshly baked bread filled the entire home. Laid on the table before me was homemade jam, cured meats, fresh-churned butter and, of course, cheese. Lots of cheese.
After letting my taste buds run rampant through all the amazing homemade delicacies, I noticed at the far end of the table there sat a cheese I hadn't tried. There it lay, rustic in appearance, sitting firm with its bronze, caramel-colored shell and bright yellow, fleshy interior.
After one bite of this nearly two-year-aged beauty, I knew we had to have it for Sigona's! The flavor profile is like none I have ever tasted. It's very aromatic with a distinct Gruyere flavor, reminiscent of an old-world L'etivaz, with a familiar cheddar-like finish.
"What is this called," I asked its creators, Bernhard & Mariles.
"We don't have a name for it," answered Bernhard. "It's made from our leftover milk, and we sell it at the farmers market. It's a table cheese; a mountain cheese."
"A mountain cheese? This tastes like a dream! We should call it…'DREAM OF THE MOUNTAIN'" I said.
It was almost as if you could hear a choir singing, "Ahhh!" Bernhard & Mariles loved the name and a deal was struck. Sigona's would be the first in America, heck, in the world, except for a small farmers market in Switzerland, to sell this one-of-a-kind cheese!
Dream of the Mountain is like no other cheese in the marketplace. It's unique, different, rare and unbelievably delicious, and only avaiable at Sigona's!