Sigona's Olive Oil of the Month: Chilean Favolosa

As August draws to a close and the kiddies return to school (finally!), we're reminded that the end of summer is almost here. Stifling heat and blistering sunshine will soon fade to brisk autumn days and skies packed with pillowy clouds.
Thankfully you can still have a few more barbecues before the weather completes its metamorphosis. If you're going to be grilling this Labor Day, check out this delicious and healthy appetizer below featuring our olive oil of month, Chilean Favolosa.
Sigona's September 2012 Olive Oil of the Month
Chilean Favolosa
This oil features:
A medium-bold intensity
Grassy, spicy and slightly herbal flavors with notes of artichoke, green olive and herb
A well-balanced taste and peppery sensation on the back end
An impressive polyphenol count of 368!
Try this recipe from Veronica Foods
Wild Smoked Salmon & Avocado Crostini with Sigona's Fresh Press Chilean Favolosa
Ingredients:
1 fresh, sweet baguette, sliced in to 1/2″ slices on the diagonal
12 oz. thinly sliced wild smoked salmon (Available in Redwood City store only)
3 ripe avocados, sliced thin
1 small red onion, sliced very thin
1 large garlic clove cut in half
2 tablespoons fresh squeezed lemon juice
1/3 cup + 2 tablespoons Sigona's Fresh Press Chilean Favolosa
Pinch of sea salt
Fresh ground pepper
1/4 cup flat leaf parsley, coarsely chopped
Directions:
Whisk two tablespoon of lemon juice with 1/3 cup of olive oil and sea salt in a small bowl. Add the thinly sliced onions and toss to coat and set aside.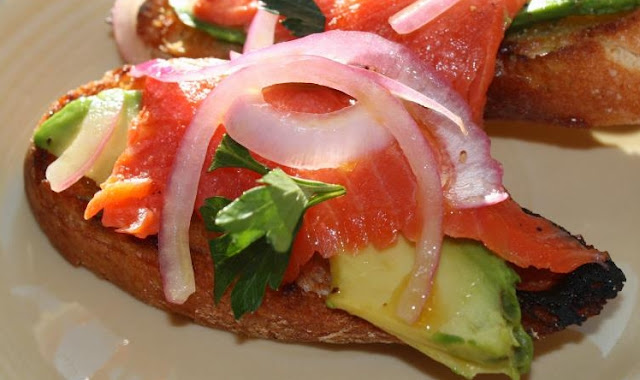 Preheat the grill to medium or heat a grill pan on the stovetop over medium-high heat. With a pastry brush, lightly brush both sides of each slice of bread with Sigona's Fresh Press Chilean Favolosa. Place the bread on the grill and toast until light golden brown and grill marks appear, flipping once during the process (take care not to burn the bread).
While the bread is still very warm, rub the cut garlic clove over both sides of the bread slice. Allow the bread to cool completely, then begin layering by adding a slice of avocado. Brush the sliced avocado with a small amount of the onion-lemon-olive oil mixture, and a grind of fresh pepper. Add the smoked salmon, and top with a few slices of marinated onions and a sprinkle of chopped parsley.
Serve immediately. Makes about 30 appetizers
Click here for more great recipes!