John Sigona's Pick of the Week: 50% off Rare, Colossal Size Pistachios with Himalayan Pink Salt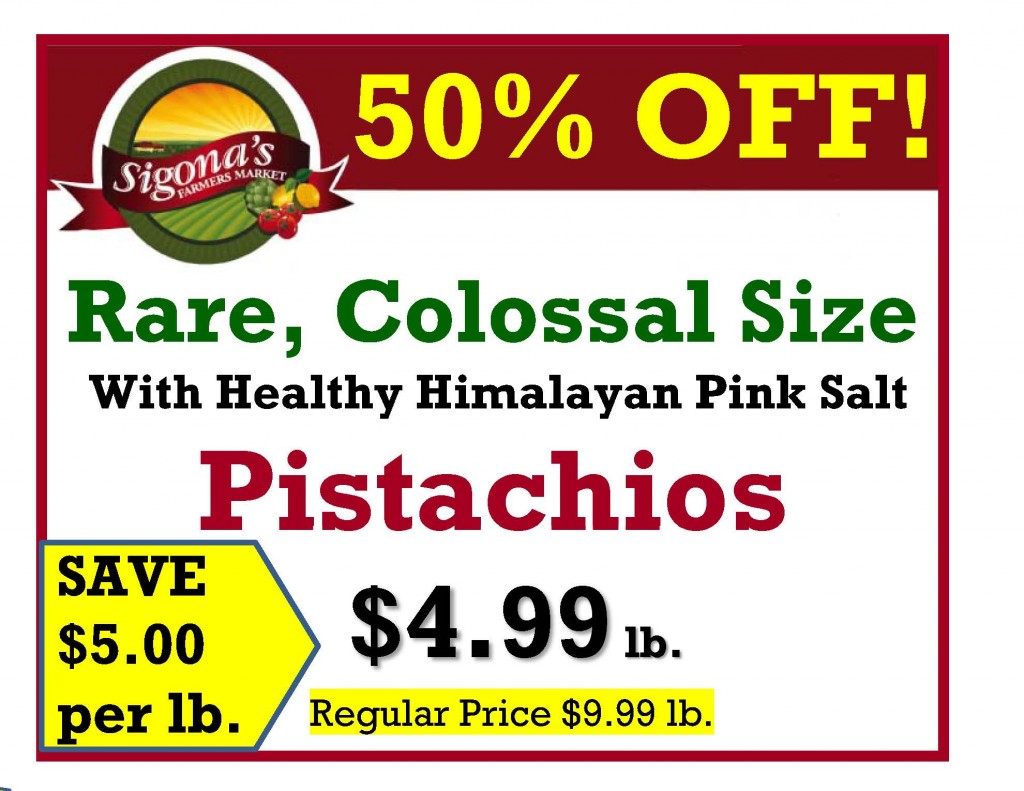 John Sigona's dried fruit and nut selection of the week is rare, colossal size pistachios with healthy Himalayan Pink Salt.
Special $4.99 lb.
50% Off!
Regular $9.99
This week I'm extremely excited to bring you colossal size California pistachios with Himalayan Pink Salt. These are uniquely healthy, truly excellent and are available exclusively at Sigona's Farmers Market.
These pistachios have meat that's literally exploding out of the shells. The Himalayan Pink Salt is loaded with over 84 pristine minerals and trace elements. Our grower is one of the few that utilizes Himalayan Pink Salt so you really are in for a delightful treat.
Our pistachios are grown to full maturity to ensure the best flavors and nutrients. In fact, only 3-5% of our grower's crop attain such massive size.
What also sets our pistachios apart is that it's an entirely new crop. Most big box companies are likely to sell only old 2011 crop right now from processing plants. That's why Sigona's pistachios are the freshest on the market.
Here are just a few health benefits of pistachios and Himalayan Pink Salt:
Pistachios:
One serving (about 45 pieces) has more antioxidants than red wine and blueberries combined
2 oz. of pistachios have more protein than 2 oz. of cooked halibut, more fiber than 2 oz. of cooked broccoli and more potassium than 1 large banana
No trans fat
Lowest calorie nut—one-half the calories per serving of almonds—75% less than macadamia nuts
Himalayan Pink Salt
Most pristine salt on the planet
Includes full spectrum of 84 minerals and trace elements that are highly beneficial for our bodies
Some of these minerals include:

Magnesium
Calcium
Copper
Potassium
Iron

Unprocessed, unrefined, raw
Extracted by hand from ancient seabed deposits from over 250 million years ago some say
Regular consumption helps to:

Balance electrolytes
Support proper nutrient absorption
Eliminate toxins
Normalize blood pressure