John Sigona's Pick of the Week: Jumbo Sized Raw Mixed Nuts
John Sigona's dried fruit and nut selection of the week is raw shelled mixed nuts featuring whole California almonds, pecan halves and walnuts along with whole Brazils and cashews.
9 oz. Container – $3.99

(Reg. $6.79)
Raw shelled mixed nuts are typically pretty difficult to find in most, if not all, stores. Thankfully you'll find them at Sigona's. Our raw mixed nuts are a combination of whole California almonds, pecan halves and walnuts along with whole Brazils and cashews – plus there's nothing added to them.
Now is a great time to try them because I'm offering them to you at one of the lowest prices in years. Besides, these raw shelled mixed nuts are incredibly healthy for you and include just a few of these nutritional benefits:
High in protein
High in magnesium
High in fiber
Very high in Omega-3 fatty acids
Very high in anti-oxidants
My raw shelled mixed nuts can be enjoyed out of hand as well as these two other exciting and versatile ways:
Use them as a substitute ingredient for pine nuts when you make fresh pesto
Use them in your blender with fresh raw vegetables and fresh raw fruit for a superbly healthy all raw nut and veggie/fruit smoothie. In fact, here is a quick and easy recipe that you can enjoy.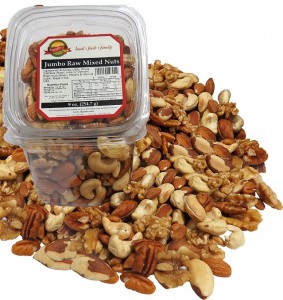 Directions
You'll need a large blender. Remember to wash all produce beforehand.
Using lacinato kale, spinach (baby or regular), a small handful of parsley, and half a medium beet, fill your blender with these veggies until it's about 35-40% full.

You can also add a slice of red, yellow or orange bell pepper or any other leafy green you prefer.

Add one large, fresh, ripe banana.
Add 1/4 medium fresh pineapple.
Add one handful of your favorite berries.
Add 10-12 oz. no sugar almond milk and 10-12 oz. filtered water.
(Optional) 2-3 tablespoons of flax seed to help thicken the mixture.
Blend it all together until it's liquefied and serve immediately.
Your nutritious blend will taste best when cold. Your veggies and fruits can come straight from your refrigerator; if you want it super cold, pre-freeze your ripe banana in a Ziploc bag.
Enjoy!