John Sigona's Pick of the Week: California Medjool Dates and Raw Pecans
The Very Best California Medjool Dates and Pecans
This is an excellent time of year to stock up on some of the world's best-tasting treats. Our wonderful Medjool dates and raw pecans pair so deliciously well together that I'm excited to offer you this limited time special:
Extra Fancy Medjool Dates:
$2.99 (9 oz.)
Reg. $4.99 (9 oz)
Raw Pecan Halves:
$3.99 (7.5 oz.)
Reg. $5.99 (7.5 oz)
Treat your guests to these delicious and easy to make Medjool dates stuffed with Mascarpone cheese and raw pecans. It's a wonderful holiday treat, but you'll want to make it all year round. 
Mascarpone Stuffed Medjool Dates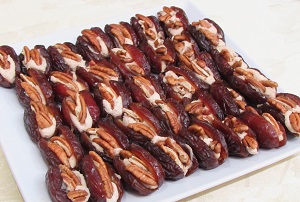 Ingredients:
1 lb Medjool dates
8 oz mascarpone cheese, room temperature
1/2 tsp vanilla
1/4 tsp ground cinnamon
1/4 cup Raw pecans
Directions:
Remove pits from dates and create a cavity for the filling.
Mix mascarpone cheese with vanilla and cinnamon until well combined.
Place cheese mixture in piping bag (optional) with large tip or simply use a Ziploc bagg and cut the end off. Squeeze the cheese into each date. Garnish each date with chopped pecans.