John Sigona's Pick of the Week: Jumbo Size Deluxe Mixed Nuts
John Sigona's Dried Fruit & Nut Pick of the Week are Jumbo Size Deluxe Mixed Nuts.
Just in time for the big game this weekend, I've got a terrific special that fits perfectly with your no-hassle, pre-party agenda. This healthy alternative is among our very best, and there's nothing to prepare. This is my contribution to you, so enjoy the game already! You'll even have time to enjoy your guests, too!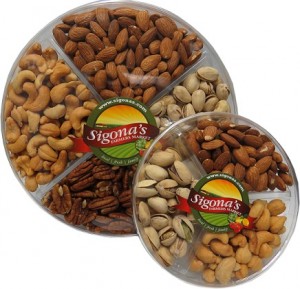 6.7 oz.
(Roasted, No Salt Almonds; Roasted & Salted Pistachios and Cashews)
$4.99
(Reg. $7.99)
OR
22 oz.
(Raw Pecans; Dry Roasted, No Salt Almonds;
Roasted & Salted Pistachios and Cashews)
$13.99
(Reg. $19.99)