Easter Creations with Local Wattle & Comb Pastured Eggs
Vegetable Carbonara with Pastured Eggs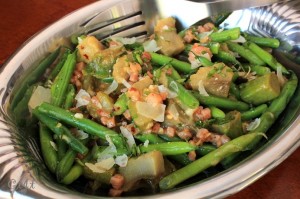 We call this carbonara because it follows the same prep as a classic pasta carbonara, but without the pasta. It's a perfect fit for brunch or as a first course before the entrée is served. Serves 2 to 4.
Ingredients:
2 large local artichokes
1/4 of a fresh lemon
2 cups halved green beans, such as California-grown Blue Lake green beans, stem ends trimmed
1/2 cup small-diced cooked ham
1 clove garlic, minced
A pinch or two red pepper flakes, optional
2 local Wattle & Comb pastured eggs
1/3 cup freshly grated Parmigiano-Reggiano, plus a Tbsp or so more for sprinkling
2 Tbsp chopped fresh parsley or chives
Salt and pepper, to taste
Directions: Trim the stems and then par (or trim) down the artichokes to the cups – this means peel off all the leaves and cut out the fuzzy choke so all you're left with is the bottom cup and heart. Rub the cups with the lemon so they don't brown. You can also trim the stem and peel off a few layers as the stem is edible. Save the leaves and steam for another time.
Cook the heart of the artichokes in boiling water, covered, for about 12 minutes. Add the green beans and continue to boil for 3 minutes. Drain and allow to cool until cool enough to touch. Chop the artichokes into 2-inch pieces. Set aside.
In a separate bowl, beat the eggs with the cheese. Set aside.
Heat a large skillet over medium heat. Add the ham and cook for 2 minutes. Add the beans, artichoke hearts, garlic and red pepper flakes, if using; sauté for 3 minutes. Remove from heat.
Slowly pour the egg mixture over the veggies and toss quickly so the eggs do not cook. Stir in the cheese, season with salt and pepper. Sprinkle with extra cheese, if desired, and chives or parsley. Serve immediately.
Hash Brown & Zucchini Nests with Baked Pastured Eggs, Prosciutto & Chives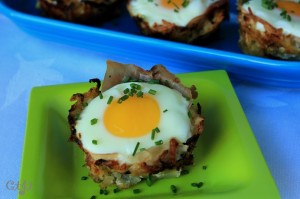 Can't you just hear the "ohhs" and "ahhs" from the children when they wake to these little nests on Easter morning? Inspired by Eating Well. Makes 6 nests.
Ingredients:
Directions: Preheat oven to 375°F. Using about 1 tablespoon olive oil, generously grease 6 cups in a standard size (12-cup) muffin tin.
Put hash browns and shredded zucchini in a clean kitchen towel; working over the sink, squeeze and wring the towel to remove as much liquid as possible. Transfer to a large bowl and stir in remaining 1 tablespoon oil, paprika, salt and pepper until combined.
Divide the mixture among the muffin cups (about 1/4 cup each), then press into the bottom and up the sides of each cup to form a "nest." (There should be a solid layer in the bottom of the cup, but it's OK if the hash browns don't go completely up the sides.)
Bake the hash brown nests until golden brown on the bottom and edges, about 25 to 30 minutes.
Lay 1 piece of halved prosciutto into each hash brown nest, letting it overhang the edges. One at a time, crack an egg into a small bowl and slip it into a nest. (It's OK if some of the egg white spills over.)
Bake, rotating the pan front-to-back halfway through until the eggs are cooked to desired doneness: 10 to 15 minutes for medium set or 15 to 18 minutes for hard set. Let cool in the pan for 5 minutes. Run a butter knife around the edges of each nest a few times to loosen completely, then use the knife to lift them out of the tin.
Serve sprinkled with chives.
Shaved Asparagus Salad with Poached Eggs & Walnuts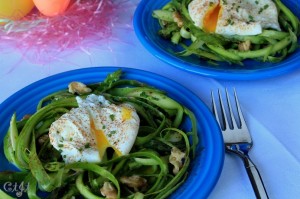 Local asparagus and fresh, pastured eggs are sure signs of spring in our neck of the woods, and both are likely to grace your Easter dinner table. Am I right? If you're holding an intimate gathering this year, you may find this salad to be just right as a first course. Adapted from Food & Wine. Serves 4.
Ingredients:
1 bunch asparagus, ends trimmed and discarded; stalks shaved into thin strips using a vegetable peeler; slice heads in half, if desired
2 Tbsp Sigona's Fresh Press Extra Virgin Olive Oil (or use a mixture of 1 Tbsp olive oil and 1 Tbsp Sigona's Roasted French Walnut Oil)
1 large clove garlic, minced
Salt and pepper, to taste
1 Tbsp chopped fresh chives or parsley
5 Tbsp distilled white vinegar
4 local Wattle & Comb pastured eggs
2 Tbsp walnuts, lightly chopped
1/4 cup freshly shaved Parmigiano-Reggiano
A few pinches of paprika
Directions: Begin by preparing the asparagus as described above. In a large bowl, whisk together the olive oil, sherry, garlic, salt, pepper and chives or parsley. Add asparagus and toss gently to coat.
Bring a medium saucepan full of water to a low boil (about 8 cups water). Add 5 tablespoons distilled white vinegar (to help hold egg together) to the low-boiling water. Crack 1 egg at a time into ramekin. Slide 1 egg gently into boiling water. Repeat with remaining eggs, working with 2 at a time. Cook for about 2 to 3 minutes; more or less if you desire a different degree of doneness. You want the white part cooked, but the yolk to remain runny. Remove eggs with a slotted spoon, being gentle, pat dry and put on a plate.
To serve, place about 2/3 cup asparagus mixture on each of 4 plates. Sprinkle each serving with walnuts and then top with an egg. Sprinkle evenly with Parmigiano-Reggiano and a pinch or two of paprika. Serve immediately.