Mango, Walnut & Cranberry Energy Bites with Quinoa & Almond Butter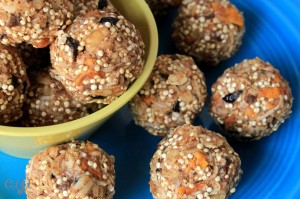 You may have had another version of these energy bites featuring different ingredients, but we thought we'd amp them up a bit using quinoa, for more protein, and our organic dried Kent mango for another layer of flavor. You'll love how the quinoa adds a crunch, and how the tartness of the cranberries holds its own against the rest of the ingredients. Makes about 24 balls.
Ingredients:
1 cup old-fashioned rolled oats, uncooked
3/4 cup quinoa, uncooked
1/2 cup unsalted creamy almond butter
1/2 cup raw walnuts, well-chopped
1/2 cup small diced Sigona's organic dried Kent mango, about 2.25 oz. (use scissors to cut the strips into small bits)
1/4 cup dried cranberries, coarsely chopped, such as Sigona's apple-juice sweetened cranberries
1/3 cup flaked coconut, preferably unsweetened
6 Tbsp honey, such as Orange or Wild Mountain from Honey Hole Honey Co. (found at Sigona's)
2 Tbsp ground flaxseed
About 1 oz. bittersweet chocolate, finely chopped (about 2 ½ Tbsp)
A pinch of salt, optional
Directions: Preheat oven to 350°F.
Spread oats and quinoa on a baking sheet. Bake at 350°F for 8 minutes or until lightly browned. Cool.
Mix together all the ingredients in a large bowl; chill in the refrigerator for at least 30 minutes.
After the mixture has chilled, roll it into (very) compact balls between the size of a walnut and a Ping-Pong ball. Keep refrigerated in an air-tight container; they'll store for up to 5 days.