Sippin' on Sweet Sangria
Sweet Sangria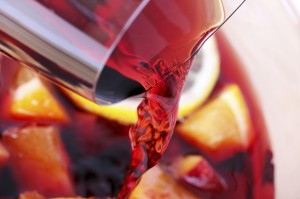 As always with sangria, you can make it to your own liking, but you've really gotta try our super refreshing and 'berry' fruity sangria! We also have a plentiful selection of locally grown berries and oranges to choose from for this recipe. Prepare day before serving.
Ingredients:
1 bottle (750 ml) Cipressi Toscana Rosso red wine
1 bottle (12 fl oz) Pomegranate Ginger Ale by Bruce Cost (found at Sigona's)
1 cup of fresh raspberries
1 cup of fresh blueberries
1 cup of  quartered fresh strawberries
1 large navel orange, cut into wedges
½ cup cane sugar (such as Caster Sugar Superfine Cane, also at Sigona's)
Optional garnish: 1 lemon, sliced into wheels (Watch this video for a lemon wheel how-to.)
Directions: Combine wine, ginger ale, sugar and prepped fruit (excluding lemon wheels) into a large pitcher. Stir and let sit refrigerated overnight.
Remove pitcher from refrigerator and slowly stir ingredients. Pour sangria into  serving glasses and use a large ladle to add more fruits into each glass. If using, place lemon wheel with small notch over rim of glass, and serve.