Let's Make Spritzers!
Refreshing Balsamic Spritzers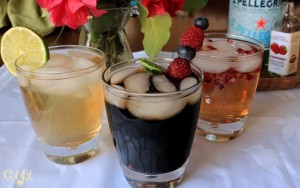 You can use just about any of our infused balsamics to make a delightful, refreshing spritzer; just follow our suggested measurements below and enjoy! Another tip: Have you tried using frozen grapes in place of ice? They'd be great in these drinks. Serves 1.
Ingredients:
1 part Sigona's infused balsamic, such as Black Currant, Pomegranate, Red Cherry, Summertime Peach, Strawberry, Blenheim Apricot, Mango…we could keep going, but you get the point.
3 – 4 parts (more or less, to taste) Pellegrino sparkling water (you can also use club soda, tonic water or seltzer)
Ice
Garnishes: mint leaves, basil leaves, pomegranate arils, fresh/frozen cranberries, berries, thinly sliced citrus…
Directions: In a tall glass, measure out 1 part balsamic to 3 or 4 parts sparkling water (for example, to 8 oz. sparkling water, add 3 to 4 tablespoons balsamic, to taste). Stir to combine. Add ice, finish with a garnish.