Fresh Local Peach Recipes
Fresh, Local Peach or Nectarine & Quinoa Salad with a Honey-Ginger Vinaigrette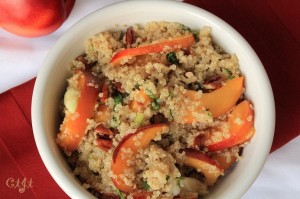 The freshness of using peaches or nectarines mixed with Sigona's Honey-Ginger Balsamic gives this salad a bit of an Asian twist. Serves 4 to 6.
Ingredients:
1 cup uncooked quinoa
3 fresh, local yellow peaches or nectarines, halved, pitted and thinly sliced
3 green onions, sliced on the bias
1/4 cup chopped fresh parsley
3 Tbsp slivered almonds, chopped pecans or chopped hazelnuts
3 Tbsp Sigona's Honey-Ginger Balsamic (You can also try Blenheim Apricot White Balsamic, Mango White Balsamic or Summertime Peach White Balsamic)
Salt and pepper, to taste
Directions: Cook quinoa according to package directions. Allow to chill in fridge for 20 to 30 minutes, stirring occasionally.
Gently fold in the peaches or nectarines, green onions, parsley and nuts. In small bowl, whisk together the balsamic, olive oil, salt and pepper. Pour over the quinoa salad and stir to combine.
Fresh, Local Peaches or Nectarines with Creamy Cheese & Honey
Sometimes simple is best. This simple pairing is fantastic for a mid-afternoon snack or a little something for after dinner.
Ingredients:
Fresh, local yellow peaches or nectarines, sliced into wedges
A Triple-crème cow's milk cheese, such as mascarpone or St. Andrè
Honey, for drizzling, such as Honey Hole Honey Co., available at Sigona's
Directions: Place the nectarine or peach wedges plus a couple dollops or a wedge of cheese on a serving tray; drizzle the arrangement with some honey. You may serve this with crackers, if desired, or simple spread a bit of the cheese and honey on a wedge of nectarine or peach.
Fresh Summer Fruit Salad with a Summertime Peach White Balsamic Reduction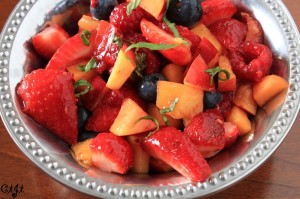 These are some of my favorite summertime flavors, all topped with a light, syrupy peach balsamic reduction. You can always try basil in place of the mint for another new twist on this classic dish. It also makes an absolutely amazing ice cream topper or a delightful fruit shortcake with fresh whipped cream.
Ingredients:
1 fresh, local peach or nectarine, halved, pitted and cubed
1 cup fresh strawberries, stemmed and quartered
1 cup fresh raspberries and/or blueberries
1/3 cup Sigona's Summertime Peach Balsamic (Our Golden Pineapple balsamic would be another great option.)
1 Tbsp chopped fresh mint or basil, depending on which flavor you'd like to incorporate
Directions: Combine all the fruits together in a large bowl. Set aside.
Add the balsamic to a small skillet over medium high heat. Bring to a light boil, stirring, and cook for two minutes. Stir in the mint and remove from the heat.
Drizzle the reduction over the fruit. Gently fold to mix well. Refrigerate for at least 30 minutes before serving.
NOTE:  This also makes an absolutely amazing ice cream topper or a delightful fruit shortcake with fresh whipped cream.
Carmelo's Cottage Cheese & Peach Puree Breakfast Blend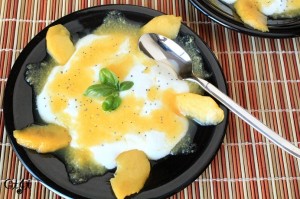 This is a great low-glycemic dish with just the right amount of protein to make a light, satisfying summertime meal or pre-workout snack. This recipe came about by accident, really. My wife, Jackie, and I were looking for a light after-dinner snack so I used what I had on hand. We got to talking and forgot about the cottage cheese combo in the freezer, but now I "forget" on purpose because leaving it in the freezer makes for a fantastic cold, creamy texture we really love!
Ingredients:
8 oz cottage cheese
3 tsp organic Agave nectar
1/4 cup milk (or if you'd like to reduce the dairy, you can use rice milk)
1 peach, skinned and halved, pit removed
A pinch of poppy seeds
Garnish: mint leaf or other, such as basil
Directions: Combine cottage cheese, agave nectar and milk in a food processor and blend until smooth. Pour the mixture in 1 or 2 ramekins and freeze for about 15 minutes.
While it's chilling, place half the peach in the food processor and puree.
Cut the remaining peach half into slices. Scoop out the cottage cheese mixture onto the center of the plate and arrange the peach slices around it.
Drizzle the peach puree over the arrangement. Sprinkle a pinch of poppy seeds over the top for color contrast and crunch, garnish and enjoy!
COOK'S NOTE: Protein satisfies the appetite as well as digests slowly to help keep those highs and lows from hitting us.
Ginger-Peach Granita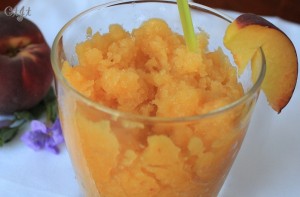 It takes some hands on time, but you'll be happy with the outcome. Cool and refreshing for summer. Adapted from Every Day with Rachael Ray.
Ingredients:
Peeled, pitted & chopped peaches
Peach or mango nectar
Fresh, grated ginger
Garnish: mint sprigs, rosemary, slices of peach or whatever tickles your fancy
Directions: Puree 4 parts peaches with 3 parts peach or mango nectar (for example, 1 cup chopped peaches to 3/4 cup nectar). Season with grated ginger (a little can go a long way, start with a small amount and add more as needed).
Freeze flat in shallow pan for 1 hour, then mash with a fork. Freeze again, stirring and scraping in long vertical lines, aiming for a slush-like texture, every hour, until icy, about 3 hours.
Scoop into individual serving glasses. Serve with peach slices and a sprig of mint or other garnish.
Peach & Amaretti Cookie Crisp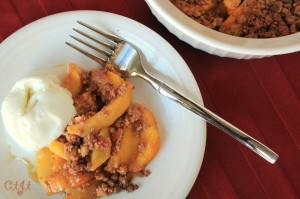 Simply delicious. You'll love the flavor from the amaretti cookies, not to mention the fresh, local peaches. Adapted from Cooking Light. Serves 6.
Ingredients:
1 ½ lbs peaches, about 5 peaches, peeled, pitted and cut into eighths
1/3 cup packed brown sugar
1/2 tsp ground nutmeg, divided
Sigona's Fresh Press Extra Olive Oil, for greasing ramekins
2/3 cup crushed amaretti cookies, plus extra whole cookies for serving (optional)
2 Tbsp flour
1/8 tsp ground cinnamon
Dash of ground cloves
2 Tbsp unsalted butter, melted
Vanilla bean gelato, for serving (optional)
Directions: Preheat oven to 375°F.
In a large bowl, combine the peaches, sugar and 1/4 teaspoon nutmeg; toss well to coat. Use a bit of olive oil to coat a baking dish (a 1-½ quart dish works well) and add in the peach mixture.
In a medium bowl, combine remaining 1/4 teaspoon nutmeg, the crushed cookies, flour, cinnamon, cloves and butter. Mix well to combine, then sprinkle the mixture over peaches.
Bake the dish at 375°F for 25 minutes or until filling is bubbly. Allow to cool about 5 minutes before serving.
Serve with a scoop of gelato and an additional amaretti cookie or two, if using.