Perfect-for-Summer Local Corn
Grilled Corn, Chicken & Black Bean Salad on a Bed of Leafy Greens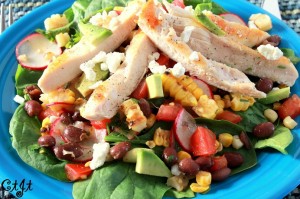 Definitely a salad for summer! Grilling the chicken is a great way to add more flavor to this dish, and it keeps your kitchen cool in the summer heat. This is an easy recipe to serve to a crowd as it's easily doubled. Keep in mind you can serve it sans the chicken too. Adapted from Every Day with Rachael Ray. Serves 2 to 4.
Ingredients:
2 ears fresh corn, shucked
1 ½ Tbsp Sigona's Persian Lime Olive Oil (Mix it up! If you're looking for a little heat, try Sigona's Baklouti Green Chili Oil or Sigona's Red Chili Harissa Olive Oil)
1 tsp fresh lime juice
1 tsp chili powder
Salt and pepper, to taste
1 (15 oz) can black beans, rinsed and drained
1/2 bunch radishes, trimmed and thinly sliced
2 Roma tomatoes, seeded and cubed
2 green onions, thinly sliced on the diagonal
3 Tbsp chopped cilantro
2 cooked chicken breasts, sliced lengthwise into strips
3 – 4 big handfuls of mixed greens, spinach or arugula
2 oz crumbled Feta or Queso Fresco
1 avocado, cubed
Directions: Preheat a grill to medium. Add the corn and grill until charred in spots, about 10 minutes. Let cool completely.
In a large bowl, whisk together the olive oil, lime juice, chili powder and half the salt. Carefully slice the corn kernels from the cobs and transfer to the bowl. Add the beans, radishes, tomatoes, green onions and cilantro; toss well.
Divide the greens among 2 to 4 plates. Top with the corn mixture and lay strips of cooked chicken on top. Lastly, add on a few cubes avocado and a sprinkling of crumbled cheese. Season with black pepper, if desired.
Sautéed Corn with Nopales and Bell Peppers
Nopales are cactus leaves — they're the fleshy oval leaves of the prickly pear cactus. Their texture is similar to okra and their flavor is similar to a combination of green pepper, green beans and asparagus with a lemon-y twist. We sell them with their prickles removed, so have no fear! This simple and quick side dish is unusual, but likeable! The sorrel-sour taste of the crisp cactus is complimented by the sweetness of the corn. Adapted from Uncommon Fruits & Vegetables. Makes 4 servings.
Ingredients:
2 large bell peppers (red, yellow or orange will make for nice color)
1 onion
4 fresh, local ears of corn
1 ½ c fresh corn kernels, sliced from about 4 ears
1/2 lb fresh, firm nopales, cut in 1/2-inch cubes
Finely minced cilantro, to taste
Salt and pepper, to taste
Directions: Halve peppers, remove seeds and stems. Cut into 1/2-inch cubes. Cut onions the same size. Over medium heat, cook the peppers and onions in olive oil in a heavy skillet pan until just softened, about 5 to 7 minutes.
Add nopales and corn to peppers and onion; increase heat to high and cook, stirring, until vegetables are cooked through, but firm-tender, about 5 minutes. Sprinkle with cilantro, season with salt and pepper, to taste, and serve immediately.
Grilled Sweet Corn Salad with Crisp Cucumbers
I came up with this dish simply on the fly, based on ingredients I had in the fridge. Feel free to add or take ingredients from this dish to make it your own. I'd love to hear with you come up with using grilled corn.
Ingredients:
A couple ears of local corn, grilled (try rubbing them with our Persian Lime Olive Oil)
Cubed local cucumber
Diced bell pepper
Halved or sliced Kalamata olives (find the in the Sigona's olive bar!)
Freshly squeezed lime juice
Freshly squeezed lemon juice
Diced avocado
Optional: Cooked farro
Directions: Slice the grilled corn from the cob. In a large bowl, mix together the corn kernels, cucumber, bell pepper and olives.
Add in a tablespoon or so each of the lime juice, lemon juice and olive oil. If using farro, mix it into the salad now. Gently fold in the avocado and serve.
Grilled Corn & Lime Salsa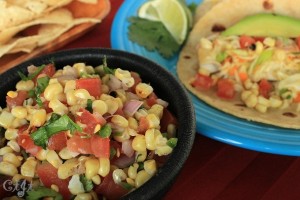 Roasting the corn makes all the difference in this dish; it brings out a flavor you can't match any other way. Serve this with chips as a dip or use it as an additional topping for fish tacos or grilled salmon. Delicious! Makes about 5 cups.
Ingredients:
4 ears of locally grown corn, shucked
About 2 Tbsp Sigona's Persian Lime Olive Oil, divided
Salt and pepper, to taste
1/4 c diced shallot or onion
1 ½ c diced tomatoes (about 2 – 3 medium tomatoes)
2 Tbsp minced jalapeno (include the seeds if you're looking for a little heat)
3 Tbsp chopped fresh cilantro
1 Tbsp fresh lime juice
Directions: Preheat a grill over high.
Rub the ears of corn with about 1 tablespoon of the Persian lime oil, season with salt and pepper. Place the ears on the hot grill and cook, turning a quarter about every 3 to 5 minutes. Remove from heat and cover with foil for about 5 minutes.
Meanwhile, in a bowl, mix together the shallot/onion, tomatoes, jalapeno, cilantro, remaining 1 tablespoon Persian lime olive oil and lime juice. When cool enough to handle, slice the corn kernels from the cob. Stir the corn into the other ingredients and let sit at room temperature for about 30 minutes before serving. Season with salt and pepper, if desired.
Serving suggestion: This makes a great topping for fish tacos. Check out our recipe for Fish Tacos with Cabbage-Jalapeno Slaw.
Grilled Corn on the Cob
Option 1 – Grilled in the Husk: Without removing the husks, peel back the layers to remove the silk. Pull the husks back in place around the ear of corn, then soak the ears in cool water for about 5 minutes. Pat dry and place on the grill over medium-high heat. Turn them a quarter turn every 3 to 5 minutes. When the entire husk has blackened, remove from grill. Let cool a bit before handling. Impress your guests: Create a husk handle by carefully peeling back the husks, but do not remove them. Remove one husk leaf (maybe tear it in half lengthwise) and use it to tie together the husks that remain, making for a nice presentation. Serve immediately.
Option 2 – Grilled Corn on the Cob: Gently peel back the husks, leaving them attached at the bottom of the ear. Take off one piece of husk and peel off a small strip to use as a tie. Wrap it around the husks and tie a knot with the small strip. This makes a nice handle. Remove and discard the silk. Preheat a grill to medium. Place the corn and grill, keeping the husk off the direct heat. Turn the corn a quarter every couple minutes, until charred in spots, about 10 minutes. Serve warm.
Boiled Corn on the Cob
Use about 1 quart of water per ear of corn
Salt
 Directions: Bring salted water to a boil. Add the corn and cook for 2 to 4 minutes. Remove corn using tongs and shake off the extra water. Serve with butter, salt and pepper.
Flavor-packed Butter
Following are a few fancy butter spreads that add fantastic flavor to corn on the cob. Each ingredient combination is enough for about 4 ears of corn.
Directions for each flavored butter: Combine all ingredients, blending well. Store in a covered airtight container in the refrigerator.
Lemon & Dill Butter
3 Tbsp butter, softened
1 tsp fresh dill weed or 1/2 tsp dried
Zest from half a lemon
Pinch of white pepper
Herb's Favorite
3 Tbsp butter, softened
1 ½ Tbsp fresh herbs, such as a combination of parsley, basil, tarragon, chives, sage and/or chervil
Honey Butter
3 Tbsp butter, softened
1 Tbsp honey from Honey Hole Honey Co., found at Sigona's
Chili Butter – Or – Chili-Lime Butter
2 Tbsp butter, softened
1/2 tsp chili powder
Pinch of salt
For chili-lime butter, add the zest from 1/2 of one lime, more if desired.