In the Kitchen with Sigona's Featuring: Toasted Cheese Sandwich with Sigona's Sweet Red Pepper Relish and Glazed Pecans
The flavors here are decadently sweet and savory. The creaminess of the cheese is delightfully complemented by the bite of sweetly glazed pecans and toasted sourdough. Don't skimp on the sweet red pepper relish – it simply makes for an outstanding sandwich. Adapted from Food and Wine. Serves 4.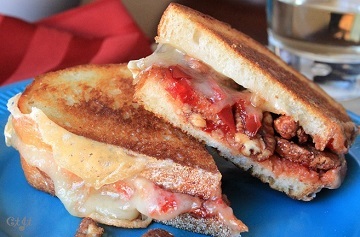 Ingredients:
1/2 cup Sigona's glazed pecans
4 Tbsp Sigona's Fresh Press Extra Virgin Olive Oil or butter, softened
8 slices of sourdough bread
At least 4 Tbsp Sigona's Sweet Red Pepper Relish
1 chilled (3-4") round of Nicasio Valley Organic Formagella or Maggia cheese, cut into 1/4-inch slices
Directions: Spread 1/2 tablespoon of the oil or butter on one side of each slice of bread. Spread 1/2 tablespoon of the pepper relish on the other side of each slice. Arrange the Formagella or Maggia on the relish side of 4 slices of bread and top with the pecans. Cover each sandwich with another slice of bread, oiled/buttered side facing out.
Heat a large skillet over moderate heat. Working in batches, add sandwiches and grill for about 4 minutes. Flip the sandwiches and cook (lightly covering with foil if necessary, to help the cheese melt) until golden brown on the bottom and the cheese is melted, about 4 minutes more. Transfer to a work surface and cook the remaining 2 sandwiches.
Allow to cool about 3 minutes before slicing in half. Arrange on plates and serve.