In the Kitchen with Sigona's Featuring: Field-grown Rhubarb
Rhubarb & Orange Zest Topped Vanilla Bean Panna Cotta
Made with buttermilk, this is a lighter and healthier version of the classic Italian dessert. You'll love how the buttermilk adds another layer of flavor, which pairs beautifully with the tart, fresh rhubarb. Adapted from Eating Well. Serves 4.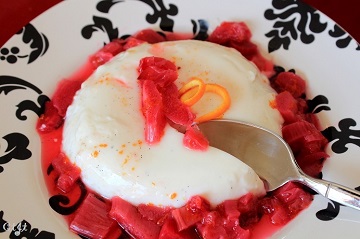 Ingredients:
1 vanilla bean, divided
1 Tbsp water plus 1/2 cup, divided
1/2 an envelope (about 4 grams) unflavored gelatin
1 cup half-and-half
10 Tbsp sugar, divided
1 1/2 cups buttermilk
Pinch of salt
1 1/2 cups sliced rhubarb (1/2 inch)
1/2 tsp freshly grated orange zest
2 Tbsp orange juice
Panna cotta: Place 1 tablespoon water in a large, heatproof mixing bowl and sprinkle with gelatin; let stand about 5 minutes to soften. If some of it still seems dry, sprinkle with a few more drops of water.
Slice the vanilla bean in half horizontally, setting half aside. Split the other half of the bean along the seam and scrape out the seeds. In a small saucepan, heat the half-and-half, vanilla bean seeds, the scraped bean pod and 5 tablespoons sugar over medium heat until steaming, stirring to dissolve the sugar. Pour over the gelatin and whisk vigorously to dissolve. Whisk in buttermilk and salt. Pour the mixture through a fine sieve to strain out any lumps.
Divide among four 1-cup dessert cups or ramekins. Loosely cover and refrigerate for at least 8 hours or up to 2 days.
Rhubarb sauce: Preheat oven to 400°F.
Place rhubarb in a medium glass or ceramic baking dish. Combine the remaining 1/2 cup water and 5 tablespoons sugar, orange zest and juice in a small saucepan. Scrape the seeds from the remaining half of the vanilla bean into the mixture and add the scraped bean pod to the pan. Bring to a boil, stirring to dissolve the sugar. Pour the syrup mixture over the rhubarb.
Bake, uncovered, until the rhubarb is tender, about 20 minutes. Let cool for 30 minutes, then cover and refrigerate until cold, at least 1 hour and up to 1 day.
To serve, remove the vanilla bean from the sauce and discard. Top each panna cotta with about 3 to 4 tablespoons of the sauce.
Rhubarb Chipotle Salsa over Grilled Flank Steak Tacos
You really can't beat a great flank steak taco. Topped with fresh rhubarb salsa, it's perfection. Recipe courtesy of Luisa Ormonde of Luisa's Catering in San Carlos.
Ingredients:
1 Tbsp Sigona's Fresh Press Extra Virgin Olive Oil
1/2 medium onion
3 cups fresh rhubarb, diced
1/2 cup brown sugar
1/4 cup golden raisins
3 Tbsp canned chipotle adobo sauce
1/2 tsp smoked paprika
1/4 tsp cinnamon
1 tsp fresh ginger, grated
1/2 tsp sea salt
1/4 cup apple cider vinegar
Directions: In a large saucepan, heat oil over medium heat. Add onion and rhubarb, and sauté until rhubarb softens and onions begin to turn translucent, about 10 minutes. Add remaining ingredients, and bring salsa to a boil. Reduce heat to simmer and cook for 15 minutes. While this is cooking, begin on the flank steak.
For the grilled flank steak tacos:
1 lb. flank steak
2 large white onions, sliced into 1 inch thick rounds, divided
6 cloves garlic
1/2 tsp cumin
Splash of soy sauce
Salt and pepper, to taste
Juice from 1 lime
1 Tbsp Sigona's Fresh Press Extra Virgin Olive Oil
12 small flour tortillas (or corn for gluten-free)
Lime wedges, for serving
Directions: Add about 1/4 of the onion, the garlic, the lime juice, cumin, soy and oil to food processor and pulse in the food processor until pureed. Place the flank steak in a baking dish, season with kosher salt and fresh ground pepper and rub the marinade over both sides of meat. Cover, refrigerate, and let marinate for at least 1 hour or overnight.
Heat grill to medium high. Lay the onion rounds on the grill and let cook, turning occasionally, until blackened in spots and softened, about ten minutes. Transfer to serving platter.
Remove the meat from the marinade (discard remaining marinade). Grill meat, turning once, until browned, about 3 minutes per side for medium rare. Remove and let rest for at least 5 minutes then thinly slice across the grain.
Assembling the tacos:
Warm the tortillas on the hot grill. Add the slice meat, then top with grilled onions, rhubarb salsa, and a few of the sliced onions. Finish with a squeeze of fresh lime.
Grilled Chicken with Lime Butter and Fresh Rhubarb Salsa
This is an absolutely fabulous spring dinner recipe, courtesy of Luisa Ormonde of Luisa's Catering in San Carlos. Recipe adapted from Luisa's friend Ria Diaz. Serves 2.
For lime butter:
One stick of unsalted butter, softened to room temp
A bit of cilantro, chopped
Zest and juice of 1 lime
Splash of soy sauce
Directions: To the butter add cilantro, lime zest and juice and soy sauce. Stir to combine well. Roll butter into a tube in plastic wrap. Twist end to close and and store in the fridge till it's dinner time. You'll have left over butter.
For the chicken:
Boneless, skinless chicken breast (or thighs) for 2 people
Sigona's Fresh Press Extra Virgin Olive Oil
Fresh ground pepper
Sea salt
Fresh lime juice
Directions: Coat skinless, boneless chicken breasts (or thighs) with a little olive oil, fresh ground pepper, sea salt and fresh lime juice. Grill until cooked through.
For the rhubarb salsa:
1/2 cup diced rhubarb
1/4 cup diced cucumber
2 Tbsp honey (or to taste), such as Honey Hole Honey Co. honey, available at Sigona's
1 Tbsp chopped cilantro
1 Tbsp Sigona's Fresh Press Extra Virgin Olive Oil
Juice of half a lime
Optional: Add minced jalapeño, Serrano or habanero pepper, if you like a little heat
Directions: Stir all ingredients together in a bowl while the chicken is on the grill.
To serve the dish:
Plate grilled chicken with a pat of butter over the top and spoon salsa over.