In the Kitchen with Sigona's Featuring: Heirloom Tomatoes
Summer Gazpacho with Marvel Stripe Heirloom Tomatoes
Nothing quite says summer like a luscious heirloom tomato, except, perhaps, a bowl of freshly prepared gazpacho. This simple, chilled soup is full of flavor, and is sure to impress. Adapted from "Feast." Serves 2 to 4.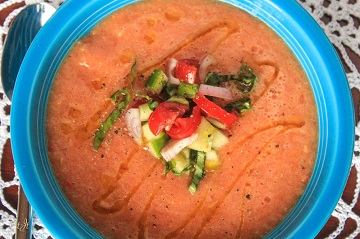 Ingredients:
2 large Marvel Stripe heirloom tomatoes
6 basil leaves, divided
1 to 2 cloves garlic, chopped
Salt & pepper, to taste
Half a cucumber, halved, seeded and chopped
6 red grape tomatoes, diced
Half a shallot, thinly sliced
Sigona's Fresh Press Extra Virgin Olive Oil, for drizzling
Optional: Croutons, for topping
Directions: Chop the tomatoes and place in a large bowl with 4 basil leaves, garlic and salt. Cover and refrigerate for at least 30 minutes.
Meanwhile, mix together the cucumber, grape tomatoes and shallot. Chiffonade the remaining 2 basil leaves and stir into the cucumber mixture. Season lightly with salt and pepper. Set aside.
Just before serving, remove the basil leaves from the chilled tomato mixture and discard. Blend the tomato mixture with either a blender or an immersion blender until frothy and mostly smooth. It doesn't need to be completely smooth; some larger pieces of tomato are nice.
Ladle the gazpacho into individual serving bowls*, top evenly with some of the cucumber mixture and finish with a drizzle of olive oil. Add croutons, if desired.
Chef's Tip: Chill the individual serving bowls before serving the gazpacho.
Panzanella with Heirloom Tomatoes
Panzanella is a Tuscan-style bread salad made with tomatoes, and seasoned with garlic and basil. You can't go wrong with those ingredients! Find a variety of heirloom tomatoes for this recipe, to give it a pop of color. Serves 8.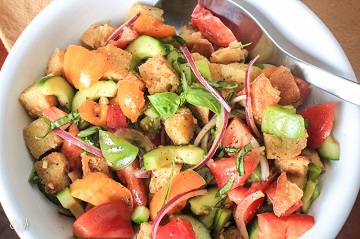 Ingredients:
6 cups crusty Italian bread, cut into 1-inch cubes
At least 6 Tbsp. Sigona's Garlic Oil, divided
1 1/2 to 2 lbs. heirloom tomatoes, diced into 1-inch pieces (get a variety of colors)
Half an English cucumber, halved, seeded and cut into slices about 1/4-inch thick
1/2 cup sliced red onion
About 10 basil leaves, chiffonade
Salt and pepper, to taste
Optional: 2 Tbsp. capers
Directions: Heat 2 tablespoons garlic oil in a large skillet over medium heat. Add the cubed bread and toss in the oil, ensuring all cubes are well coated. Toss cubes, cooking, until toasted on all sides, about 6 to 8 minutes, depending on the crustiness of your bread. Remove cubes from skillet and allow to cool.
In a small bowl, mix together the remaining 4 tablespoons oil and the balsamic. Season with salt and pepper. Set aside.
Place the tomatoes, cucumber, onion, basil and capers, if using, in a large mixing bowl and stir to combine. Drizzle the oil and balsamic mixture over the tomatoes; gently toss to coat. Add the toasted bread crumbs and toss to coat. Serve salad immediately.
Note: If the salad seems too dry, add a little more olive oil and balsamic.
Easy Peasy Caprese Recipes
Simply a classic, you'll love how caprese salad pairs with one of our three vinaigrette suggestions. Fantastic!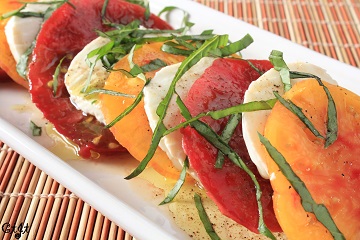 Caprese Ingredients:
1 lb. assorted heirloom tomatoes, cut into 1/4-1/2-inch thick slices (I'm partial to the Cherokee Purple)
2 Tbsp. thinly sliced (chiffonade) basil
8 oz. fresh mozzarella, such as our local and organic Belfiore mozzarella, cut into 1/4-inch thick slices
Salt and pepper, to taste
A Sigona's balsamic vinaigrette of choice, recipes follow
Vinaigrette I:
Salt and pepper, to taste
Vinaigrette II:
Salt and pepper, to taste
Vinaigrette III:
Salt and pepper, to taste
Directions: Slice the tomatoes and sprinkle lightly with salt and pepper. Let them rest for a few minutes to bring out the intense tomato flavor.
In a small bowl, briskly whisk together the three ingredients for the vinaigrette.
Arrange the tomato slices and mozzarella slices, slightly overlapping one over the other, on a serving platter. Sprinkle on the chiffonade basil and drizzle on the vinaigrette.