John's Pick of the Week: Walnut Stuffed California Medjool Dates
Walnut Stuffed California Medjool Dates
A Unique Sigona's Specialty at Our Very Best Sale Price!
$3.99 (9 oz)
Reg. $5.99
Hollister, California light halves and pieces–The very best come from this area!
Imperial valley, California extra-large size Medjool dates–The very best comes from this area!
Try them with your favorite cheese, particularly good with a blue cheese.
Great out of hand at room temperature. My favorite way is eating them right from the freezer!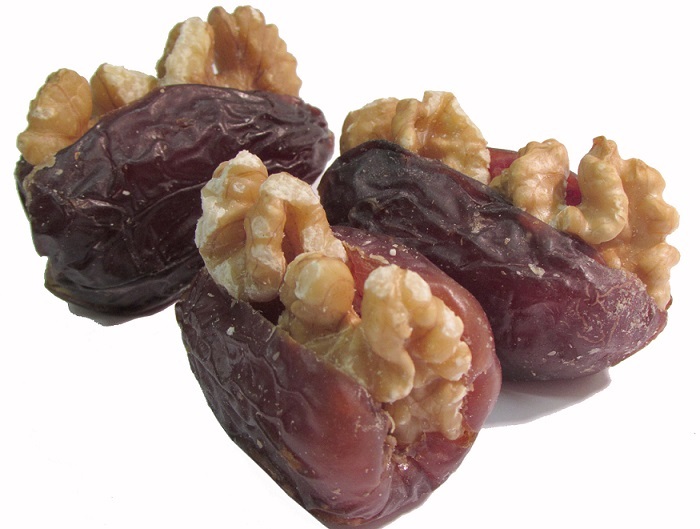 Storage of Sigona's walnut stuffed Medjool dates:
Will keep at room temperature for at least two weeks
Will keep refrigerated for at least 8 weeks
Will keep in freezer for at least 8 months
Medjool dates nutritional facts:
High fiber, (6) grams per three oz. serving
Good source of potassium, iron and copper
Excellent source of magnesium (10% per three oz. serving)
Medjool dates consist of 2% protein
Walnut nutritional facts:
12% RDA for fiber
8% RDA for protein
5% RDA for iron
6% RDA for thiamin
8% RDA for B6
10% RDA for phosphorus
48% RDA for manganese
3% RDA for calcium
Additional benefits for walnuts:
Healthy fat-omega 3 fatty acids. 1oz. serving—90% RDA
(Omega 3 fatty acids have innumerable health benefits)
Particularly rich in phenol antioxidants, like garlic acid with lots of major health benefits.