In the Kitchen with Sigona's Featuring: Kale
Organic Kale and Butternut Squash with Shallots, Dried Cranberries and Bacon
The flavors here play exceptionally well together. The earthy flavor of the squash and the kale is seasoned well with spices, shallot and garlic oil, and the bacon and cranberry bring a salty-tart profile that makes this dish almost irresistible. Adapted from Fine Cooking. Sprinkle this side dish with Feta if you wish, or leave it off for a dairy-free option. Serves 2 to 4 as a side.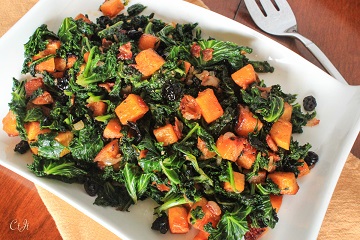 Ingredients:
1/4 tsp. ground allspice
1/4 tsp. ground coriander
1/8 to 1/4 ground chili powder, to taste
Salt and pepper, to taste
2 1/2 Tbsp. Sigona's Garlic Oil, divided
Half a medium butternut squash (about 3 lbs.), trimmed, peeled and cut into 3/4-inch cubes (about 2 to 3 cups)
1 bunch organic kale, tough stems removed, leaves chopped into 2-inch-wide pieces (about 5 to 6 cups, lightly packed)
2 slices bacon, diced
1 large shallot, diced
1/3 cup dried cranberries (Look for dried cranberries in our dried fruit & nut section. They're sweetened with apple juice.)
Optional: crumbled Feta cheese, for sprinkling
Directions: Position a rack in the center of the oven and preheat the oven to 375°F.
Together in a small bowl, mix together the allspice, coriander, chili powder and 1 tsp. salt. Place the cubed squash on a large rimmed baking sheet. Drizzle the squash with 1 1/2 tablespoons oil and the spices; toss well to coat. Spread the squash out in a single layer and roast for 25 to 30 minutes, stirring at 13 minutes, until squash is lightly browned and tender.
Meanwhile, bring a large pot of salted water to a boil. Prepare an ice bath in a large bowl and set aside. Add the kale to the boiling water and cook until tender, about 3 minutes. Drain and transfer immediately to the ice bath. Drain well and pat dry with paper towels. Set aside.
Cook the diced bacon in a large skillet or Dutch oven over medium-low heat for about 4 minutes or until just starting to brown. Add the remaining tablespoon of oil and the shallots. Cook, stirring, about 2 to 3 minutes more or until the shallots are tender and bacon is crisp.
Add the kale to the skillet and cook, stirring occasionally, until the kale is coated. Reduce the heat, add the squash and cook until the squash is heated through, about 5 minutes. Add the cranberries and stir gently to combine. Season with salt and pepper, sprinkle with Feta if desired, and serve immediately.
Organic Kale and Citrus Salad with a Honey-Ginger Vinaigrette         
This simple, bright and fresh salad is delicious with its sweet, tangy vinaigrette made with our Honey-Ginger White Balsamic — one of our favorite infused balsamics! Kale and citrus are so flavorful on their own that this salad only needs a few ingredients. The crispness of the kale is nicely balanced with the creaminess of the avocado. Serves 2 to 4.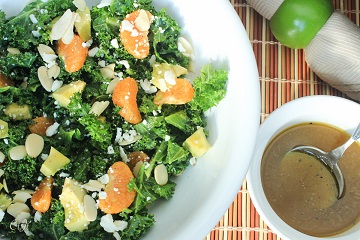 Vinaigrette:
1 Tbsp. minced shallot
1 clove garlic, minced
1 tsp. Dijon mustard
A splash of soy sauce or tamari
1/4 cup Sigona's Fresh Press Extra Virgin Olive Oil (Mix it up! Use our Persian Lime Olive Oil for more citrus flavor.)
Black pepper, to taste
Salad:
1/2 bunch organic kale, stems removed, leaves roughly chopped to bite-size pieces
2 to 4 Satsumas, mandarins, clementines, tangerines or other small orange citrus fruits, peeled and segmented
1 medium avocado, cubed
2 to 3 Tbsp. sliced or slivered almonds
3 to 4 Tbsp. crumbled Feta or goat cheese
Optional: Sesame seeds, for sprinkling
Directions: Together in a small bowl, whisk together the shallot, garlic, Dijon, soy and balsamic. While whisking, drizzle in the olive oil to emulsify (thicken) the mixture. Season with salt and pepper; set aside.
Place the kale in a large bowl; using both hands, massage the kale a bit to help tenderize the leaves. Add the citrus and avocado then toss gently to mix. Add about half of the vinaigrette and toss gently until well coated.
If serving in a large bowl, sprinkle with almonds, cheese and sesame seeds, if using. If serving on individual plates, equally divide the salad among plates and then sprinkle with toppings. Serve remaining vinaigrette on the side.
Organic Kale, Sausage and Butternut Squash Breakfast Scramble
This breakfast dish is packed with proteins and good-for-you greens, making it perfect for breakfast or brunch. It's also dairy-free! Substitute sweet potato for the butternut squash, if desired. Recipe courtesy of Kitchen Instruction Manual. Serves 4 to 6.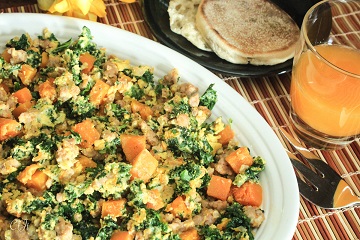 Ingredients:
About 3/4 lb. to 1 lb. ground sausage, such as breakfast sausage, Diestel Ranch Italian Turkey Sausage or homemade (make your own!)
Cooking oil, as needed
1/2 cup diced onion
2 to 3 cups diced (about 1/2-inch cubes) butternut squash
1/2 cup vegetable stock, as needed
1/2 bunch organic kale, stems removed, leaves chopped
5 eggs, beaten
Sea salt and pepper, to taste
For serving: A little Tabasco or other hot sauce
Directions: Preheat a skillet over medium-high heat and add the sausage. Once it starts browning, begin to break it apart and continue to cook through. Drain, reserving grease. Remove sausage to a plate lined with a paper towel and set aside.
Reduce heat to medium. Add about a tablespoon of the sausage grease to the same skillet (add some cooking oil to equal a tablespoon, if necessary). Add the onions, season with salt and cook for 1 to 2 minutes until they are soft and have taken on some color from the pan. Then add the butternut squash and season with salt again. Add about 1 tablespoon of the broth, cover and let the squash cook until fork-tender, stirring occasionally and adding broth as needed if the pan seems dry. About 15 to 20 minutes.
Add the kale and stir to combine. Cook for about 1 to 2 minutes then add the sausage back into the skillet. Pour in the beaten eggs and work them around to fold and scramble, cooking until the eggs are set and sausage is warmed through. Serve warm with optional hot sauce on the side.