In the Kitchen with Sigona's Featuring: Local, Fresh Corn
Grilled Corn, Chicken & Black Bean Salad on a Bed of Leafy Greens
This is definitely a salad for summer! Grilling the chicken is a great way to add more flavor to this dish, and it keeps your kitchen cool in the summer heat. This is an easy recipe to serve to a crowd as it's easily doubled. Keep in mind you can serve it sans the chicken, too. Adapted from Every Day with Rachael Ray. Serves 2 to 4.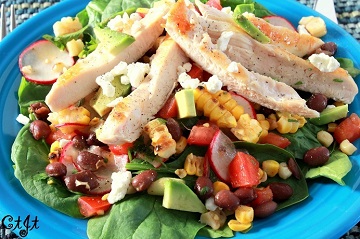 Ingredients:
2 ears fresh corn, shucked
1 1/2 Tbsp. Sigona's Persian Lime Olive Oil (Mix it up! If you're looking for a little heat, try Sigona's Baklouti Green Chili Oil or Sigona's Red Chili Harissa Olive Oil)
1 tsp. fresh lime juice
1 tsp. chili powder
Salt and pepper, to taste
1 (15 oz.) can black beans, rinsed and drained
1/2 bunch radishes, trimmed and thinly sliced
2 Roma tomatoes, seeded and cubed
2 green onions, thinly sliced on the diagonal
3 Tbsp. chopped cilantro
2 cooked chicken breasts, sliced lengthwise into strips — we prefer them grilled
3 to 4 big handfuls of mixed greens, spinach or arugula
2 oz. crumbled Feta or Queso Fresco
1 avocado, cubed
Directions: Preheat a grill to medium. Add the corn and grill, rotating every couple minutes, until charred in spots, about 10 minutes. Let cool completely. If you need to grill the chicken, do it now.
In a large bowl, whisk together the olive oil, lime juice, chili powder and half the salt. Carefully slice the corn kernels from the cobs and transfer to the bowl. Add the beans, radishes, tomatoes, green onions and cilantro; toss well.
Divide the greens among 2 to 4 plates. Top with the corn mixture and lay strips of cooked chicken on top. Lastly, add on a few cubes avocado and a sprinkling of crumbled cheese. Season with black pepper, if desired.
Smokey Corn & Monterey Jack Quesadillas with Sigona's Guacamole
There's no doubt quesadillas are something the whole family will like for lunch or dinner. I love how you can really throw anything in a quesadilla to make them as lite or as hearty as you wish. For example, you could add cubed chicken, shrimp or a flaked white fish to this recipe for more protein. Inspired by Fine Cooking. Serves 2.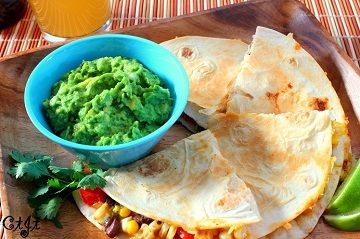 Ingredients:
1/2 cup fresh corn kernels (from half a medium ear)
1 cup shredded Monterey Jack or Mexican blend cheese
1/4 cup chopped fresh cilantro
2 Roma tomatoes, seeded and diced
1 small zucchini, diced (you can also use yellow squash or yellow crookneck)
1/4 to 1/2 cup black beans, drained and rinsed
1 tsp. smoked paprika
Salt, to taste
4 (7- to 8-inch) large tortillas
Garnishes:
Lime wedges
Chopped fresh cilantro
Fage Greek yogurt mixed with a few drops of Tapatio or other hot sauce
Sigona's Guacamole (recipe follows)
For the Quesadillas: In a medium bowl, combine the corn, cheese, cilantro, tomatoes, zucchini, black beans, paprika and salt.
Heat a large nonstick skillet over medium heat. Place one tortilla in the pan and, working quickly, spread on the corn mixture. Top with the remaining tortilla and let cook 4 to 5 minutes or until bottom tortilla is crispy and a lightly browned. Using a large spatula, gently flip the quesadilla and cook an additional 4 to 5 minutes until lightly browned and cheese is melted.
Let cool about 3 minutes before slicing into fourths. Serve with the yogurt & hot sauce mixture, lime wedges, a sprinkle of cilantro and guacamole.
Sigona's Guacamole:
2 large ripe avocados, removed from skin and coarsely chopped
2 Tbsp. finely diced white onion
2 Tbsp. finely diced red onion
1 to 2 Serrano chilies (or jalapeños), finely chopped (seeds removed or left depending on how hot you like your guac)
1 clove garlic, minced
1/2 tsp. salt
1 to 2 Tbsp. fresh squeezed lime juice, to taste
Fresh ground black pepper
Directions: Mix onions, chilies, garlic and salt in a medium-sized bowl. Add the avocados and gently mash with a fork. Pour in the lime juice and stir to combine. Season with some black pepper to taste.
Sautéed Corn with Cherry Tomatoes and Basil
This is one of our most requested recipes! We get the feeling it has become summer staple in many a house in the Bay Area. It's fresh flavorful, easy to throw together and a great side dish to grilled meat or fish. Adapted from Joy of Cooking. Serves 4.
Ingredients:
2 ears of corn, shucked
1 pint cherry tomatoes, halved (use a variety of tomatoes for added color)
A few leaves of basil, sliced thin (use scissors to snip)
Salt, pepper
1 Tbsp. butter
1 Tbsp. cream, optional
Directions: Carefully slice the corn from the ears.
Melt the butter in a sauce pan over medium heat. Add the corn kernels and cook for 1 min. Add the cherry tomatoes and cook for another minute or until juices start to run. Stir in salt, pepper, basil and cream. Serve warm.