Robbie's Produce Tips: Local Black Mission Figs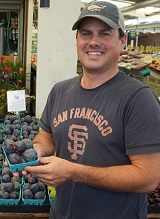 Nothing comes close to these in taste! Coming from Corning, CA (north of Sacramento) these honey flavored fruits are picked ripe for local consumption and then delivered to our market. They are then repackaged here at Sigona's to ensure that our loyal customers are presented with the best quality of figs in the area.
You want your figs to be soft — to give a little with the slightest pressure, but not at all mushy or hard.
Avoid figs with bruises.
Store figs in the refrigerator for 2-3 days.
Check that the stems are firmly in place — a wiggly, loose stem means the fig is mushy.
Robbie Sigona is our produce buyer. He works with local farmers and scours the market for the very best in fresh fruits and vegetables – some of you won't find anywhere else.