In the Kitchen with Sigona's Featuring: In-Season Tomatoes
Panzanella with Baby Heirloom Tomatoes and Capers
Panzanella is a salad starring crusty or day-old bread and tomatoes. It used to be known as a poor man's dish, but now it's a trendy delight. Adding capers or kalamata olives adds just the right burst of flavor to these classically combined ingredients. Serves 4 to 6.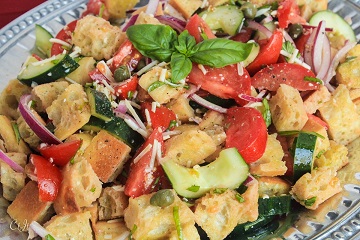 Ingredients:
1 loaf crusty bread, cut into 1-inch cubes, such as an Italian bread or Ducks and Dragons gluten-free bread
1/4 cup Sigona's Fresh Press Extra Virgin Olive Oil, such as Australian Pendolino, divided
1 Tbsp. red wine vinegar
Salt and pepper, to taste
About 2 heaping cups locally-grown baby heirloom tomatoes, halved or quartered, depending on size
1 cucumber, halved, seeded and cut into wedges (peeling the cucumber is optional)
1/2 red onion, sliced into strips
2 Tbsp. capers, drained, or chopped kalamata olives
About 1/2 cup chopped fresh basil, plus whole leaves, for garnish
1/4 cup crumbled Feta or freshly grated Parmigiano-Reggiano, plus more for topping
Directions: Panzanella requires stale bread. To get the right texture, either cut the cubes and leave them out overnight to become stale, or toss with 2 tablespoons olive oil and toast at 275°F for about 20 minutes or until lightly toasted. Allow to cool before using in the salad.
In a small bowl, whisk together the vinegar, olive oil, salt and pepper.
In a large bowl, combine the bread, tomatoes, cucumbers, onions and capers. Pour a bit more than half of the dressing over the salad ingredients and toss to combine. Add more dressing if desired, but don't not enough to make the bread too soggy right away. Add the basil and cheese, gently toss to coat.
Finish the dish with bit more salt and pepper, to taste, and garnish with whole basil leaves and a sprinkling of cheese. Serve immediately, adding more vinaigrette as desired.
Mozzarella Stuffed Roasted Mushrooms with Baby Heirloom Tomatoes and Arugula
There are so many layers of flavor in this tiny bite! The peppery arugula pairs nicely with the earthy mushrooms and the acidity of the roasted tomatoes. Roasting brings out the natural sweetness of the tomatoes and intensifies their flavor. Adapted from Clean Eating. Makes 8 to 12 pieces, serves about 4.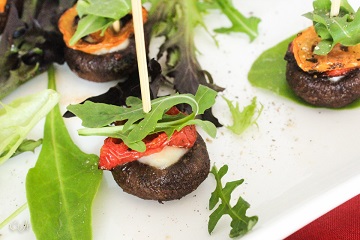 Ingredients:
1/2 cup locally grown baby heirloom tomatoes, cut crosswise into slices about 1/4-inch thick
About 8 to 12 cremini mushrooms, cleaned and stemmed
At least 12 leaves wild arugula
A handful mixed greens
8 to 12 (1/2-inch) cubes fresh mozzarella, about 2 to 3 oz., such as Galbani
1 1/2 tsp. Sigona's Fresh Press Extra Virgin Olive Oil, such as Australian Pendolino, divided
1 tsp. red wine vinegar, divided
1 tsp. dried basil, divided
1/4 tsp. ground cumin, divided
1/4 tsp. sea salt, such as Salts of the Earth, found at Sigona's
Freshly ground black pepper
Directions: Preheat and oven to 425°F.
Line a rimmed baking sheet with parchment paper. In a large bowl, combine sliced tomatoes, 1/2 teaspoon oil, 1/2 tsp. vinegar, 1/2 teaspoon basil, 1/8 teaspoon cumin an 1/8 teaspoon salt. Toss together and spread along the middle of the parchment, leaving about a 3 inch edge around all around the edge.
In the same bowl, mix together the remaining 1 1/2 teaspoons oil with the remaining vinegar, basil, cumin and salt. Add the mushrooms and toss to coat. Arrange the mushrooms, stem side up, along the edges of the baking sheet. Bake for 15 minutes then turn the mushrooms, stirring juices into tomatoes, and bake for another 3 minutes.
Remove the tomatoes from the sheet and set aside. Turn the mushrooms back over to be stem-side-up, and stuff each with a cube of mozzarella. Return to the oven for 2 to 3 minutes or until cheese is melty.
Top each mushroom with one or two slices of tomato. Gently bend a leaf of arugula in half and thread onto a toothpick. Skewer the mushroom tower with the toothpick so the arugula is on top of the tomato.
Spread a little spring mix on a serving platter. Place the skewered mushroom bites atop the mix and season with a little pepper. Serve warm.
Heirloom Tomatoes with Lemony Ricotta and Savory Granola
The savory granola, infused with our basil oil, gives this dish crunch as well as flavor, and the lemon in the ricotta makes for a refreshing note, complementing the tomatoes. You'll have extra granola left over, which is a nice alternative to croutons on salads. It can be stored in an airtight container for up to 3 weeks. Adapted from Food & Wine. Serves 2.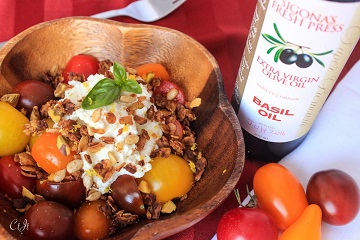 Ingredients:
About 1 1/2 cups locally grown baby heirloom tomatoes, halved
1 cup old-fashioned rolled oats
2 Tbsp. orange blossom honey from Honey Hole Honey Co., available at Sigona's
1 Tbsp. water
3 Tbsp. Sigona's Basil Oil
Salt and pepper, to taste
1/2 cup shelled pistachios, coarsely chopped, look for them in Sigona's Dried Fruit & Nut department
1/4 cup roasted, salted sunflower seeds (look for them in Sigona's Dried Fruit & Nut department)
1/2 cup fresh ricotta
1 tsp. freshly squeezed lemon juice
2 tsp. lemon zest, divided
Basil leaves for garnish
Directions: Preheat the oven to 325°F and line a rimmed baking sheet with parchment paper.
In a large bowl, toss the oats with the honey, water, 2 tablespoons basil oil and salt, to taste. Stir together until the oats are thoroughly coated. Spread the mixture out on the parchment paper and bake for about 25 minutes, stirring twice. Stir in the pistachios and sunflower seeds and bake for about 7 minutes longer until the mix is golden brown and dry. Allow the mixture to cool on the baking sheet while you prepare the rest.
In a small bowl, mix the ricotta with 1 teaspoon lemon zest, the lemon juice, 1 tablespoon basil oil, salt and pepper.
Place the tomatoes in individual serving dishes and season with salt and pepper. Scoop half of the ricotta mixture into each bowl around the tomatoes. Sprinkle the dish with some of the granola, as much as desired. Garnish with the remaining lemon zest and a basil leaf. Serve.