At the Movies with Sigona's Featuring: The Biggest Game in Town
Sigona's to Host Bay Area Premiere of Indie Film
We're not sure if you knew, but (our grocery buyer) John Nava's other job – and passion – is cinema:  not just going to the movies, but creating them.  Our own auteur brings his distinctive artistic vision to the big screen at the historic Fox Theatre in the heart of Redwood City, October 15th at 8pm .
The Biggest Game in Town (PG-13) tells the story of home game poker champ and big dreamer Atticus Cane. If he can win the big money, he can buy his beloved Tessa the home of her dreams. With two friends, he sets off in search of a legendary card game that could make – or break—his dream. 
Atticus must face his fears – and his adversary, a formidable player no one ever heard of. Atticus will put his life's savings on the line.  If he wins, he wins it all.  If he loses, he loses everything.
Nava wrote, directed, and produced the film.  He even takes a turn in a cameo role.
Produce and Production: "Local. Fresh. Family."
More than just a tagline on our private-label specialty grocery, those three words sum up the values we live and work by.  Pick up almost any package of cookies and see the name and address of the baker; take a look at our dairy case to see wonderful small-family creameries located just a short drive away.  Taste our best-of-the-season fruit and see how incredibly fresh it is. That's what local tastes like.
Nava takes the same approach to filmmaking. The film was shot locally – much of it right here in Menlo Park, as well as in Gilroy, Morgan Hill, Hollister, and Monterey County.
For Nava, inspiration is just as important as location. It "comes from the little guy, the underdog in any walk of life – someone who keeps chasing the dream," he said.  And that applies to buying for the stores and in creating the film – whether it's a "small business owner, entrepreneur, indie filmmaker, or local artist."
Moviegoers may recognize people from Sigona's on the screen.  Accomplished theatre actor Jayson Stebbins stars as Atticus; John Sigona, Jr., co-stars as the mysterious and intimidating Mr. Sicily. Scott Hafiz, who sells for Tony's Fine Foods, plays a wisecracking poker pro.  Longtime Sigona's shopper Brian Lamprel takes on the role of British Bob, a refined gentleman card sharp.  Rounding out the cast are local luminaries David Buck, Steve Caposio, Denee Lewis, Ralph Noe and Eric Zivot, along with Elvis tribute artist Rick Torres. Sigona's employees play extras, including Paul Sigona.
Be One of the Glitterati
Reminiscent of the halcyon days of the silver screen, this premiere offers so many of the flourishes of old Hollywood.  Moviegoers will walk the red carpet right alongside the cast and crew.  Paparazzi (we use this word in its original meaning – professional photographers whose job is to capture all the glitter and glitz of the glamor of the gala) will be on hand to take your photo with the stars and the skilled technical experts who bring the director's vision to life.
Once inside, visitors will receive a commemorative program, created exclusively for the festivities.  Just as theatres did in the 1940s and 1950s, moviegoers will enjoy a live music overture.  With a no-host bar, audience members can enjoy a favorite libation as they watch the movie.
About the film.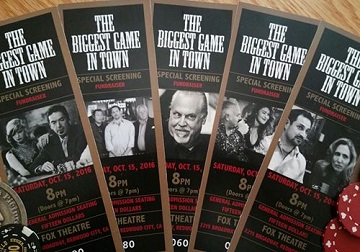 Nava shares the same dream of independent filmmakers the world over:  to create a movie that can hold its own in a sea of big-budget movies.  He calls his work "an underdog movie with a dream," and credits the entire team who came together "in a remarkable feat of passion and fearless determination to create the best movie possible."
The project epitomizes what it means to be an indie film:  big heart, tiny budget; shot over two years' time as cast and crew gave over their weekends to a labor of love.  It would be tough to say whether labor or love was dominant: both were present in equal measure. "An entire community of local talented artists and business owners from the Bay Area lent their various talents, locations –and more importantly, their hearts—for free," Nava said.  "The support and love of the local community was unbelievable."
Tickets are available for $15 apiece at the Fox Theatre box office; any proceeds will be used to defray the costs associated with entry into selected film festivals.  T-shirts, movie posters and memorabilia will be available for purchase.  If you spend $30 or more in the store, Sigona's will comp you two tickets to the premiere.