In the Kitchen with Sigona's Featuring: Fit for Fall
Braised Chicken with Fennel and Apples
Don't let the long-ish list of ingredients scare you away from this during the work week. Once everything is in the roasting pan, this dish practically finishes itself. Simple, healthy & delicious. Recipe courtesy of Polina Antonova, chef and owner of Caliblini Personal Chef Service. Serves 4.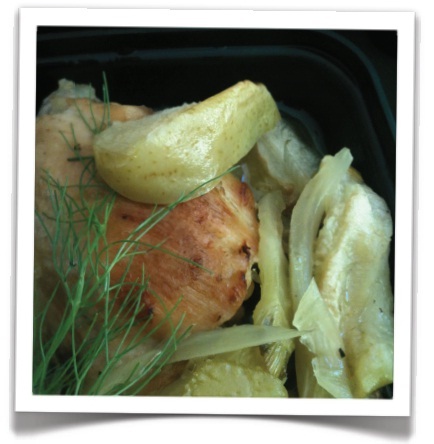 Ingredients:
2 TBL olive oil
1 whole chicken (cut it apart yourself or buy it pre-cut to save time)
Sea salt and fresh ground white pepper
1 large yellow onion, thinly sliced
4 cloves garlic, thinly sliced
2 stalks celery, thinly sliced
1 fennel bulb, trimmed and thinly sliced (AKA Sweet Anise)
1 cup dry white wine
2 cups apple cider
3 granny smith apples, cored and sliced
6 sprigs thyme
2 bay leaves
Directions:
Cut the wing tips off the chicken. Cut chicken into two breast quarters and two leg quarters, reserve the carcass and wing tips for stock. Season chicken with salt and white pepper.
Preheat the oven to 400F. Heat 2 Tbsp oil in a large skillet over medium-high heat. Arrange chicken pieces in the skillet, skin side down. Brown until the skin is crisp and golden, 8-10 minutes. Turn over, brown the other side 4-5 minutes.
Oil an ovenproof baking dish. Arrange onion, garlic, celery, and half of the fennel on the bottom. Transfer browned chicken pieces to the dish, skin side up.
Pour off and discard most fat from the skillet. Deglaze skillet with white wine, scraping the bottom to release all the browned pieces sticking to it. Pour the wine over chicken. Arrange remaining fennel on top. Tuck in bay leaves and thyme. Pour in apple cider. Cover with aluminum foil.
Bake in the oven until chicken is tender, about 40 minutes. Remove the foil, tuck apple slices around the chicken and fennel, return to the oven. Bake until apples are tender and chicken skin and fennel are crisp, 15-20 minutes.
Rachael Ray's Turkey Burgers with Poached Pears and Pepper Relish
Don't make us twist your arm. The poached pear on this burger, topped with melted cheese, will keep you coming back for more. Serves 6. (Recipe adapted from Rachael Ray.)

Ingredients:
2 lbs. ground turkey breast
4 green onions, white parts only, finely chopped
2 TBL Dijon mustard
Grated peel and juice of 1 lemon
1 TBL fresh thyme, chopped (fresh makes a difference)
Salt and pepper
1 Bartlett pear, firm but ripe, cut lengthwise into six 1/4-inch thick
1/2 cup dry white wine
1 TBL (Sigona's Fresh Press Picual) Extra Virgin Olive Oil
2 cups, Sigona's 4 1/2-year aged cheddar, shredded
4 TBL jalapeño jelly
4 extra-large English muffins, split and toasted (Sourdough is nice)
Directions:
In a medium size bowl, combine the turkey, green onions, mustard, lemon peel and thyme; season with salt and pepper. Shape into six 3/4 inch-thick patties.
In a small nonstick skillet, add the pear slices, wine, lemon juice and enough water to just cover the pear. Bring to a boil, then lower the heat and simmer until the pear is softened, about 10 minutes. Using a slotted spoon, transfer the pear slices to a plate.
In a large nonstick skillet, heat the EVOO, one turn of the pan, over medium heat. Add the turkey patties and cook, turning once, for 12 minutes. Top with the cheese and pear slices, tent the pan with foil and cook until the cheese is melted, 2 minutes.
Spread 1 tablespoon hot pepper jelly on each English muffin bottom; top with a patty and an English muffin top.
Fresh Corn Salad with Black Beans, Tomato and Cilantro
Healthy and delicious salsa topping for grilled snapper or albacore tuna. This salsa is always a hit. Courtesy of Laura H., a Sigona's fan. Serves about 4.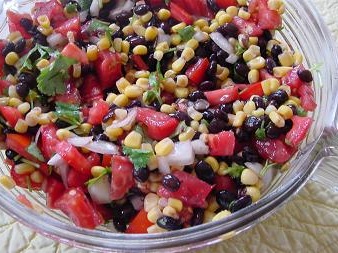 Ingredients:
Juice from 2 limes, about 4 TBLs
4 TBLs Sigona's Manzanillo extra virgin olive oil
2 clove garlic
Salt and pepper
A 15-ounce can black beans, rinsed and drained
Kernels cut from 3 ears of white corn (about 1 cup)
1 1/2 cups tomatoes (use an assortment of halved cherry tomatoes or use 3 Roma tomatoes, seeded and chopped)
1 red onion, minced
Half a bell pepper, seeded and diced (look for an orange one to add color to the dish)
3 TBLs minced fresh cilantro leaves
Jalapeno pepper, seeded and diced (add more to taste)
1/2 tsp cumin (or to taste)
Optional: top with diced or sliced avocado when ready to serve.
Directions:
In a bowl whisk together lime juice, oil, garlic and salt to taste. Stir in remaining ingredients and season with salt and pepper, to taste.
Let salsa stand at room temperature for at least 30 minutes, stirring occasionally, to let flavors develop. Laura recommends making it the night before.
Top over grilled or pan-seared fish.
Roasted Italian Beans
While I am a firm believer in simply blanching vegetables before they're cooked, Italian beans are an exception. The longer they cook, the more creamy and velvety they become. I simply love Italian beans! Recipe adapted from Cookography.com.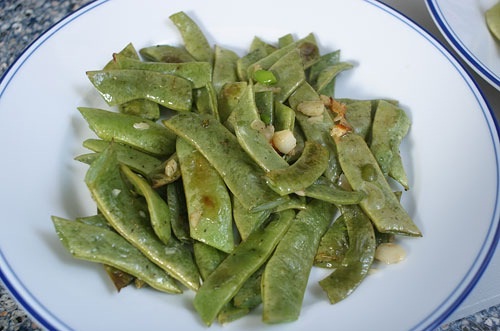 Ingredients:
1 pound Italian beans, stem ends trimmed, cut into bite size pieces
2 Tbsp olive oil
3 cloves garlic, smashed
1/2 tsp salt
Directions:
Set oven to 450 degrees. In a bowl, toss the beans, garlic and salt with the olive oil. Spread the beans onto a large rimmed baking sheet and make sure they are evenly distributed in a single layer.
Roast for 15 to 20 minutes, turning once, or until the beans are tender and browned. Serve warm or at room temperature.