In the Kitchen with Sigona's Featuring: Locally- Grown Gala Apples
Mulligatawny Soup with Chicken and Gala Apples
Do not be intimidated by unique name of this dish or by the length of the list of ingredients. This soup's for you! Mulligatawny is an Anglo-Indian invention, said to have been made, once upon a time, for the English Raj. Think of it as a comforting chicken soup that will warm you up on a crisp fall day. If you want it dairy free, replace the butter with more olive oil. Serves 2 to 4.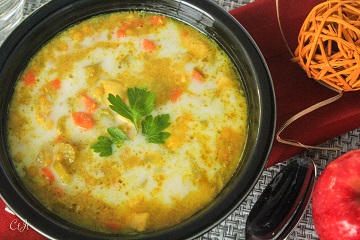 Directions:
Half a white or yellow onion, diced (about a 1/2 cup)
2 stalks celery, diced
1 carrot, diced
2 Tbsp. butter
1 tsp. freshly minced or grated ginger
1 clove garlic, minced
1 1/2 tablespoons all-purpose flour
1 Tbsp. curry powder, more or less to taste
4 cups chicken broth
1 locally-grown Gala apple, diced
1/4 cup lentils, such as Ancient Agro yellow lentils, found at Sigona's (use rice if you prefer)
1 boneless, skinless chicken breast, cubed
Salt and pepper, to taste
1/2 tsp. dried thyme
1/2 cup coconut milk (canned)
Cilantro or parsley for garnish
Directions: Warm oil and butter in a large soup pot over medium-high heat. Add onions, celery and carrot; season with salt and pepper. Sauté mixture for 5 to 7 minutes, stirring occasionally, until vegetables have softened.
Add garlic and ginger, cook for 30 seconds. Add flour and curry, and cook, stirring frequently, for 3 more minutes, being careful not to let the mixture brown or burn.
Add chicken stock and bring to a boil. Reduce heat to allow soup to simmer for about 20 minutes.
Optional: puree the mixture with an immersion blender before proceeding.
Add apple, lentils, chicken and thyme. Season with salt and pepper. Partially cover the pot with a lid and simmer for about 25 to 30 minutes, or until lentils are al dente and chicken is cooked.
Meanwhile, warm the coconut milk in a small sauce pan.
Divide the soup among individual serving bowls. Swirl about 2 tablespoons of warmed coconut milk to each serving, garnish with cilantro or parsley and serve.
This soup is even more flavorful the next day.
Fall Harvest Salad with Gala Apples, Cranberries and a White Balsamic Poppy Dressing
Everyone loves a simple, flavorful salad with a great dressing. Apples, cranberries and candied pecans are flavors of fall, all of which are deliciously complemented by the locally-made Jennysong white balsamic poppy dressing. Serves 4 to 6.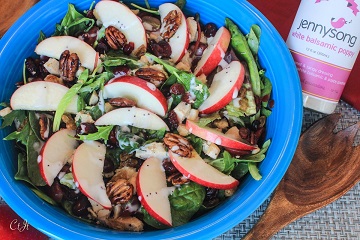 Ingredients:
1/4 cup golden raisins (find them in Sigona's Dried Fruit & Nut Section)
1/4 cup dried cranberries (find them in Sigona's Dried Fruit & Nut Section)
1 cooked chicken breast, cubed or diced
1 locally-grown Gala apple, halved, quartered and thinly sliced
About 1/2 cup candied pecans (make your own** or find candied pecans in Sigona's Dried Fruit & Nut section)
5 oz. mixed greens
At least 3 Tbsp. locally made Jennysong white balsamic poppy dressing (find it at Sigona's)
Directions: Reconstitute the raisins and cranberries by soaking them in hot water for at least 5 minutes. Drain and pat dry before proceeding.
In a large bowl, toss the greens with 2 tablespoons of the dressing until well coated. Transfer to a serving bowl and top the greens with the raisins, cranberries and chicken.
Arrange the apples in a circle around the top of the salad and add pecans. Drizzle the salad with at least one more tablespoon of the dressing. Serve immediately.
**To make your own candied pecans, combine 3 tablespoons brown sugar, 1 tablespoon balsamic (we recommend Sigona's Pumpkin Spice Balsamic or Sigona's Dark Maple Balsamic) and 1 tablespoon olive oil over medium-high heat, stirring to dissolve sugar, until the mixture is bubbly. Add 3/4 cup the pecans and stir to coat. Cook, stirring regularly, until the coating is thickened, about 5 to 6 minutes, being careful that the mixture doesn't burn or smoke. Turn pecans out onto a parchment-lined baking sheet and work quickly to separate the pecans. Allow to cool completely. Store in an air-tight container.
Gala Apple, Sausage and Fennel Skewers
A combination of sweet, smokey and herbaceous all together on one skewer. Grilling adds depth of flavor to all the ingredients, highlighting the smokey flavor of the sausage while caramelizing the natural sugars in the apple and fennel. Inspired by Rachael Ray. Serves 2 to 4.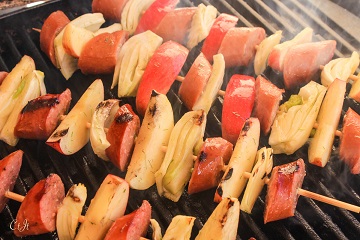 Ingredients:
1 bulb fennel, cut into 1-inch pieces or chunks
1 tsp. minced fennel fronds
2 locally grown Gala apples, halved, quartered and seeded; quarters cut into 3 or 4 slices each (aim for 3/4-inch wide slices)
About 16 oz. smoked sausage, such as any of Aidells sausages found at Sigona's, cut on the bias into 1-inch slices
Special equipment: at least 4 wooden* or metal skewers
*If using wooden skewers, soak them in water for at least 10 minutes before threading on ingredients.
Directions: Toss the fennel, fennel fronds, apple, sausage and olive oil together in a large bowl.
Heat an outdoor grill or indoor grill pan over medium-high heat.
Thread the ingredients onto the skewers, using a sausage-fennel-apple pattern.
Place the skewers on the grill and cook, without moving, for about 5 minutes. Flip them over and cook another 3 to 5 minutes. Close the lid of the grill or loosely cover the grill pan with foil for another 2 minutes or until the apples have softened and the sausages are warmed through. Remove the cooked skewers to a serving platter. Serve immediately.