In the Kitchen with Sigona's Featuring: Pomegranates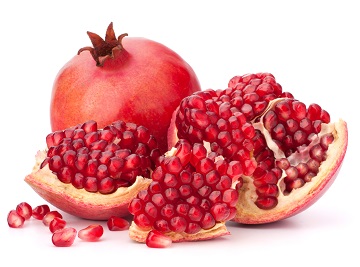 Suggested uses for pomegranate arils:
Add to salads
Sprinkle on soups
Layer in a sandwich
Stir into oatmeal
Leave a bowl on the counter and watch them disappear
Dot the top of a frosted cake or cream-topped fruit pie
Fold into guacamole
Free the juice and use in smoothies, mocktails and cocktails
Top a toasted baguette that's spread with a layer of melty, creamy Brie
Cover them in chocolate
Pomegranate Sprinkled Fuyu Persimmon Rounds with Honeyed Mascarpone and Pecans
Persimmons have a warm, sweet flavor that some liken to brown sugar. They have a dense yet soft-crisp texture so they hold together well, sort of like an apple, making a great base for toppings. Guests will love this easy, colorful and delicious finger food accented with a burst of tart-sweet from pomegranate arils, the technical term for seeds. Makes 10 to 12 rounds.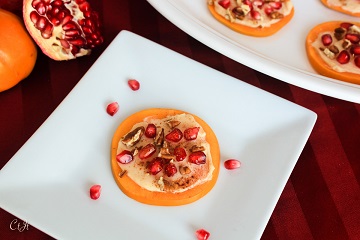 Ingredients:
2 Fuyu persimmons
At least 1/4 cup mascarpone
1 to 2 Tbsp. honey, such as raw orange blossom honey by Honey Hole Honey Co., available at Sigona's
Ground cinnamon, for dashing and sprinkling
At least 1/4 cup pomegranate arils
About 1/4 cup chopped pecans (for a sweet twist, use candied or glazed pecans, found at Sigona's)
Directions: Using a mandoline set to 3MM or 5MM, slice the persimmon into rounds; each persimmon should yield about 5 or 6 slices. You can also use a knife to slice rounds a little less than a 1/4-inch each.
In a small bowl, mix together the mascarpone, honey (to taste) and a dash of cinnamon.
Spread about a teaspoon of the mascarpone on each round of persimmon. Top the rounds with pomegranate arils and chopped pecans. Sprinkle with additional cinnamon, if desired. Serve immediately.
Pomegranate-Orange Scones
The sweet-tart burst from the pomegranates is simply delightful in these scones. Drizzle with the optional orange glaze, if desired. Makes 8.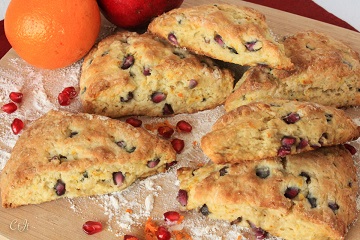 Ingredients:
1 1/2 cups flour (all-purpose or white whole wheat)
3 Tbsp. sugar
2 1/2 tsp. baking powder
1/2 tsp. baking soda
1/4 tsp. salt
2 tsp. orange zest (about 1 medium orange)
5 Tbsp. cold unsalted butter, cubed
2/3 cup pomegranate arils
2/3 cup buttermilk, milk or a milk alternative, such as almond milk
Optional glaze: Mix 1 Tbsp. orange juice with enough confectioners sugar (powdered sugar) to get a semi-thick glaze consistency. Drizzle it over the scones with they're cooled a bit, but still warm.
Directions: Preheat oven to 400°F.
In a large bowl, whisk together flour, sugar, baking powder, baking soda, salt and orange zest. Whisk for at least 1 minute to ensure the mix is well blended. Using a pastry blender or two knives in a criss-cross fashion, cut the butter into the flour mixture. Work it until the mixture resembles coarse meal. Add the arils and gently stir to distribute.
Make a well in the center of the flour mixture and add the milk. Stir until the mixture is just combined, being careful not to over mix.
Turn the mixture out onto a lightly floured work surface. Patting gently, work the mixture into a round about 8 inches in diameter. Slice the round into 8 wedges then transfer the wedges to a parchment-lined baking sheet, set about 1 inch apart so they don't stick together while baking.
Bake for about 14 to 16 minutes or until golden brown. Serve with optional glaze drizzled over the top.
Acorn Squash Stuffed with Quinoa, Kale and Pomegranate
You'll be delighted with the flavors of this side dish. The pumpkin pie spice gives the squash a warm depth of flavor that is simply delicious with the quinoa stuffing. The pomegranate arils provide a perfect burst of tart-sweet that brings it all together. Adapted from Cooking Light. Serves 2 to 4 as a side.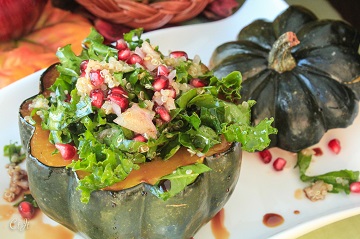 Ingredients:
1 acorn squash
1 1/2 Tbsp. Sigona's Fresh Press Extra Virgin Olive Oil, divided
1/2 tsp. pumpkin pie spice, divided
Salt and pepper, to taste
2 Tbsp. uncooked quinoa
2 Tbsp. fresh lemon juice
1 large leaf of green kale, tough stem discarded, greens thinly sliced and roughly chopped (about 1 to 1 1/2 cups)
1/4 cup pomegranate arils
2 Tbsp. minced shallot
1 tsp. honey, such as raw orange blossom honey from Honey Hole Honey Co., available at Sigona's
1 Tbsp. Sigona's Pomegranate Balsamic
Directions: Preheat oven to 350°F. Line a baking sheet with parchment paper.
Slice the stem end off of the acorn squash, about 1 inch down, to create a lid. Slice a little off the opposite end so the squash will sit upright. Scoop out and discard the seeds and membrane. Rub the inside of the squash and lid 1/2 tablespoon of olive oil and sprinkle with 1/4 teaspoon pumpkin pie spice; season with salt and pepper to taste.
Place the squash and the lid cut-side-down on the baking sheet and roast for 55 minutes or until tender.
Meanwhile, cook the quinoa according to package directions.
In a large bowl, whisk together the lemon juice, remaining pumpkin pie spice and olive oil. Season with salt and pepper to taste. Add kale, cooked quinoa, pomegranate and shallot; toss well to coat.
In a small bowl, mix together the honey and balsamic; set aside.
Scoop the kale stuffing into the hollow of the cooked squash and place on a serving dish.
Drizzle half of the balsamic and honey mixture over the stuffed squash and serving dish. The squash lid can be used as decorative garnish; the flesh can be scraped out and eaten if desired.
To serve, slice the squash in half or quarters, making sure each piece is served with an equal amount of the stuffing. Drizzle with remaining balsamic and honey mixture.