In the Kitchen with Sigona's Featuring: Christmas Appetizers
Holiday Charcuterie Board
Mix and match ingredients to fit the season as well as the likes and dislikes of your guests.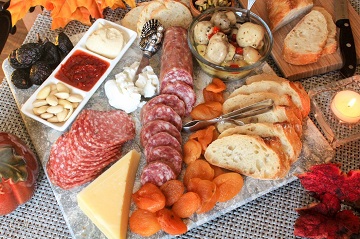 What you need:
Dried Mission figs
Whole blanched almonds
Sigona's Sweet Red Pepper Relish
Hummus
Creamy goat cheese
Columbus Italian dry salami
Baguette slices
Dried apricots
Pistachios
Marinated mushrooms, olives and peppers (check out Sigona's olive bar for a wide assortment of choices)
Cubed cheddar, such as Wisconsin Aged cheddar
Other considerations:
Apple slices
Pear slices
18-month-aged Emmentaler cheese
Quince paste
Grapes
Crackers
Sigona's Sweet Red Pepper Relish and Goat Cheese Truffles
These delightful hors d'oeuvres will be the talk of the party. We think it's the Sigona's sweet red pepper relish that really sets them apart in the flavor department, but we're a bit biased. Serve these with crackers, toothpicks or some toasted baguette slices. If you don't care for goat cheese, try cream cheese. Serves 8 to 10.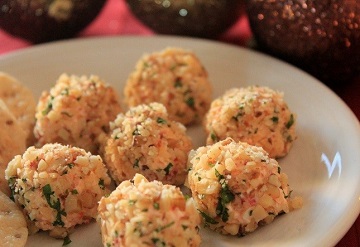 Ingredients:
8 oz. plain, creamy chevre (goat cheese), such as Laura Chenel, softened
1/3 cup Sigona's Sweet Red Pepper Relish
Salt and pepper, to taste
3/4 cup local, organic shelled walnuts from Hollister, finely chopped
2 to 3 Tbsp. fresh minced parsley
Directions: Mix together the cheese, sweet red pepper relish, salt and pepper until combined. Scoop out about 2 teaspoons and roll it into a ball. Place on a plate and repeat with the remainder of the cheese and relish mixture. You'll have about 15 to 20 balls.
Place the balls in the refrigerator to chill for at least 30 minutes. You can make these a day or two ahead of time, if needed.
About 30 minutes before serving (no sooner, or the walnuts will get soggy), mix together the chopped walnuts and parsley on a small plate. Remove the balls from the fridge (reshaping a bit, if necessary), and roll in the walnut mixture, covering well. Place the coated balls on a serving plate and chill until party time. Serve with crackers.
Zucchini Roll-Ups with Herbed Cheese and Red Pepper Relish
You'll love the touch of sweetness in these roll-ups, thanks to Sigona's Sweet Red Pepper Relish that is mixed in with the herbed cheese. A mandoline makes for easy prep, ensuring consistency in size and faster slicing. Adapted from Fine Cooking. Yields about 16 pieces.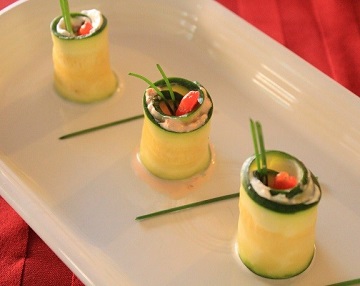 Ingredients:
2 small zucchini, washed, dried and ends trimmed
Kosher salt
1 small bunch fresh chives
About 1/3 cup (About 3 oz.) creamy goat or cow's milk cheese, such as Laura Chenel chevre or Nicasio Valley Foggy Morning, softened to room temperature (Note: If you use Nicasio Valley Foggy Morning with Basil & Garlic, you can skip adding herbs beyond the chive garnish)
1 1/2 Tbsp. Sigona's Sweet Red Pepper Relish
1 tsp. chopped fresh thyme
Salt and pepper, to taste
Pinch cayenne pepper or chili powder, optional
About 2 jarred roasted red Spanish piquillo peppers, cut into strips about 1/4-inch wide, cut strips into pieces about 1-inch long
Directions: Line a large, rimmed baking sheet with a couple layers of paper towels.
Using a mandoline, slice the zucchini lengthwise to get about 16 long, thin strips each about 1/16 to 1/8 inches thick. Set the zucchini on the paper towel and sprinkle both sides with kosher salt; you'll use about 1 teaspoon for all the slices. Let sit for 20 minutes to soften, then remove excess water.
Meanwhile, cut at least 32 pieces of chive, each about 2-inches long; set aside. From the remaining bunch, mince about a tablespoon; reserve any remaining chive for extra garnish.
In a small bowl, mash the cheese with the relish. Add the minced chives and herbs, if using, and then season with salt, black pepper and the cayenne/chili powder. Season with more salt and pepper to taste (it should be assertive).
Pat dry (very dry) the slices of zucchini on both sides with more paper towels. Lay a slice of zucchini on a clean work surface and spread with about 1 teaspoon of the cheese mixture (you may want to use your fingers for this). At one end of the zucchini, place a few of the 2-inch chive sticks, positioning them perpendicular to the roll so that their more attractive end will peek out when the zucchini slice gets rolled. Beginning with the chive end, roll the zucchini up and stand the roll upright on its edges on a platter. Garnish by inserting a slice of the piquillo pepper into the center of the rolls so it sticks out of the top.
Refrigerate for up to 2 hours before serving. Serve chilled with any remaining chive as garnish.