In the Kitchen with Sigona's Featuring: Local Satsuma Mandarins
Satsuma Mandarin, Spinach and Farfalle Pasta Salad with Teriyaki-Ginger Dressing
Simple, healthy and delicious, this is a great salad for lunch or dinner. Adding cooked chicken strips would give the salad some protein for a heartier meal. Inspired by Creme De La Crumb. Serves 4 to 6.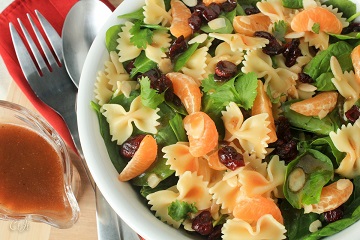 Salad:
8 oz. farfalle pasta (look for fresh, locally made Saporito Fine Pasta, available at Sigona's)
4 cups baby spinach, stems removed
1/2 cup apple juice sweetened dried cranberries, available at Sigona's
1/3 cup sliced blanched almonds
2 to 3 Satsuma mandarins, peeled and broken into segments
1/4 cup cilantro, roughly chopped
Optional: 2 to 3 green onions, sliced
Dressing:
1/3 cup teriyaki sauce, such as Soy Vay Veri Veri Teriyaki
1/3 cup rice wine vinegar
1 clove garlic, minced
1 teaspoon minced shallot
Pinch of salt and black pepper
1 Tbsp. honey, such as orange blossom honey from Honey Hole Honey Co., available at Sigona's
1/2 Sigona's Fresh Press Extra Virgin Olive Oil, such as organic Arbequina
Directions: Cook pasta to al dente according to package directions. Drain, rinse with cold water and set aside.
Meanwhile, combine the dressing ingredients in a jar or or a bowl and shake or whisk to combine. Chill until ready to serve.
In a large bowl combine the pasta with spinach, cranberries, almonds, Satsumas, cilantro and green onion, if using. Just before serving, add a couple tablespoons of the dressing and toss the salad to coat the pieces evenly. Add more if desired and/or serve remaining dressing on the side.
Grown Up Creamsicle with Satsuma Mandarins, Vanilla Ice Cream and Frangelico
Who doesn't love a creamsicle? This grown-up version is simple and just as satisfying, but with a twist.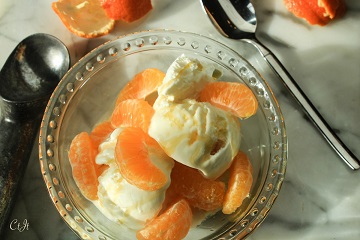 What you need:
Vanilla Ice Cream or vanilla bean gelato
One satsuma per serving, peeled and broken into segments
Frangelico or brandy, for drizzling
Directions: Scoop ice cream or gelato into individual serving dishes. Add Satsuma segments and drizzle with Frangelico. Serve.
Chocolate Dipped Satsumas with Chopped Pistachios
Orange and chocolate is a delicious combination. Leave off the pistachios if you choose. One Satsuma yields about 10 segments.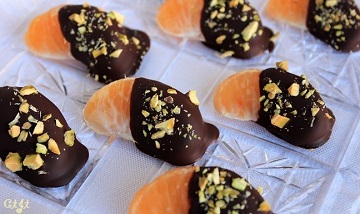 Ingredients:
About 3 to 5 oz. melting chocolate, such as Guittard, per Satsuma mandarin
Satsuma mandarins, peeled and broken into segments
Finely chopped pistachios, a pinch or two per segment
Directions: Place the peeled Satsuma segments in the fridge for about 5 minutes.
Chop chocolate and put in a narrow, shallow microwaveable bowl or coffee mug. Microwave for 30 seconds, stir and microwave again for 30 seconds. Repeat until thoroughly melted.
Prepare a plate or baking sheet with wax paper.
Dip one end of the Satsuma segments in the chocolate and then place it on the wax paper. Place the dipped segments in the fridge for 5 minutes.
After they have chilled for 5 minutes, dip the dipped end in the chocolate again, place it back on the wax paper and then immediately sprinkle with chopped pistachios.
You'll likely have chocolate left over. Just eat it when no one is watching.
Chill until ready to serve.