Toni's Top 10 Tips: Tip #7 | Recipe: Deliciously Hearty Turkey Bean Stew for Rainy Days
Tip #7 | Recipe: Deliciously Hearty Turkey Bean Stew for Rainy Days
Toni Julian, Health Advocate & Author
From the book BITE ME! Change Your Life One Bite at a Time
This heart-warming and fulfilling stew makes a complete meal, combining complex flavors and a healthy portion of protein to keep you satisfied for hours. It is also incredibly versatile; quinoa is high in protein so for a vegetarian option simply eliminate the ground turkey. For a gluten free option, eliminate the pearl barley and stick to the brown rice and quinoa. And feel free to have fun with it by adding your favorite winter vegetables!
Rather than add uncooked barley, rice and quinoa to the broth, I prefer to add leftover cooked grains. This helps balance out the amount of liquid so I can decide to make it more of a soup or a chunky stew, which is my all-time favorite.
This makes a large batch so you may want to freeze half for another rainy day. Enjoy!
Turkey-Bean Stew
With Brown Rice, Pearl Barley and Quinoa
Makes 28 Servings
Serving Size 1 Cup
NUTRITION PROFILE                                             CAL-174/PRO-13/CARB-25/FAT-3/SAT-1/CHO-0/SOD-102/FIB-5
PERCENT CALORIES FROM                                 PRO-30%/CARB-56-%/FAT-14%
4 c Assorted Dried Beans  (Such as Bob's Red Mill 13 Bean Soup or Mix Your Own)
2  32 oz Cartons Organic Chicken Broth
1 Chopped Medium Yellow Onion or 5 Green Onions
2 cans (14.5 oz each) Stewed Tomatoes
2 packages Ground Lean Turkey
1 c Yellow Corn
3 T Chile Powder
1 T Molasses
8 Cloves Garlic or 1 T Garlic Powder
3 T Ground Cumin
4 T Lime Juice
2 T Sriracha sauce (Asian Hot Chile Sauce)
Salt to Taste
In a rice cooker, cook separately:
1 c Cooked Pearl Barley
1 c Cooked Brown Rice
1 c Cooked Quinoa
What to do:
Setting this up in the morning in a crock pot is a time saving way to prepare this meal. No overnight soaking of the beans required. Simply rinse and drain dried beans. In crock pot, soak beans in chicken broth.  In separate pan lightly sprayed with nonfat cooking spray, brown ground turkey, onions and garlic, drain off any oils, and add to bean mixture in crock pot. Add remaining ingredients (except for lime juice) and seasonings to taste.  Allow to cook all day on low heat. By dinnertime, beans will be cooked through, even if not soaked overnight. Prior to serving add lime juice.
Time Saving Tip: Canned beans are a great option, especially if you do not have a crock pot. Not only do they retain their fiber content and nutritional benefits, but their anti-cancer flavonoids as well. They are quick and easy in comparison to the raw beans long cooking time. Just be sure to rinse them well to remove any unwanted sodium.
I look forward to connecting again next time, and I'll share with you my deliciously hearty Turkey Bean Stew recipe, that has the perfect balance of macronutrients to keep you satisfied for hours!
Please share this with your friends who are interested in how to balance their foods for a healthier lifestyle!
From my heart to yours,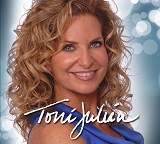 Toni Julian is a nationally renowned health advocate, nutrition adviser, fitness expert, and author of BITE ME! Change Your Life One Bite at a Time, as well as a 50-something mom of four!  She is also the creator of Toni's OatMEAL, a complete and healthy hot protein meal that's ready in minutes. Get yours at Sigona's! Visit www.ToniJulian.com