In the Kitchen with Sigona's Featuring: Fresh Strawberries
Raw Swiss Chard Salad with Fresh Strawberries, Barley, Feta and Sigona's Basil Oil
Looking for a way to change up your side salad? You've got to try this one. Don't skip the basil oil— it adds an absolutely delicious layer of flavor that's herbaceous and fresh; basil is fantastic with strawberries! Inspired by Cooking Light. Serves 4 to 6.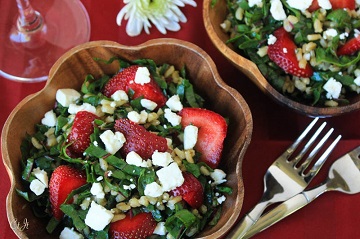 Ingredients:
1/2 cup uncooked barley or pearl barley
2 1/2 Tbsp Sigona's Basil Oil
2 Tbsp Sigona's Condimento Tradizionale Balsamic (Mix it up! Try Sigona's Strawberry Balsamic)
1 1/2 tsp. minced red onion
1/2 tsp. honey, such as Mountain Bloom from Honey Hole Honey Co., available at Sigona's
Salt and pepper, to taste
1 bunch Swiss chard
At least 1 cup sliced fresh strawberries
Crumbled goat or Feta cheese, for sprinkling
Directions: Cook barley according to package directions. When it's done, drain any excess water. Rinse barley under cold water, drain well and set aside.
Meanwhile, in a large bowl, whisk together the oil, balsamic, onion and honey, Season with salt and pepper to taste.
Fold the chard leaves in half lengthwise, leaf fronts together, then slice off the thick, tough stem, up through the leaf (saving the stems for another recipe, if you wish). Roll the leaves up then thinly slice (chiffonade) into rounds, creating long, thin ribbons. Massage the ribbons between your hands for about 3 minutes or until they're just wilted a bit.
Add the chiffonade Swiss chard and barley to the vinaigrette; toss to coat. Divide among 4 to 6 salad plates, topping each with sliced strawberries and crumbled cheese. Serve.
Strawberry Champagne Muddle
With a little slice of lemon, this refreshing sparkler is bound to be a new hit at brunch. Inspired by Bon Appetit. Makes 3 to 4.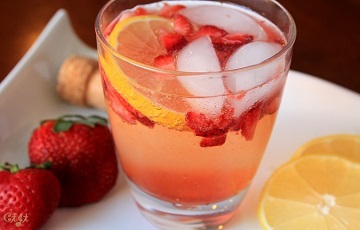 Ingredients:
1 cup chopped fresh strawberries, hulled and stems removed
At least 6 Tbsp ginger ale, such as Bruce Cost original ginger ale
3 to 4 thin lemon slices
Ice cubes
1 (187 ml) bottle chilled JFJ champagne
Directions: Divide strawberries among three or four juice glasses (about 6 to 8 oz.) Add about 1 1/2 tablespoons ginger ale to each glass and then mash with a muddler (the handle of a wooden spoon or the like works in a pinch). Add lemon slice to each and mash slightly to release flavor. Add several ice cubes to each glass, then fill with champagne.
Mini Strawberry-Oatmeal Cakes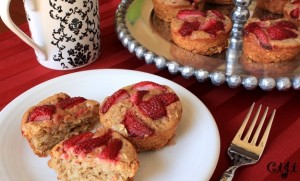 Delightful for breakfast, brunch or a mid-afternoon snack with coffee or tea. They come together quickly in the morning, but do note the oats need to soak overnight. These are great to make over the weekend, and it's easy to double this recipe, so you can freeze the extras. Adapted from Eating Well. Makes 12 cakes.
Ingredients:
2 ½ cups old-fashioned rolled oats
1 ½ cups milk or almond milk (almond milk will add a bit more flavor)
1 large egg, lightly beaten
1 cup quartered fresh strawberries (larger berries may need extra slicing)
1 tsp brown sugar
1/3 cup pure maple syrup OR a mix of maple syrup and honey
3 Tbsp Sigona's Fresh Press Extra Virgin Olive Oil, divided
1 tsp vanilla extract
1 ½ tsp ground cinnamon
1 tsp baking powder
1/4 tsp nutmeg
1/4 tsp salt
Directions: In a large bowl, combine oats and milk. Cover and let soak in the refrigerator until much of the liquid is absorbed – at least 8 hours and up to 12 hours.
Preheat oven to 375°F. Using about 1 tablespoon olive oil, grease a 12-cup nonstick muffin tin.
In a small bowl, mix together the quartered strawberries and brown sugar. Set aside.
To the oat mixture, add the egg, maple syrup or syrup/honey mix, 2 remaining tablespoons oil, vanilla, cinnamon, baking powder, nutmeg and salt. Mix well until combined. Divide the mixture among the muffin cups (about 1/4 cup each). Top each with 1 tablespoon of the strawberry mixture.
Bake the oatmeal cakes until they spring back when touched, 25 to 30 minutes. Let cool in the pan for about 10 minutes. Loosen and remove with a paring knife. Serve warm.