In the Kitchen with Sigona's Featuring: Zucchini
Thai Peanut Zoodles with Carrot and Bell Pepper
You'll be so pleased with how this turns out. Not only is it a healthier, low-carb and gluten-free "noodle" dish, but it's still packed with amazing Thai flavors and just a hint of spice, which you can knock up or down, if you wish. Serves about 4.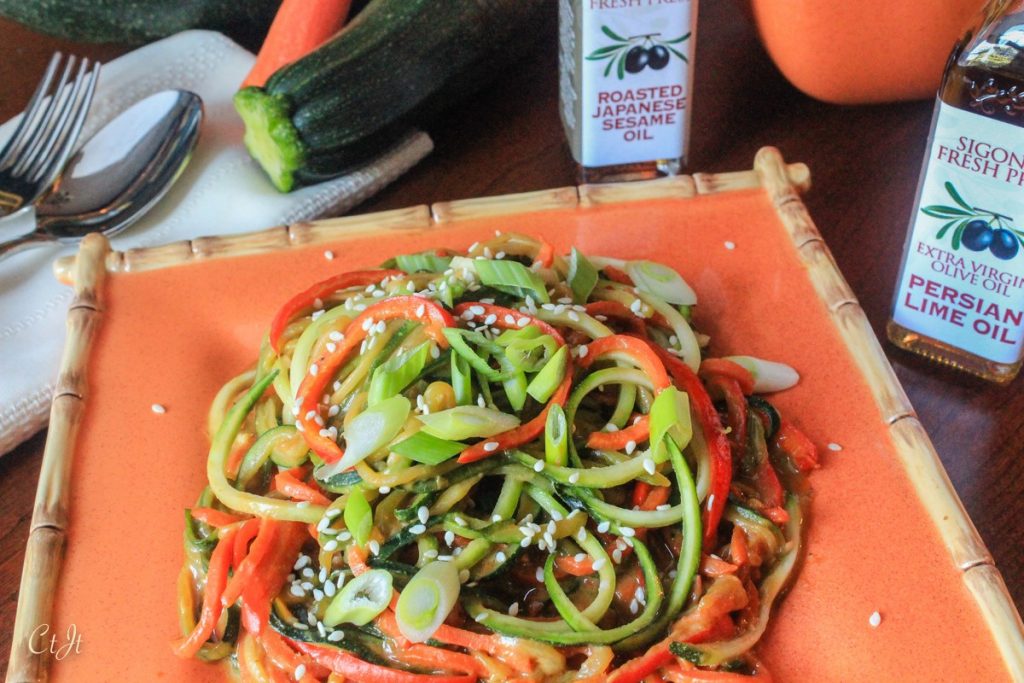 Ingredients:
3 zucchini
2 large carrots
1/2 a red bell pepper
1/4 cup creamy peanut butter
3 Tbsp. soy sauce
2 1/2 Tbsp. hoisin sauce
2 tsp. lime juice
2 tsp. Sigona's Roasted Sesame Oil
1 to 2 cloves garlic, minced
1/4 tsp. ground ginger
A pinch or two red pepper flakes, to taste
2 Tbsp. Sigona's Persian Lime Olive Oil
For serving:
Sesame seeds, for serving
A couple green onions, sliced on the bias, for serving
Chopped fresh cilantro, for serving (optional)
Roasted peanuts, for serving (optional)
Directions: Using your favorite gadget for spiralizing, spiralize the zucchini and carrot; set aside. Julienne the pepper; set aside.
In a medium bowl, whisk together the peanut butter, soy sauce, hoisin sauce, lime juice, sesame oil, garlic, ginger and red pepper flakes (to taste).
Heat olive oil in a large sauté pan over medium heat. Add the zucchini, carrots and bell pepper. Season with salt and pepper; cook for about 5 minutes or until the "noodles" are a bit tender but still have a little crispness; like al dente pasta. Using tongs, remove the veggies from the pan.
Wipe out the pan and return to the stove over medium heat. Add the whisked sauce and cook for about 1 minute. Add the "noodles" to the sauce and toss to coat.
To serve, use tongs to grab a portion of the noodles; twist as you plate to create a swirl-like pile of noodles onto individual serving plates. Top with sliced green onions and sesame seeds. Add a little cilantro and roasted peanuts, if desired.
Chicken-Zucchini Patties with Loaded Guacamole
These patties are great for kids and adults alike! It's a tasty way to get some veggies in the littles, and you can adjust the heat and seasoning of the guacamole as desired for the family. Makes 8 patties; serves 4.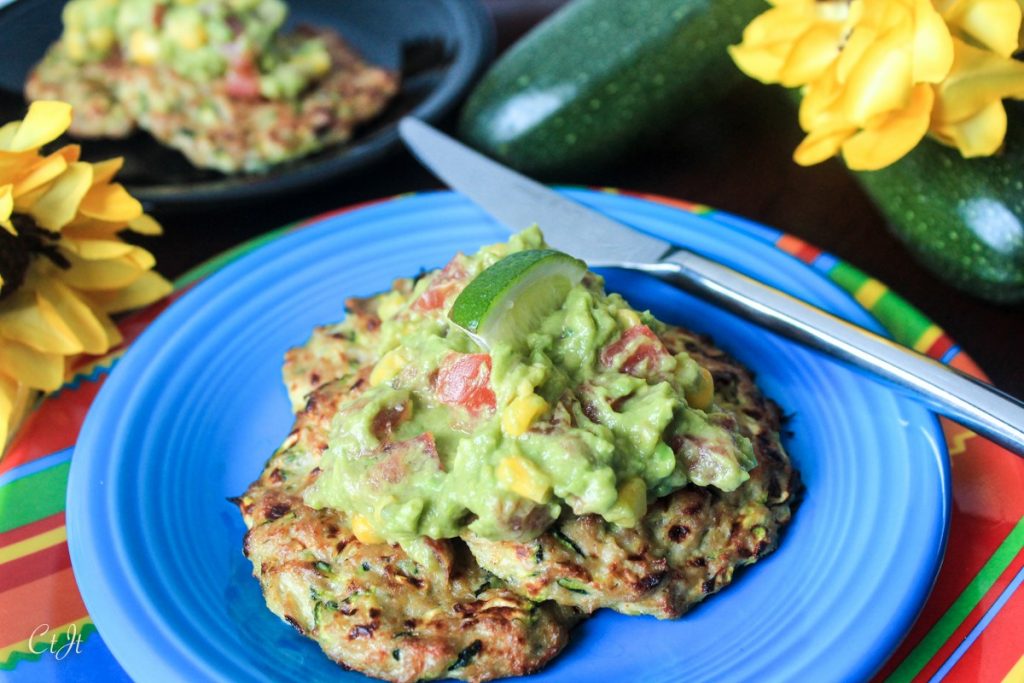 Ingredients:
1 lb. ground chicken
1 large zucchini, grated (about 1 1/2 to 2 cups)
3/4 teaspoon chili powder
½ teaspoon cumin
2 green onions, finely sliced
½ teaspoon garlic powder
½ teaspoon salt
Cooking oil, for greasing baking sheet (avocado, olive, coconut, etc.)
2 medium avocados
2 tsp. lime juice, or to taste
1 to 2 cloves garlic
1/2 cup diced tomato
1/2 cup fresh corn kernels
About 1 Tbsp. minced jalapeño (optional)
Directions: In a large bowl, mix together the chicken, zucchini, chili powder, cumin, green onions, garlic powder and salt. Divide the mixture into 8 equal portions, patting each into a circular patty shape.
To Bake: Preheat oven to 400ºF degrees. Grease a baking sheet with oil of choice. Place the patties on the baking sheet, so they're not touching, and bake for about 20 to 25 minutes or until cooked through and juices run clear. Turn on the broiler for about 3 to 5 minutes to give the patties a nice brown color.
To Pan-Fry: Add 1 tablespoon olive oil to a large sauté pan over medium heat. Without overcrowding the pan, place a couple patties at a time in the pan to cook for about 5 to 7 minutes a side or until browned on top and cooked through. Repeat with remaining patties.
Meanwhile, prepare the guacamole. Scoop the avocado out of the peel and place in a small bowl. Add the garlic and lime juice, season with salt and mash the avocado with a fork. Gently stir in the tomato, corn and jalapeño. Season to taste with salt. Set aside.
Place 2 patties on each serving dish. Top with a bit of the fresh guac and serve immediately.
Cheesy Lentil & Kale Stuffed Zucchini Boats
Simple, healthy and delicious, these stuffed zucchini boats are a great on their own for a flavorful, protein-packed vegetarian option, or served as an accompaniment to grilled white meats. Adapted from Little Spice Jar. Makes 4 boats.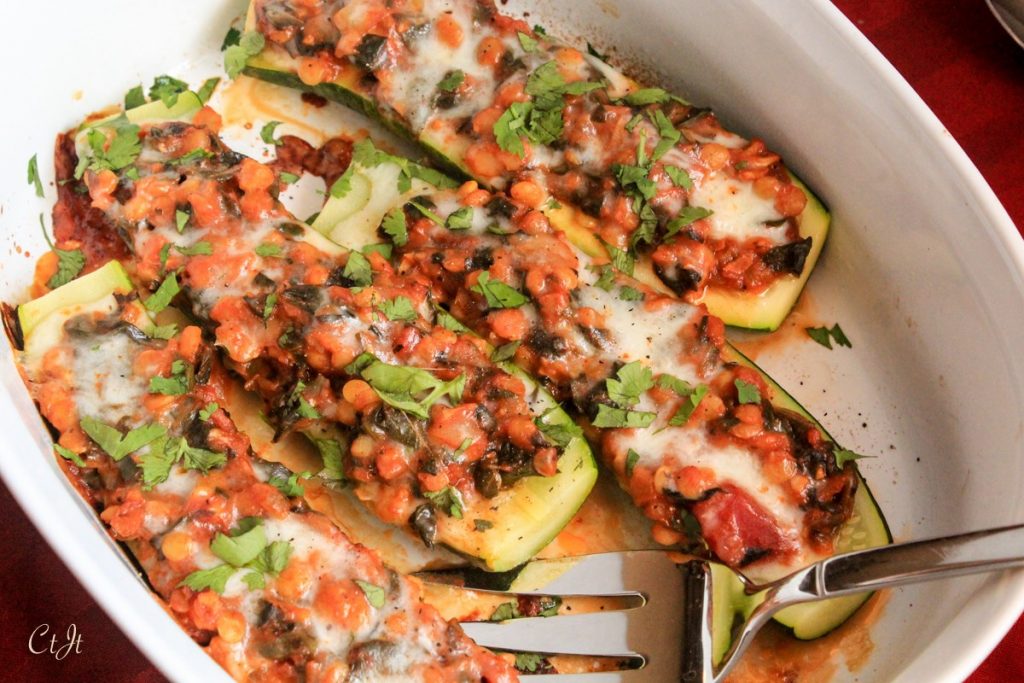 Ingredients:
1/4 cup dry Zursun beans dry lentils
2 tsp. Sigona's Fresh Press Extra Virgin Olive Oil
1/4 cup diced onion
2 cloves garlic, minced
1 cup chopped fresh kale, leaves only
3/4 cup Sigona's Old World Marinara (Mix it up! Check out the other varieties we have in store more flavor options)
Salt and pepper, to taste
1/2 cup or more shredded mozzarella
2 medium-large zucchinis, cut lengthwise
A little chopped fresh parsley, for garnish
Directions: Rinse the lentils then place in a small saucepan with 1 cup of water. Bring to a boil and then reduce heat to medium-low. Allow the lentils to cook for about 15 minutes, stirring occasionally, until they're al dente. Remove from heat, drain and rinse with cold water. Set aside.
Meanwhile, preheat oven to 400ºF. Use a spoon to scrape out the seedy middle of the sliced zucchini, leaving at least a 1/4-inch border on all sides. Set aside.
Heat olive oil in a medium skillet over medium-high heat. Add the onions, season with salt and pepper, and cook for about 4 minutes or until they start to brown. Add the garlic and cook, stirring, for about 30 seconds, then add the kale and the lentils. Cook, stirring, just until the kale is beginning to wilt. Add the marinara and allow to cook until the mixture is heated through, about 2 minutes. Remove from heat.
Grease a baking dish wide and long enough to fit all four zucchini boats (a 9×13 works well). Scoop a couple heaping tablespoons of the lentil mixture into the scooped out portion of the zucchinis. You may not use all the filling, but be generous with the filling.
Place the stuffed boats in the baking dish, stuffed-side up, then top each with some shredded mozzarella. Cover the dish with foil and bake for about 25 minutes or until the cheese has melted and the zucchini has softened. If you'd like to brown the cheese a little, remove the foil and place pan under a broiler for about 2 minutes.
Garnish with a little chopped parsley and black pepper. Serve warm.